The Mysteries of Artemis of Ephesos
WARNING
You are viewing an older version of the Yalebooks website. Please visit out new website with more updated information and a better user experience: https://www.yalebooks.com
Cult, Polis, and Change in the Graeco-Roman World
Guy MacLean Rogers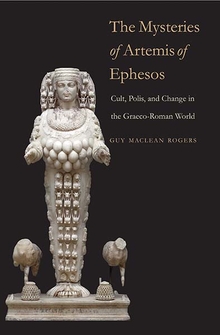 View Inside
Format:

Cloth


Price:

$85.00
Also Available in:
e-book
Artemis of Ephesos was one of the most widely worshiped deities of the Graeco-Roman World. Her temple, the Artemision, was one of the seven wonders of the ancient world, and for more than half a millennium people flocked to Ephesos to learn the great secret of the mysteries and sacrifices that were celebrated every year on her birthday.
In this work Guy MacLean Rogers sets out the evidence for the celebration of Artemis's mysteries against the background of the remarkable urban development of the city during the Roman Empire and then proposes an entirely new theory about the great secret that was revealed to initiates into Artemis's mysteries. The revelation of that secret helps to explain not only the success of Artemis's cult and polytheism itself but, more surprisingly, the demise of both and the success of Christianity. Contrary to many anthropological and scientific theories, the history of polytheism, including the celebration of Artemis's mysteries, is best understood as a Darwinian tale of adaptation, competition, and change.
Guy MacLean Rogers is Kemper Professor of History and Classics at Wellesley College. He is the author of The Sacred Identity of Ephesos: Foundation Myths of a Roman City, Alexander: The Ambiguity of Greatness, and Roots of the Western Tradition: A Short History of the Ancient World. He lives in Litchfield County, CT.
A magnificent reconstruction of the cult and mysteries of Artemis of Ephesos, capital of the province of Asia Minor and one of the most impressive archaeological sites. Rogers offers many intriguing and provoking hypotheses, based on a profound knowledge of the inscriptions and of the abundant secondary literature, especially those in German, the language of the city's Austrian excavators.—H.W. Pleket, University of Leiden
Rogers provides a meticulous and vividly detailed recreation of the history of a single cult, grounded in a mastery of all the relevant evidence and carefully situated in its wider political, social, and cultural context. This book contributes significantly to our appreciation for the complex texture of religious life in the Graeco-Roman world.—James Rives, University of North Carolina at Chapel Hill
This magisterial study of the complex evolution of one of Greek antiquity's most intriguing and long-lasting ritual traditions offers new insights into the attractions of ancient polytheism. Historians of religion, and of the Roman empire too, are greatly in Rogers' debt.—Greg Woolf, University of St. Andrews
"In his new book Guy MacLean Rogers offers a richly textured history of the mysteries of Artemis of Epheso."—Heidi Wendt, Bryn Mawr Classical Review
"[Rogers'] volume is a significant contribution to our understanding of Ephesos, mystery rites, the history of religion, and Roman imperial history."—Spencer Pope, Mouseion: Journal of the Classical Association of Canada
ISBN:
9780300178630
Publication Date:
January 8, 2013
528 pages, 6 1/8 x 9 1/4
2 color + 27 b/w illus. + 11 maps