Pagan Britain
WARNING
You are viewing an older version of the Yalebooks website. Please visit out new website with more updated information and a better user experience: https://www.yalebooks.com
Ronald Hutton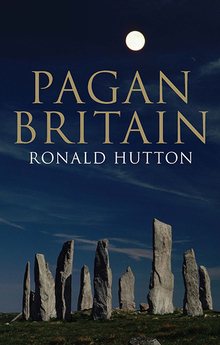 View Inside
Format:

Paper


Price:

$30.00
Also Available in:
Cloth
Paper
Britain's pagan past, with its mysterious monuments, atmospheric sites, enigmatic artifacts, bloodthirsty legends, and cryptic inscriptions, is both enthralling and perplexing to a resident of the twenty-first century. In this ambitious and thoroughly up-to-date book, Ronald Hutton reveals the long development, rapid suppression, and enduring cultural significance of paganism, from the Paleolithic era to the coming of Christianity. He draws on an array of recently discovered evidence and shows how new findings have radically transformed understandings of belief and ritual in Britain before the arrival of organized religion.
 
Setting forth a chronological narrative, along the way Hutton makes side visits to explore specific locations of ancient pagan activity. He includes the well-known sacred sites—Stonehenge, Avebury, Seahenge, Maiden Castle, Anglesey—as well as more obscure locations across the mainland and coastal islands. In tireless pursuit of the elusive "why" of pagan behavior, Hutton astonishes with the breadth of his understanding of Britain's deep past and inspires with the originality of his insights.
Ronald Hutton is professor of history at Bristol University and a leading authority on the British Isles in the sixteenth and seventeenth centuries, on ancient and medieval paganism and magic, and on the global context of witchcraft beliefs. He is the author of eighteen books.
"This magisterial synthesis of archaeology, history, anthropology and folklore traces religious belief in Britain from the emergence of modern humans to the conversion to Christianity."—Jonathan Eaton, Times Higher Education Supplement
'At last, a balanced, well-written and original review of Britain's pre-Christian religions that treats the complex and enduring legacy of prehistory with due respect. It is also full of unexpected insights. A delight.' - Francis Pryor, author of Britain BC: Life in Britain and Ireland Before the Romans
"A well-written and thoroughly researched study of a most important subject. The book is informed, fair minded and extremely readable. Nothing like this has been done before.'"—Richard Bradley, author of The Prehistory of Britain and Ireland
"Any book from Ronald Hutton is something of an event, and his newest, Pagan Britain is as rigorous a guide to this disputed territory as you'll get. His scholarship is honest and cuts through the sheer nuttiness that invests the subject."—Melanie McDonagh, The Tablet
 "With Pagan Britain [Mr Hutton] has written a thoughtful critique of how historians and archaeologists often interpret ruins and relics to suit changing ideas about religion and nationhood. . .Mr Hutton leads readers to question not only the ways in which Britain's ancient past is analysed, but also how all history is presented. He is also a lovely writer with a keen sense of the spiritual potency of Britain's ancient landscape."—The Economist
"Lively and bang up-to-date, this is a must-read for anyone remotely interested in the subject."—Trevor Heaton, Eastern Daily Press
"This is an expedition into deep time: a meticulous critical review of the known and sometimes shadowy rituals and beliefs in the British Isles from early prehistory to the advent of Christianity. . .Ronald Hutton brings the discussion alive with detail and debate. . .offer[ing] a visceral experience of the remarkable and often enigmatic evidence for ancient beliefs, rituals and practices in the British Isles."—Sarah Semple, Times Higher Education Supplement
"Hutton writes as an even-handed observer of his own discipline, and it is here that most of the solid evidence of ritual behaviour can be found."
—Graham Robb, The Guardian
"It's a superb piece of work and beautifully written, too. . .a deeply rooted, or grounded, book, which sets religious and spiritual beliefs in their social context. To my mind it is just the sort of book one should read before visiting the newly made-over Stonehenge."—Francis Pryor
"This makes for a useful primer of pagan life and pagan values, and offers a fascinating glimpse into a world that defies the simplifications of modern re-enactors."—The Good Book Guide
"Graceful prose . . . a brisk pace . . . This is a big book on a vast subject, presented intelligently."—John L. Murphy, PopMatters
'This book is a thoroughly researched, well-written, readable and balanced history of a subject  that is often associated with cranks and phantasists. Professor Hutton is not, I think, one of them.'—Lindsay Fulcher,  Minerva
'This makes for a useful primer on pagan life and pagan values, and offers a fascinating glimpse into a world that defies the simplifications of modern re-enactors.'—Good Book Guide, 1st April.

"Although this is a work of great scholarship it is also an accessible and enjoyable account of a major part of the history of Britain. Greatly recommended."—John Rimmer, Magonia

Shortlisted for the 2015 Hessell-Tilman Prize
ISBN:
9780300205466
Publication Date:
March 10, 2015
496 pages, 5 1/8 x 7 3/4
103 b/w illus.