A Visitor's Guide to the Ancient Olympics
WARNING
You are viewing an older version of the Yalebooks website. Please visit out new website with more updated information and a better user experience: https://www.yalebooks.com
Neil Faulkner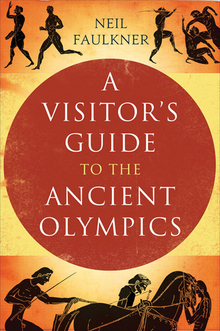 View Inside
Format:

PB-with Flaps


Price:

$30.00
Also Available in:
e-book
An essential book for the 21st-century citizen who seeks a lively guided tour of the ancient Greek Olympics

What was it like to attend the Olympics in 388 B.C.? Would the experience resemble Olympic festivals as we celebrate them today? This remarkable book transports us back to the heyday of the city-state and classical Greek civilization. It invites us to enter this distant, alien, but still familiar culture and discover what the Greeks did and didn't do during five thrilling days in August 2,400 years ago.
In the Olympic Stadium there were no stands, no shade—and no women allowed. Visitors sat on a grassy bank in the searing heat of midsummer to watch naked athletes compete in footraces, the pentathlon, horse and chariot races, and three combat sports—wrestling, boxing, and pankration, everyone's favorite competition, with virtually no rules and considerable blood and pain. This colorfully illustrated volume offers a complete tour of the Olympic site exactly as athletes and spectators found it. The book evokes the sights, sounds, and smells of the crowded encampment; introduces the various attendees (from champions and charlatans to aristocrats and prostitutes); and explains the numerous exotic religious rituals. Uniquely detailed and precise, this guide offers readers an unparalleled opportunity to travel in time, back to the excitement of ancient Olympia.
Neil Faulkner is research fellow at the University of Bristol, fellow of the Society of Antiquaries, and codirector of several field projects. A freelance archaeologist and historian, his previous books include Apocalypse: The Great Jewish Revolt against Rome and Rome: Empire of the Eagles. He lives in Herts, UK.
'Splendidly captures the excitement, the razzmatazz, the intensity, glamour and squalor of the Ancient Olympics. Packed with anecdotes and intriguing facts, the careful scholarship behind this wonderful little book is presented with gusto.' - Philip Matyszak, author of Ancient Athens on Five Drachmas a Day
"…the book has a true pagan tang and is completely fascinating."—Duncan Fallowell, Daily Express
"…an entertaining and informative read."—Hertfordshire Life
"Forget London 2012. Want to know what it was like to attend the Olympics 2,400 years ago? Then pick up a copy of Neil Faulkner's A Visitor's Guide to the Ancient Olympics. Written in the style of a travel guide, the book tells you everything you would want to know—including how to get there, where to stay, and what to eat—about attending the Olympics in 388 B.C." —Jason Zasky, Failure Magazine
"A Visitor's Guide to the Ancient Olympics should appeal to a broad set of readers."—N.S. Gill, About.com
"[Faulkner writes] with great vim and panache."
"Into and around his descriptions of the Olympic events Faulkner contrives to weave very skilfully indeed a rich texture of social, economic, political – in a word, cultural – history. Yale University Press have produced an attractively illustrated volume in a handy, pocketable format: just the thing to take with you to the beach volleyball in Horse Guards Parade this July, perhaps."—Paul Cartledge, BBC History Magazine
"A neat idea, stylishly executed."—Independent i
"Walk for days and miles along treacherous roads in the heat of the summer. Fight crowds of thousands for a place to camp. Search for water. And, by all means, try to steer clear of the fetid trash and waste that breed disease all around you. (Read: no trash cans and no toilets.). These are the conditions described in archaeologist Neil Faulkner's new book  A Visitor's Guide to the Ancient Olympics,  a manual for any would-be Games-goer in ancient Greece . . . Ultimately the ancient Olympics were more of an epic frat party full of booze and sex than a prestigious sporting competition, and Faulkner paints that picture well."—Moira E. McLaughlin, The Washington Post
"Written in the style of a chatty tourist guide, it offers a beguiling glimpse into a largely alien world, vibrant but chaotic."—Good Book Guide
"A Visitor's Guide to the Ancient Olympics (Yale University Press)[offers], a funny, fascinating way of learning about ancient Greece, its religious and social attitudes, the thrill of victory, and the agony of defeat. It is jauntily written as a true guidebook, with hints on how to get the most out of your visit, so this is history written in an amusing and accessible form. "—Rob Hardy, The Columbus Dispatch
"The author takes us 2,400 years back to the heyday of the city-state of Olympia. . .  A time-travel guide at its best, this book reconstructs the sights, sounds and smells of the events as it conveys the excitement of the games."—Svetlana Grobman, The Columbia Daily Journal
ISBN:
9780300159073
Publication Date:
May 1, 2012
272 pages, 6 x 9
40 b/w + 8 pp. color illus.