Sparta's First Attic War
WARNING
You are viewing an older version of the Yalebooks website. Please visit out new website with more updated information and a better user experience: https://www.yalebooks.com
The Grand Strategy of Classical Sparta, 478-446 B.C.
Paul A. Rahe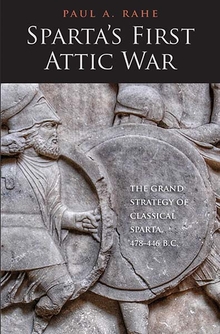 View Inside
Format:

Hardcover


Price:

$38.00
A companion volume to The Spartan Regime and The Grand Strategy of Classical Sparta that explores the collapse of the Spartan-Athenian alliance
 
"Provocative, intriguing and cogently argued."—David Stuttard, Classics for All

During the Persian Wars, Sparta and Athens worked in tandem to defeat what was, in terms of relative resources and power, the greatest empire in human history. For the decade and a half that followed, they continued their collaboration until a rift opened and an intense, strategic rivalry began. In a continuation of his series on ancient Sparta, noted historian Paul Rahe examines the grounds for their alliance, the reasons for its eventual collapse, and the first stage in an enduring conflict that would wreak havoc on Greece for six decades. Throughout, Rahe argues that the alliance between Sparta and Athens and their eventual rivalry were extensions of their domestic policy and that the grand strategy each articulated in the wake of the Persian Wars and the conflict that arose in due course grew out of the opposed material interests and moral imperatives inherent in their different regimes.
Paul A. Rahe is a Rhodes Scholar and holds the Charles O. Lee and Louise K. Lee Chair in the Western Heritage at Hillsdale College. He is the author of numerous books including the three-volume Republics Ancient and Modern.
"A delight on several levels . . . well-written . . . clear and understandable . . . an incisive analysis of a critical period."—Mark Lardas, Daily News (Galveston, Texas)
"The author is to be applauded . . . for attempting, for the first time, a multi-volume history of Classical Sparta. Paul Rahe's book is both an excellent piece of historical reconstruction . . . and a convincing argument as to the historical inevitabilities that the Spartan worldview brought into being."—Stephen Batchelor, Military History Matters
"an important read for those with an interest in Classical Greece or the concept of Grand Strategy."—A. A. Nofi, Strategy Page
"Rahe . . . delves deeply into the complex politics, wars, and diplomacy of the times . . . Sparta's First Attic War is an important read for those with an interest in Classical Greece or the concept of Grand Strategy."—A. A. Nofi, Strategy Page
"Rahe has written a clear and thorough history of the Pentecontaetia. His profound command of the sources and prose, supported by clear and well placed maps, makes this book a must for the general reader as well as scholars."—Bob Strassler, Founder and Series Editor of the Landmark Ancient Histories
 
"Rahe . . . is at his best when he supplements the often-brief accounts of events found in the sources with his own geopolitical analysis, drawing on his long career in political and military history."—James Flynn, The American Interest
"First and foremost a narrative . . . lively and engaging . . . a piece of exceptionally fine writing whose exposition is clear and unfettered by academic jargon. . . . Eminently readable."—Seth Kendall, Journal of Military History
"[Rahe] has now published four volumes in his history of Sparta . . . Each book is thoroughly readable, and in many cases becomes a page-turner as the excitement of the events Rahe relates is undiminished after 2500 years . . . A tremendous series of books."—Dr. Cliff Cunningham, Sun News Austin
Winner of the 2019 Stratfor Book Award for Geopolitical Analysis, sponsored by the Mackinder Forum
ISBN:
9780300242614
Publication Date:
August 6, 2019
328 pages, 6 1/8 x 9 1/4
29 b/w illus.