The Spartan Regime
WARNING
You are viewing an older version of the Yalebooks website. Please visit out new website with more updated information and a better user experience: https://www.yalebooks.com
Its Character, Origins, and Grand Strategy
Paul A. Rahe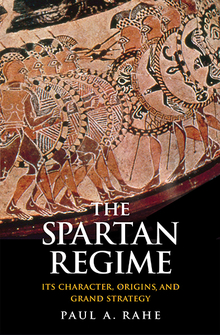 View Inside
Format:

Hardcover


Price:

$38.00
An authoritative and refreshingly original consideration of the government and culture of ancient Sparta and her place in Greek history

For centuries, ancient Sparta has been glorified in song, fiction, and popular art. Yet the true nature of a civilization described as a combination of democracy and oligarchy by Aristotle, considered an ideal of liberty in the ages of Machiavelli and Rousseau, and viewed as a forerunner of the modern totalitarian state by many twentieth-century scholars has long remained a mystery. In a bold new approach to historical study, noted historian Paul Rahe attempts to unravel the Spartan riddle by deploying the regime-oriented political science of the ancient Greeks, pioneered by Herodotus, Thucydides, Plato, Xenophon, and Polybius, in order to provide a more coherent picture of government, art, culture, and daily life in Lacedaemon than has previously appeared in print, and to explore the grand strategy the Spartans devised before the arrival of the Persians in the Aegean.
Paul A. Rahe is a Rhodes Scholar and the Charles O. Lee and Louise K. Lee Professor of History at Hillsdale College, and the author of numerous books including the three-volume Republics Ancient and Modern. He lives in Hillsdale, MI.
"Paul Rahe continues his monumental history of ancient Sparta, by explaining why and how Sparta's early strategic role in the Greek world was inseparable from the uniqueness of its origins and values. An insightful and sympathetic view of Sparta, one that could only be written by a masterful historian and classicist with Rahe's singular knowledge of political philosophy, ancient and modern."—Victor Davis Hanson, The Hoover Institution, author of The Other Greeks
"Paul Rahe toils boldly at the intersection of political and diplomatic history, military history, and political theory. He has always been one of a kind, and this highly original book will cement his reputation as such. Who else has treated Spartan policy with the seriousness that he shows that it deserves? Nobody."—Clifford Orwin, Professor of Political Science, University of Toronto, and Senior Fellow, Berlin Thucydides Center
"Rahe thinks and writes big. . . . The Spartan Regime breaks important new ground."—Jacob Howland, Commentary
"In thinking about foreign affairs and in pondering diplomacy, intelligence, and military strength and its economic foundations, Rahe argues, one must always acknowledge the primacy of domestic policy."—Patrick J. Garrity, Politics and Strategy
"Persuasive."—Thomas E. Ricks, New York Times Book Review
"An important new history. . . . The story of this ancient clash of civilizations, masterfully told by Paul Rahe . . . provides a timely reminder about strategic challenges and choices confronting the United States."—John Maurer, Claremont Review of Books
"Paul Rahe combines the chops of a professional historian with a masterly grasp of political philosophy. He is also a shrewd analyst of human character. . . . Rahe's ability to reveal the human side beneath [an] austere exterior is one of many reasons to read this beautifully written, meticulously researched, and deeply engaging book."—Waller R. Newell, Washington Free Beacon
"A serious scholarly endeavor."—Eric W. Robinson, American Historical Review
"[Rahe] has now published four volumes in his history of Sparta . . . Each book is thoroughly readable, and in many cases becomes a page-turner as the excitement of the events Rahe relates is undiminished after 2500 years . . . A tremendous series of books."—Dr. Cliff Cunningham, Sun News Austin
ISBN:
9780300219012
Publication Date:
September 27, 2016
232 pages, 6-1/8 x 9-1/4
7 b/w illus.