Pax Romana
WARNING
You are viewing an older version of the Yalebooks website. Please visit out new website with more updated information and a better user experience: https://www.yalebooks.com
War, Peace and Conquest in the Roman World
Adrian Goldsworthy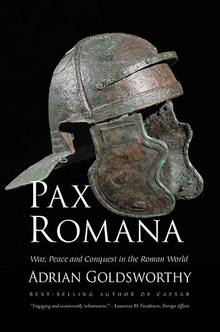 View Inside
Format:

Paper


Price:

$22.00
Also Available in:
Hardcover
A groundbreaking and comprehensive history of the Roman Peace from one of the leading historians of the ancient world

Best-selling author Adrian Goldsworthy turns his attention to the Pax Romana, the famous peace and prosperity brought by the Roman Empire at its height in the first and second centuries AD. Yet the Romans were conquerors, imperialists who took by force a vast empire stretching from the Euphrates to the Atlantic coast. Ruthless, Romans won peace not through coexistence but through dominance; millions died and were enslaved during the creation of their empire.
 
Pax Romana examines how the Romans came to control so much of the world and asks whether traditionally favorable images of the Roman peace are true. Goldsworthy vividly recounts the rebellions of the conquered, examining why they broke out, why most failed, and how they became exceedingly rare. He reveals that hostility was just one reaction to the arrival of Rome and that from the outset, conquered peoples collaborated, formed alliances, and joined invaders, causing resistance movements to fade away.
Adrian Goldsworthy is the author of numerous acclaimed books, including biographies of Julius Caesar and Augustus. He lectures widely and consults on historical documentaries for the History Channel, National Geographic, and the BBC. He lives in the UK.
"Goldsworthy brings a wonderful vitality to his subject . . . The reader is treated to an enthralling view of a highly complex system of governance [in which] Goldsworthy gives statecraft its proper emphasis."—Gerard DeGroot, Times (London)
"Entirely compelling . . . An engrossing account of how the Roman Empire grew and operated."—Kirkus Reviews
"Pax Romana examines a famous, yet little understood, time, and is an excellent read for anyone interested in ancient history."—Diana Biller, B&N Reads
"A nuanced portrait [and] a fascinating work . . . Readers interested in Roman history will find it remarkable."—Tobias Mutter, Shelf Awareness for Readers (starred review)
"The reign of Augustus—when the Romans learned to stop worrying and love the emperors—is the center of Adrian Goldsworthy's powerful reassessment of Roman imperialism. Goldsworthy is well known for his books on the Roman army and on Roman warfare and is the author of vivid biographies of some of Rome's greatest generals, so peace might seem a surprising topic for him. But Pax is not peace, or not quite peace as we know it . . . The Roman peace was an unusual calm after the violence of prehistoric and classical societies. How calm it really was is difficult to say, but Pax Romana offers a measured answer for which we may be grateful."—Greg Woolf, Wall Street Journal
"Engaging and consistently informative."—Lawrence D. Freedman, Foreign Affairs
"[Pax Romana] offers two cheers for imperialism, saluting the Romans for bringing peace and stability to the Mediterranean basin on a scale and duration not seen before or since . . . Two lessons for today stand out in the book: First, it is hard to make and keep a peace. Second, the greatest threat to the Pax Romana came not from foreigners but from the internal power struggles of the Romans themselves."—Thomas Ricks, New York Times Book Review
"Highly informative [and] a fun read . . . Pax Romana is a guide to how the Romans preserved their empire for many centuries. It is a must-read for those interested in history and strategy."—Tom Rogan, Washington Free Beacon
"Goldsworthy explores this epoch lucidly . . . He shows how those long-ago warriors and politicians wound taut the strings that continue to vibrate in our national life."—Richard Snow, "What to Give: History Books," Wall Street Journal
"Concise yet filled with detail, Goldworthy's study is a definitive work on the reality of the Pax Romana. He has written a book of sound scholarship that should appeal to readers interested in classical European and Roman history, as well as Jewish history and the history of early Christianity."—Kevin Bezner, Christian Review
"An easily digestible survey of Rome's empire that adds important context to a complex phenomenon."—David Kite, Terre Haute Tribune Star
"Monumental and highly engaging . . . While his prose is clear and measured, Goldsworthy's argument is pleasingly impassioned. . . . Goldsworthy's achievement is to show that the alternative to Roman peace was often either unappealing or long forgotten. He has set Pax Romana in its proper context."—Daisy Dunn, New Criterion
"An excellent book . . . Goldsworthy's account of the origins of the peace is first-rate . . . Goldsworthy's text is clear and concise, the subject matter well organized . . . The fine maps are presented in context within the relevant passages rather than shoved to the back of the book. Students of Roman history will find Pax Romana especially valuable."—Richard A. Gabriel, Military History
"A work entitled Pax Romana may suggest that the pre-eminent military historian of Rome, Adrian Goldsworthy, has gone soft. He has not. There is a great deal here about war and conquest . . . Yet this study offers far more than straight military history . . . Goldsworthy makes excellent use of anything from the Gospels to inscriptions and other archaeological remains in order to illustrate his claims . . . A fine [book], elegantly written."—Matthew Leigh, History Today
"Goldsworthy begins with the founding of Rome and continues for the next thousand or so years, up to the fall off the empire in the West and beyond . . . A useful book and an easy read . . . Highly recommended."—Choice
"Graceful in prose, learned in lore, as comfortable with archaeological as with literary witness, and a master of anecdote and historical comparison, Goldsworthy points his reader to many instances where Roman rule succeeded by powerful protection, upright justice, and intermingled economic interest."—J. E. Lendon, Weekly Standard
"The book succeeds admirably at its goal of communicating the complexities of Roman imperial history with great clarity and insight. Pax Romana is a well-crafted piece of historical writing that will certainly enlighten a wide audience."—Michael J. Taylor, Bryn Mawr Classical Review
"By the end of this book . . . one has a clear idea of how Rome's empire worked. There is no attempt to whitewash Rome into a benevolent and altruistic overlord. But the Romans were above all pragmatists. . . . So the Pax Romana strove for peace, content and prosperity, and succeeded to a remarkable degree. Not because of modern notions of morality, not out of philanthropy, but because it was the most efficient way to run an empire."—Philip Matyszak, UNRV Roman Empire
ISBN:
9780300230628
Publication Date:
August 22, 2017
528 pages, 6 1/8 x 9 1/4
36 b/w illus.

---
Sales Restrictions: For sale in the United States, its territories and dependencies, and the Philippine Islands only