Empire and Jihad
WARNING
You are viewing an older version of the Yalebooks website. Please visit out new website with more updated information and a better user experience: https://www.yalebooks.com
The Anglo-Arab Wars of 1870-1920
Neil Faulkner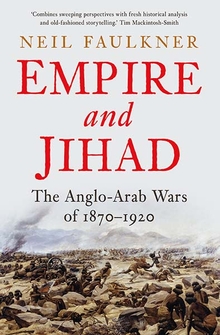 View Inside
Format:

Hardcover


Price:

$35.00
A panoramic, provocative account of the clash between British imperialism and Arab jihadism in Africa between 1870 and 1920
 
"An epic account of the British Empire's activities in Africa and the Middle East. . . . An important, indeed tremendous, contribution."—John Newsinger, author of The Blood Never Dried: A People's History of the British Empire
 
The Ottoman Sultan called for a "Great Jihad" against the Entente powers at the start of the First World War. He was building on half a century of conflict between British colonialism and the people of the Middle East and North Africa. Resistance to Western violence increasingly took the form of radical Islamic insurgency.
 
Ranging from the forests of Central Africa to the deserts of Egypt, Sudan, and Somaliland, Neil Faulkner explores a fatal collision between two forms of oppression, one rooted in the ancient slave trade, the other in modern "coolie" capitalism. He reveals the complex interactions between anti-slavery humanitarianism, British hostility to embryonic Arab nationalism, "war on terror" moral panics, and Islamist revolt. Far from being an enduring remnant of the medieval past, or an essential expression of Muslim identity, Faulkner argues that "Holy War" was a reactionary response to the violence of modern imperialism.
Neil Faulkner is the editor of Military History Matters and codirector of the Great Arab Revolt Project. He is the author of fifteen books, including Lawrence of Arabia's War and A Radical History of the World.
'Neil Faulkner has written an epic account of the British Empire's activities in Africa and the Middle East. His book has the rare virtue of combining scholarship and readability and is informed throughout by an uncompromising radicalism. An important, indeed tremendous, contribution.'—John Newsinger, author of The Blood Never Dried: A People's History of the British Empire
'Empire and Jihad will become necessary reading for any historian of the modern Middle East. Knowledgeable and critical of the Western historiography, it is a salient if not sobering bridge between the Anglo-Arab Wars of the nineteenth century and the "war on terror" in the twenty-first century.'—Warren Dockter, author of Churchill and the Islamic World
'Faulkner examines the great question that hung over nineteenth-century Africa: who would control it? For most Africans, Tory jingo and Mahdist jihad were two faces of one coin. The inevitable losers, as always, were the dispossessed multitudes, "the wretched of the earth". This is their story as much as it is that of Gordon, Kitchener, and the "Mad Mullah", and it is grippingly told.'—Tim Mackintosh-Smith, author of Arabs
"Faulkner tells the earlier story of British imperialism in northeast Africa...[and] is right to say the British decision to reconquer the Sudan in the 1890s was not from fear of jihadism, but concern that the French might seize the headwaters of the Nile."—James Barr, The Times
"Neil Faulkner's Empire and Jihad: The Anglo-Arab Wars of 1870–1920 is about missions and beliefs, dubious political schemes and still more dubious wars, jingoism and jihad. But, above all, it is about people. . . . Senselessness and sorrow hang heavily over Mr. Faulkner's vivid North-East African panorama; its viewer will never again look at an antique piano or billiard ball the same way."—Maxwell Carter, Wall Street Journal
"Superb, compelling, exuberantly written…Filled with fascinating but sensitive portraits and cliche-busting, balanced analysis. Radical but nuanced, Faulkner changes the way we think about the subject."—Simon Sebag Montefiore, BBC History Magazine 'Books of the Year'
ISBN:
9780300227499
Publication Date:
September 28, 2021
440 pages, 6 1/8 x 9 1/4
74 b/w illus. + 18 maps