The London Cage
WARNING
You are viewing an older version of the Yalebooks website. Please visit out new website with more updated information and a better user experience: https://www.yalebooks.com
The Secret History of Britain's World War II Interrogation Centre
Helen Fry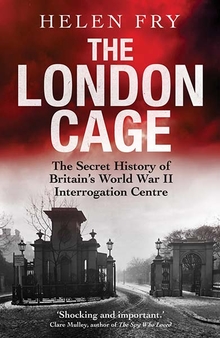 View Inside
Format:

Paper


Price:

$18.00
Also Available in:
Hardcover
The first complete account of the fiercely guarded secrets of London's clandestine interrogation center, operated by the British Secret Service from 1940 to 1948

Behind the locked doors of three mansions in London's exclusive Kensington Palace Gardens neighborhood, the British Secret Service established a highly secret prison in 1940: the London Cage. Here recalcitrant German prisoners of war were subjected to "special intelligence treatment." The stakes were high: the war's outcome could hinge on obtaining information German prisoners were determined to withhold. After the war, high-ranking Nazi war criminals were housed in the Cage, revamped as an important center for investigating German war crimes.
 
This riveting book reveals the full details of operations at the London Cage and subsequent efforts to hide them. Helen Fry's extraordinary original research uncovers the grim picture of prisoners' daily lives and of systemic Soviet-style mistreatment. The author also provides sensational evidence to counter official denials concerning the use of "truth drugs" and "enhanced interrogation" techniques. Bringing dark secrets to light, this groundbreaking book at last provides an objective and complete history of the London Cage.
Historian and biographer Helen Fry is the author of more than twenty books focusing mainly on intelligence, prisoners of war, and the social history of World War II. She lives in London.
"An impressively forensic study, which not only throws light on an intriguing (and murky) backwater of World War II but also on an unresolved ethical dilemma still with us today."—Tony Rennell, Daily Mail Book of the Week
"Impressively researched, this overdue investigation sheds new light on British interrogation methods during and after the Second World War. Shocking and important." —Clare Mulley, author of The Spy who Loved
 
"A tour de force. Helen Fry's absorbing and authoritative account of how Britain's wartime spies used both brutality and guile to get vital intelligence out of German prisoners-of-war is a shocking but fascinating read."—Michael Smith, author of The Anatomy of a Traitor
 
"A compelling account of the subterranean world of the London Cage and the 3,000 POWs who passed through its doors, presided over by the tough and eccentric Colonel Scotland. Despite the fact that some of the records still remain classified, Helen Fry makes an important contribution to our understanding of what took place in Kensington Palace Gardens during these years, shining a powerful light onto this hidden corner of WW2 history." —Tom Carver, author of Where the Hell Have You Been?: Monty, Italy and One Man's Incredible Escape
"Helen Fry shines the light of historical inquiry into a dark and disturbing corner of World War II, revealing for the first time the shocking story of The London Cage."—Mark Felton, author of Castle of the Eagles: Escape from Mussolini's Colditz
 
"In 1954 Scotland wrote his memoirs, but Special Branch raided his publishers and seized the manuscript . . . Now, finally, the original manuscript has been released by the National Archives. This uncensored version is the backbone of Fry's absorbing book, and Scotland's powerful personality dominates virtually every page."—William Cook, Spectator
"The history of the London Cage is controversial and, even after 70 years, many questions are unanswered. Helen Fry's book gives a cohesive picture of WW2 British Military Intelligence, raising important questions about means and ends in wartime. A clear and chilling insight into a long concealed chapter of Military Intelligence." —Michael Jago, author of The Man Who Was George Smiley
 
"Intelligence professionals should read The London Cage: it is they who will be tasked to build and run future interrogation programs, and Dr. Fry's book offers an important historical analogue for the work."—J. R. Seeger, CIA Studies in Intelligence
"This present work is well-written, occasionally witty and clearly printed."—Barry Baldwin, The Spokesman
ISBN:
9780300238655
Publication Date:
September 25, 2018
256 pages, 5 x 7 3/4
25 b/w illus.