An Atlas of the Peninsular War
WARNING
You are viewing an older version of the Yalebooks website. Please visit out new website with more updated information and a better user experience: https://www.yalebooks.com
Ian Robertson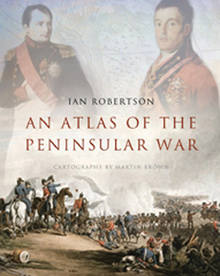 View Inside
Format:

Cloth


Price:

$75.00
This is the first comprehensive modern atlas of the Peninsular War, the series of campaigns in Spain and Portugal between Napoleonic France and British forces commanded by the Duke of Wellington. Here a distinguished military historian examines and explains the sequence of battles and the course of the war through expertly drawn cartography in color.
A general introduction, together with a historical summary setting the campaigns in context, is followed by 53 detailed maps and plans, each with a complementary text providing a succinct description of the action depicted. The great battles of Vimeiro, Talavera, Busaco, Albuera, Salamanca, Vitoria, and the Pyrenees are all graphically described, together with the main sieges and many minor combats. This is an indispensable companion to both serious students and military enthusiasts interested in the Napoleonic wars.
Ian Robertson is the author of Wellington at War in the Peninsula, Wellington Invades France, and A Commanding Presence.
"Maps are central to military history. No one can understand the story of a campaign or battle without clear, reliable maps, and attractive maps add enormously to the pleasure of the reader. Students of the war in the Peninsula have long felt the need for a modern atlas to illustrate Wellington's campaigns and those of his allies and enemies with clarity, accuracy and style.  Ian Robertson, with the design expertise of Martin Brown, has risen triumphantly to the challenge with this beautiful atlas." - Rory Muir, author of Salamanca, 1812
"Beautifully produced…We must be grateful to the author and his cartographer for achieving such a splendid result."—The Guards Magazine
"Cartography 'is a way of achieving ideological supremacy over space'. Ian Robertson's Atlas of the Peninsular War bears out the point. Fifty-three maps, accompanied by corresponding explanatory texts, are preceded by a chronology of the main historical events and an introduction. In all these texts the author justifies his views brilliantly. . . . Undoubtedly a pleasure to read. . . . It fulfills the clear aims of the author, and it can be a valuable companion to those who enjoy visiting Wellington's Peninsular battlefields."—Alicia Laspra, Times Literary Supplement
"A fascinating book which gives full value for money, and Yale University are to be congratulated for commissioning it."—Gil Dowdall-Brown, Casement-Fortress Study Group
"Yale University Press presents us with an almost perfect volume of maps and at a price within the means of the ordinary reader."—John Hussey, British Army Review
"What we have here is a wonderful and lucid addition to the library of any Napoleonic period enthusiast, whatever their academic aspirations, and it cannot be recommended more highly."—Jamie Wilson, Honourable Artillery Company Journal
"Ian Robertson has provided the perfect complement…. with his own summaries a model of concise clarity…. crystal clear and colourful maps of campaigns, battles and sieges that are simply superb…. Anyone interested in the Peninsular War should buy this book."—Matthew Bennett, Military Illustrated

"Handsomely produced and an excellent present for any Napoleonic War Buff."—Jeremy Black, BBC History Magazine
"A remarkable effort…both the author and the cartographer should be commended."—Robert Burnham, The Napoleon Series
"It is a book to be consulted, enjoyed and valued from the first sight, the first touch…..I instantly felt its quality: light, well-bounded and strong…..Martin Brown's maps are superb, with colours clear and helpful, and the positions and movements of armies and detachments easily discernible, as are Robertson's concise narratives."—Nicholas Dunne-Lynch, The Irish Sword
"This book is ideal for aficionados of the era's military history."—Library Journal
ISBN:
9780300148695
Publication Date:
November 30, 2010
160 pages, 9 3/8 x 7 1/2
35 b/w illus. + 77 maps