A Schoolmaster's War
WARNING
You are viewing an older version of the Yalebooks website. Please visit out new website with more updated information and a better user experience: https://www.yalebooks.com
Harry Ree, British Agent in the French Resistance
Edited by Jonathan Ree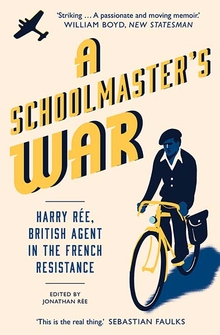 View Inside
Format:

Paper


Price:

$16.00
Also Available in:
Hardcover
The wartime adventures of the legendary SOE agent Harry Rée, told in his own words

"A beautiful collection of writings by schoolmaster-turned-secret agent Harry Rée. . . . Memoirs, postwar broadcasts and letters from French comrades combine to paint a picture of everyday heroism, treachery and tragedy."—Robert Gildea, author of Fighters in the Shadows: A New History of the French Resistance

"In a book devoted to heroism in its true, self-effacing form, that modesty seems entirely appropriate, and is a tribute both to Ree and to the son who put it together."—Andrew Holgate, The Sunday Times 

A pacifist school teacher at the start of the war, Harry Rée changed his mind with the fall of France in 1940. He was deployed into a secret branch of the British army and parachuted into central France in April 1943. He soon won the confidence of local resisters and directed a series of dramatic sabotage operations. Rée's memoirs, superbly edited by his son, the philosopher Jonathan Rée, offer unique insights into life in the French Resistance, and into the anxiety, folly and pity of war.
Harry Rée, DSO, OBE, was a British school teacher and educator and a wartime member of the Special Operations Executive. His son Jonathan Rée is a freelance historian and philosopher. His books include Philosophical Tales, I See a Voice, and Witcraft.
"Harry Rée, teacher, pacifist, defender of liberty, was a great man, dear to his family and friends, a hugely respected educationist, and a quiet hero. This important book is long overdue. Read it and be inspired by a life well and bravely lived."—Michael Morpurgo 
"This is the real thing. As an account The Schoolmaster's War scores highly in terms of detail and reliability. It lacks any sense of myth making, concealment or boasting — qualities quite common in many SOE memoirs."—Sebastian Faulks
''A fascinating story, not just of spectacular shootouts, parachute drops, and derring-do but of day to day living behind the lines as an Englishman who had literally dropped out of the sky.  Harry Rée does not duck away from the harsh reality of the war and the personal tragedy of many of the French people he worked with - those who befriended him, fed him, sheltered him, risked death, arrest and torture for him.… Possibly one of the last of these stories of the like we will never see again."— Keggie Carew, author of Dadland 
 
"A beautiful collection of writings by schoolmaster-turned-secret agent Harry Rée … Memoirs, postwar broadcasts and letters from French comrades combine to paint a picture of everyday heroism, treachery and tragedy."—Robert Gildea, author of Fighters in the Shadows: A New History of the French Resistance
"Terrific in the detail and the authenticity, the humanity and the immediacy. The fear and dread mixed with the holiday spirit is remarkable."—Nick Rankin, author of Churchill's Wizards
"An exciting and important story, of just the kind that should be told before all Harry Rée's generation, even his youngest accomplices, have disappeared into the great dark."—Gillian Tindall, author of Celestine: Voices from a French Village
"The publication of Harry Rée's war writings is a necessity. Harry Rée, along with Francis Cammaerts, were not only legendary SOE agents: they also insisted that the local French people who admired, aided and protected them deserved historical recognition both for their active and loyal role in the Resistance and for the extent of their suffering and losses."—Rod Kedward, author of In Search of the Maquis
"Anyone interested in occupied France or British special operations during the Second World War needs to read this book … Rée emerges as a man who acted as though he was a character in a story by G.A. Henty but thought and wrote as though he was a character in a novel by Iris Murdoch."—Richard Vinen, author of The Unfree French: Life under the Occupation
"In a book devoted to heroism in its true, self-effacing form, that modesty seems entirely appropriate, and is a tribute both to Ree and to the son who put it together."—Andrew Holgate, The Sunday Times 
ISBN:
9780300259179
Publication Date:
April 27, 2021
240 pages, 5 x 7 3/4