Imagining Zion
WARNING
You are viewing an older version of the Yalebooks website. Please visit out new website with more updated information and a better user experience: https://www.yalebooks.com
S. Ilan Troen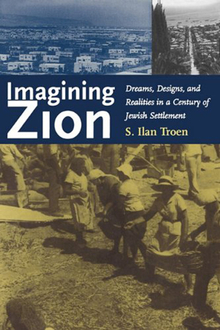 View Inside
Format:

Paper


Price:

$37.00
Also Available in:
Cloth
This timely book tells the fascinating story of how Zionists colonizers planned and established nearly 700 agricultural settlements, towns, and cities from the 1880s to the present. This extraordinary activity of planners, architects, social scientists, military personnel, politicians, and settlers is inextricably linked to multiple contexts: Jewish and Zionist history, the Arab/Jewish conflict, and the diffusion of European ideas to non-European worlds.

S. Ilan Troen demonstrates how professionals and settlers continually innovated plans for both rural and urban frontiers in response to the competing demands of social and political ideologies and the need to achieve productivity, economic independence, and security in a hostile environment. In the 1930s, security became the primary challenge, shaping and even distorting patterns of growth.

Not until the 1993 Oslo Accords, with prospects of compromise and accommodation, did planners again imagine Israel as a normal state, developing like other modern societies. Troen concludes that if Palestinian Arabs become reconciled to a Jewish state, Israel will reassign priority to the social and economic development of the country and region.

S. Ilan Troen is Karl, Harry, and Helen Stoll Family Chair in Israel Studies at Brandeis University, Sam and Anna Lopin Professor of Modern History at Ben-Gurion University of the Negev and Senior Fellow, Ben-Gurion Research Center. He is coeditor of Divergent Jewish Cultures: Israel and America, published by Yale University Press.

"Prof. Troen confronts questions that stand at the heart of Israel's self-understanding. His answers will surely arouse controversy, but the questions he poses must be faced."—David Engel, New York University  


"This is the only comprehensive history of Zionist and Israeli settlement available in English. Troen's focus on Zionism's developmental ethos and its realization yields an important contribution to a field dominated by high politics and military affairs."—Derek J. Penslar, Zacks Professor of History; Director, Jewish Studies Program, University of Toronto

"Among all the books on the subject of Zionist economic/security ideology, this is one of the finest I have ever read. Its research is vast, its approach is fresh and original, its conclusions are sound."—Howard M. Sachar, author of A History of Israel

"Ilan Troen's Imagining Zion may well be the very most important book to appear in many years on patterns of Jewish settlement in Palestine/Israel. At a time when much discussion is devoted to Jewish settlement and, related to that, the very legitimacy of the Zionist enterprise in the Land of Israel, Troen's balanced and highly informative book is a must read. Thoroughly researched, lucidly written, and informed by an intimate familiarity with comparative materials (the author was an urban historian of the United States before switching to the history of the Yishuv), this book serves as a much needed corrective to the spate of essays that have recently appeared lining the modern state of Israel in most superficial ways to so-called settler states such as French Algeria and South Africa. In telling the compelling story of Zionist achievement, the author never loses sight of how the Jewish community in the Land of Israel envisioned the master plan of Zionist development and also took into consideration its impact on the indigenous Arab population. This highly nuanced and extremely informative book should attract audiences drawn from a wide range of academic disciplines. It is not only very timely, it has the virtue of being written in very accessible prose."—Jacob Lassner, Northwestern University, author of The Middle East Remembered: Forged Identities, Competing Narratives, Contested Spaces 


"This is a superb book. A sweeping study of the Zionist settlement of Palestine from the late nineteenth century to our own time, it analyzes the ideological, pragmatic, and ultimately strategic concerns that shaped the nature of Jewish communities in the State of Israel as well as the pre-state period. It succeeds in integrating the story of the building of Israel—from the kibbutz to Tel Aviv to development towns—within the context of urban and rural development in the modern western world."—Paula Hyman, Yale University 

"This significant study bridges the gap between narrative history and a focused analysis on Israeli planning. Recommended."—Choice


"An extremely insightful and very well-written account. . . . A brief review, to sum up, cannot possibly do justice to the full richness of the description and analysis in Troen's treatise. Suffice it to say that this volume is probably the single most comprehensive one on Zionist and Israeli development plans written thus far, and it is sure to become a core work in the field. It should be eagerly consulted by anyone with an interest in the subject."—Israel Affairs


"This remarkable book ought to be required reading for anyone who wants to understand the complexity of the current Israeli-Palestinian conflict. . . . His clear and direct style renders the book accessible to readers not familiar with architectural design."—John T. Pawlikowski, Theological Studies


ISBN:
9780300178531
Publication Date:
April 15, 2011
360 pages, 6 x 9
30 b/w illus.