The Case for Greatness
WARNING
You are viewing an older version of the Yalebooks website. Please visit out new website with more updated information and a better user experience: https://www.yalebooks.com
Honorable Ambition and Its Critics
Robert Faulkner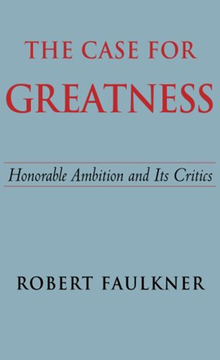 View Inside
Format:

Paper


Price:

$29.00
Also Available in:
Cloth
e-book
A searching defense of great political leadership?

The Case for Greatness is a spirited look at political ambition, good and bad, with particular attention to honorable ambition. Robert Faulkner contends that too many modern accounts of leadership slight such things as determination to excel, good judgment, justice, and a sense of honor—the very qualities that distinguish the truly great. And here he offers an attempt to recover "a reasonable understanding of excellence," that which distinguishes a Franklin D. Roosevelt and a Lincoln from lesser leaders. Faulkner finds the most telling diagnoses in antiquity and examines closely Aristotle's great-souled man, two accounts of the spectacular and dubious Athenian politician Alcibiades, and the life of the imperial conqueror Cyrus the Great. There results a complex and compelling picture of greatness and its problems. Faulkner dissects military and imperial ambition, the art of leadership, and, in the later example of George Washington, ambition in the service of popular self-government. He also addresses modern indictments of even the best forms of political greatness, whether in the critical thinking of Hobbes, the idealism of Kant, the relativism and brutalism of Nietzsche, or the egalitarianism of Rawls and Arendt. He shows how modern philosophy came to doubt and indeed disdain even the best forms of ambition. This book is a nuanced defense of admirable ambition and the honor-seeking life, as well as an irresistible invitation to apply these terms to our own times and leaders.
Robert Faulkner is professor of political science at Boston College.
"The classic philosophers, Faulkner contends, help us far more than modern theoreticians to make sense of genuinely great men and women. The chapter on Aristotle's 'megalopsychos' is the best I have read in any of the literatures and Faulkner does a masterful job of focusing on the inner-life of the great-souled man, not just the desire for honors, but the desire to be worthy of honors. An excellent study of a much-needed subject."—Steven Smith, author of Reading Leo Strauss and Spinoza's Book of Life
"Deftly mixing history, theory, and witty common sense, Robert Faulkner makes a compelling case for honorable ambition—as distinct from both radical egalitarianism and amoral elitism—in the service of republican self-government."—William A. Galston, The Brookings Institution
"In a searching study of politics and philosophy, Robert Faulkner defends honorable ambition against cynics and skeptics in our day. His search centers on the ancients, always our best source for greatness and its eternal rivalry with goodness. This is a book of matured and ready wisdom."—Harvey Mansfield
"[A] wise book. . . . The book will reward the patient reader."—Brian C. Anderson, National Review
"To understand political life, we have to comprehend ambition in all its forms, measuring each from the peak of the most honorable kind. Faulkner's book is an indispensable guide. . . . Ambition is all around us, but are goodness and greatness? Faulkner awakens his readers to what is at stake in this question, and our answer will take the political wit and philosophic insight so much on display in his compelling work."—Susan D. Collins, The Weekly Standard
"Robert Faulkner has written that rare book that helps one see the world better and more deeply. His book is a summa of learning, reflection, and wisdom. . . . [An] eloquent book. . . . Faulkner provides a model of political philosophizing that does justice to the palpable distinction between the statesman and the tyrant. . . . [He] renews the tradition of classical philosophy. He puts us in touch with the world of common sense, of virtue and vice, that lies before us if we but open ourselves to it. That is no mean achievement, indeed."—Daniel J. Mahoney, New Criterion
"[An] elegant volume. . . . In this book Robert Faulkner pulls no punches. His aim is the defense of political greatness, but he takes very great care to display its dark side as well."—Paul A. Rahe, Claremont Review of Books
"In The Case for Greatness: Honorable Ambition and Its Critics, Robert Faulkner has given us a book that brings to bear the best political philosophy has to offer on those human concerns that draw us to its study in the first place. It is a book one must read. For those whose profession is the study of politics it is a book one should teach. And for those like Faulkner who teach political philosophy. . . his is the kind of book one wishes to have written." —Bernard J. Dobski, H-Net Reviews
ISBN:
9780300209730
Publication Date:
June 10, 2014
288 pages, 5 1/2 x 9