Unwarranted Influence
WARNING
You are viewing an older version of the Yalebooks website. Please visit out new website with more updated information and a better user experience: https://www.yalebooks.com
Dwight D. Eisenhower and the Military-Industrial Complex
James Ledbetter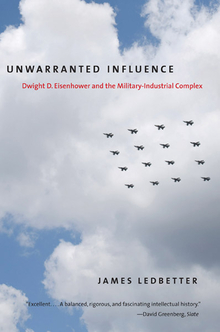 View Inside
Format:

Paper


Price:

$20.00
Also Available in:
Cloth
A fascinating analysis of one of the most important political and economic ideas of our time: the ties between America's military and its economy

In Dwight D. Eisenhower's last speech as president, on January 17, 1961, he warned America about the "military-industrial complex," a mutual dependency between the nation's industrial base and its military structure that had developed during World War II. After the conflict ended, the nation did not abandon its wartime economy but rather the opposite. Military spending has steadily increased, giving rise to one of the key ideas that continues to shape our country's political landscape.
In this book, published to coincide with the fiftieth anniversary of Eisenhower's farewell address, journalist James Ledbetter shows how the government, military contractors, and the nation's overall economy have become inseparable. Some of the effects are beneficial, such as cell phones, GPS systems, the Internet, and the Hubble Space Telescope, all of which emerged from technologies first developed for the military. But the military-industrial complex has also provoked agonizing questions. Does our massive military establishment—bigger than those of the next ten largest combined—really make us safer? How much of our perception of security threats is driven by the profit-making motives of military contractors? To what extent is our foreign policy influenced by contractors' financial interests?
Ledbetter uncovers the surprising origins and the even more surprising afterlife of the military-industrial complex, an idea that arose as early as the 1930s, and shows how it gained traction during World War II, the Cold War, and the Vietnam era and continues even today.
James Ledbetter is editor in charge of Reuters.com. His books include Made Possible By . . . and Starving to Death on $200 Million.
"Excellent . . . a balanced, rigorous, and fascinating intellectual history of the speech."—David Greenberg, Slate
"Few commentators on the 34th president's mind and methods have more rigorously considered the evolution of Eisenhower's preoccupations than Ledbetter has."—Josiah Bunting III, Washington Post
"James Ledbetter's smart, compact, eye-opening history is more than the anatomy of a speech. It's the history of an idea, with roots dating to World War I and demonstrable relevance for today."—David Greenberg, author of Nixon's Shadow: The History of an Image
"In this bitter war-torn moment, Eisenhower's warning about the misrule of the military-industrial complex is more urgent than ever. James Ledbetter's keen, incisive, vividly written essay is timely and important. "—Blanche Wiesen Cook, author, The Declassified Eisenhower and Eleanor Roosevelt, I, II and III (forthcoming)
"The 'Farewell Address' is arguably one of the great pieces of 20th century American rhetoric, and James Ledbetter explains its background, intent, and ramifications in a fascinating and convincing way. I thought I knew a lot about the speech, but I learned so much more from this book."—James Fallows, National Correspondent for 
The Atlantic Monthly
"James Ledbetter has given us an excellent study to make the 50th anniversary of Eisenhower's farewell."—Robert Westbrook, The Christian Century
"Ledbetter provides a readable and well-informed argument."—Christopher Preble, Washington Monthly
"[A] detailed showcase for an idea that continues to touch us, even after 50 years."—Lora Cohn, Presidential Studies Quarterly
"Unwarranted Influence is a well-researched, thought-provoking amd very well written account of the evolution of  the military-industrial complex, whose influence has extended beyond the Cold War." — Helen Bury, University of St. Andrews
ISBN:
9780300177626
Publication Date:
September 20, 2011
280 pages, 5 1/2 x 8 1/4
1 b/w illus.