Frankly, My Dear
WARNING
You are viewing an older version of the Yalebooks website. Please visit out new website with more updated information and a better user experience: https://www.yalebooks.com
"Gone with the Wind" Revisited
Molly Haskell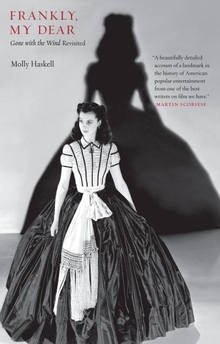 View Inside
Format:

Paper


Price:

$18.00
Also Available in:
Cloth
An exploration of the book, the movie, and the author of one of the most captivating stories ever told

How and why has the saga of Scarlett O'Hara kept such a tenacious hold on our national imagination for almost three-quarters of a century? In the first book ever to deal simultaneously with Margaret Mitchell's beloved novel and David Selznick's spectacular film version of Gone with the Wind, film critic Molly Haskell seeks the answers. By all industry predictions, the film should never have worked. What makes it work so amazingly well are the fascinating and uncompromising personalities that Haskell dissects here: Margaret Mitchell, David Selznick, and Vivien Leigh. As a feminist and onetime Southern adolescent, Haskell understands how the story takes on different shades of meaning according to the age and eye of the beholder. She explores how it has kept its edge because of Margaret Mitchell's (and our) ambivalence about Scarlett and because of the complex racial and sexual attitudes embedded in a story that at one time or another has offended almost everyone.
Haskell imaginatively weaves together disparate strands, conducting her story as her own inner debate between enchantment and disenchantment. Sensitive to the ways in which history and cinema intersect, she reminds us why these characters, so riveting to Depression audiences, continue to fascinate 70 years later.
Molly Haskell is a writer and film critic. She has lectured widely on the role of women in film and is the author of From Reverence to Rape: The Treatment of Women in the Movies. She lives in New York City.
Visit the author's website at http://mollyhaskell.com/
GWTW by the numbers…
—Nearly 30 million copies of the book have been sold since 1936
—The film grossed over $1.3 billion in the U.S., making it the biggest blockbuster of all time (adjusted for inflation)
—202 million tickets were sold during the film's first run (the U.S. population was only 130 million)
—The movie runs 3 hours and 42 minutes
—Nominated for 13 academy awards, the film won 10 Oscars, including Best Picture, Director, Actress, Screenplay, and Supporting Actress
"This is a beautifully written and well-detailed account of the making of a movie that has, by now, become an American treasure, a landmark in popular entertainment. And it's written by a real Southerner, who happens to be one of the best writers on film we have."—Martin Scorsese
"An absolutely marvelous work—provocative, perceptive, richly informative, and written with a contagious passion. Molly Haskell has given all of us who are in thrall to Gone with the Wind countless fresh insights, not only about its characters and the era in which they lived, but also about ourselves and our own times."—Olivia de Havilland
"Molly Haskell is a magician to coax such exciting, fresh, brilliant analysis from such a problematic classic.  Her feeling for ambivalence and nuance reveals unsuspected shadings, and thrillingly elucidates Gone with the Wind's miraculous tightrope act of masculine-feminine sensibilities."—Phillip Lopate
"Beautifully written and fascinating to digest, Molly Haskell's Frankly, My Dear towers above any other book that's yet been written about Gone with the Wind. It has the kind of insights into the Wind phenomenon that only a writer of Molly Haskell's stature, wisdom and clarity could give us. It is quite the perfect toast to both the book and to the film version of Wind on the latter's 70th birthday."—Robert Osborne, Host of Turner Classic Movies
"With her sharp feeling for movie culture, sexual politics, and the elusive mores of the old South, Molly Haskell brilliantly sketches the contribution of everyone who shaped Gone with the Wind into a problematic but enduring popular classic."—Morris Dickstein, author of Gates of Eden and Leopards in the Temple
"A stunning piece of criticism, written with fever-pitch intensity, that demonstrates so movingly why it's impossible to name the kind of greatness found in Gone with the Wind and impossible to refrain from trying."—Alan Trachtenberg, author of Lincoln's Smile and Other Enigmas
"In engaging and witty fashion, Haskell seamlessly weaves together biographical and autobiographical issues, production information, sharp critical commentary, and cogent analysis of the literary, social and political context of both the Margaret Mitchell novel and the David Selznick adaptation. She gives us numerous important insights into the deep mythology of the film and its ability to function as 'the Bible of America.'"—James Naremore, Indiana University
"A beautifully detailed account of a landmark in the history of American popular entertainment from one of the best writers on film we have."—Martin Scorsese
"Molly Haskell has written a new book about Gone With the Wind. If you give a damn about this subject, I urge you to seek it out."—Pamela Fiori, Town & Country
"An earnest work of moviegoer remembrance that's also affectionate scholarship. . . . [Haskell] disentangles the film's qualities from the confounding issues of misogyny, racism and intellectual snobbery. . . . Haskell's critical sensitivity rescues Scarlett's Americanism and femininity, indicating how her image rebounds upon our eternal political struggles and deepest fantasies. Haskell clarifies the long shadow that Scarlett O'Hara casts over the American movie imagination."—Armond White, New York Times Book Review
"Through juicy scholarship, feminist-leaning film expert Molly Haskell . . . rises to the task of explaining this uniquely American cultural phenomenon by boldly burrowing into both the 1936 best seller by Margaret Mitchell and the big-screen epic it inspired. . . . The best measure of whether her book succeeds? It leaves you yearning to return to Tara, again."—Susan Wloszczyna, USA Today
"Molly Haskell applies her deep movie knowledge, feminist eye, and Southern roots to a fiercely smart appreciation of Gone With the Wind. . . . As crisp in her presentation of Hollywood gossip as she is in her scholarly analysis of why the book-turned-movie has such a hold on us."—Entertainment Weekly
"Haskell's feminist perspective comes to the rescue of a film most academics won't touch and current critics dismiss."—New York Times Book Review (Editors' Choice)
"It's near exhilarating to read Molly Haskell's Frankly, My Dear, a revisitation that explores the reverberating complexities of the Margaret Mitchell franchise. . . . It was Gone With the Wind, Haskell reminds us, that together with D.W. Griffith's Birth of a Nation imprinted a false image of Reconstruction and its aftermath that is still being corrected today."—Steve Coates, New York Times
"This sincere, detailed celebration should interest long-time fans and students."—Publishers Weekly
"Film critic Molly Haskell is interested in the meeting points between film, sociology and history, and she writes about all of them, together and separately, with ease and authority in her new book, Frankly, My Dear. . . . Her research and insights—her intelligent understanding of all she surveys—are unsurpassed. . . . Frankly, My Dear is full of interesting details about the genesis of the book and film."—Mick LaSalle, San Francisco Chronicle
"What Molly Haskell does so deftly is dismiss conventional wisdom about Gone With the Wind."—Margaret Moser, Austin Chronicle
"A smart, sassy, and sophisticated reappraisal of the novel and the movie."—Glenn C. Altschuler, Tulsa World
". . . an earnest work of moviegoer remembrance that's also affectionate scholarship . . . Haskell clarifies the long shadow that Scarlett O' Hara casts over the American movie imagination." — Armond White, International Herald Tribune
"The era of Scarlett O'Hara is long Gone with the Wind but her story still fires our imagination. Molly Haskell explains why it mattered and, Frankly My Dear, why it continues to." - Elissa Schappell, Vanity Fair
"Drawing on a wealth of research material, . . . Haskell tells a fascinating story about the making of a film that has become ingrained in the American psyche."—Tom Ryan, The Age (Australia)
"[As] film critic and historian Molly Haskell suggests in her breezy yet deeply insightful study, Frankly, My Dear: Gone With the Wind Revisited, the 'book' versions of Rhett and Scarlett and their 'movie' counterparts reinforce one another rather than cancel each other out: For good reason, the two couples share space in our collective imagination rather than jockeying for supremacy."—Stephanie Zacharek, Salon
"In this elegant, beautifully presented book, Haskell meditates on the lasting power of the film Gone with the Wind (1939), an iconic object of American cinema. But at the same time, she offers new insights into the social, political, and racial aspects of the film. . . . Highly recommended."—G. A. Foster, Choice
"Besides her unique and crucial role in American feminism, Haskell is also one of the best writers on film in America, and both as a critic and stylist she's only getting better."
--
The L Magazine
'Haskell mixes such observations of the American psyche with a fascinating, gossipy, examination of the film. She is excellent on the personalities.' — Hugh MacDonald, The Herald (Glasgow)
'Haskell is a respected Virginia-born film critic whose passion for her subject is whopping, and her book is a flat-out must for any fan of epic Hollywood.' — Antonia Quirke, Sunday Times
"Molly Haskell's Frankly, My Dear: Gone With the Wind Revisited is not only consistently incisive and illuminating, but it's also the rare work of criticism that's as accessible and engaging as the entertainments it discusses." —Godfrey Cheshire, Raleigh Metro Magazine
Chosen as an Outstanding Academic Title for 2009 by Choice Magazine
ISBN:
9780300164374
Publication Date:
February 23, 2010
272 pages, 5 1/2 x 8 1/4
15 b/w illus.