Nearest Thing to Heaven
WARNING
You are viewing an older version of the Yalebooks website. Please visit out new website with more updated information and a better user experience: https://www.yalebooks.com
The Empire State Building and American Dreams
Mark Kingwell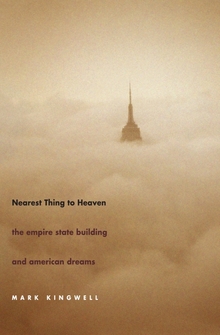 View Inside
Format:

Paper


Price:

$29.00
Also Available in:
Cloth
A new perspective on a beloved cultural icon, its place in our history, and its meaning in the American imagination

This elegantly written appreciation of the Empire State Building opens up the building's richness and importance as an icon of America. The book leads us through the facts surrounding the skyscraper's conception and construction, then enters into a provocative theoretical discussion of its function as an icon, its representation in pictures, literature, and film, and the implications of its iconic status as New York's most important architectural monument to ambition and optimism. The Empire State Building literally cannot be seen in its totality, from any perspective. And paradoxically, this building of unmistakable solidity has been made invisible by familiarity and reproduction through imagery. Mark Kingwell encourages us to look beneath the strong physical presence of the building, to become aware of its evolving layers of meaning, and to see how the building lives within a unique imaginative space in the landscape of the American consciousness. He offers new ways of understanding the Empire State Building in all its complexity and surprising insights into its special role as an American icon.
 
Mark Kingwell is professor of philosophy, University of Toronto, a contributing editor of Harper's Magazine, and the author of eight books.

"Nearest Thing to Heaven offers a startling, fresh perspective on the nature of icons as mythic and invisible at the same time. Kingwell has written a thinking person's travel guide to New York and its architecture."—Allan Hepburn, McGill University
 

"Manfredo Tafuri referred to the American skyscraper as a "disenchanted mountain," and Mark Kingwell's cross-disciplinary approach takes us up the Empire State's slopes by new and revealing routes indeed. Kingwell's gift is the breadth of his insight, from the savvy eye of the popular culture critic to the rigorous reflections of the philosopher."—Graham Owen, Tulane School of Architecture


"Circling around the Empire State Building, moving between architecture and philosophy, film and politics, this engaging study should make us all more thoughtful about troubled dreams of Empire, state, and building."—Karsten Harries 
 

"In quick strokes, the author sketches the history of the Empire State Building from its origins in the minds of boundlessly enthusiastic politican Alfred E. Smith and financier John Jakob Raskob . . . to its grand opening in May, 1931. . . . This is supremely a lover's book. Everything that has to do with the Empire State, the object of Kingwell's passion, is enormously interesting to him. . . . Full of insight, and so well imagined and explained."—John Bentley Mays, Toronto Globe and Mail
 "This elegantly written appreciation of the Empire State Building opens up the building's richness and importance as an icon of America." - Listed Heritage
"Mark  Kingwell's intellectual mission throughout this multi-disciplinary study is a kind of grail-like quest for [the Empire State Building's] iconic and simulacral quintessence. … This book is surely one of the literary highlights of the year. … Go out now, buy and read this book for yourselves. It is a rare treat." - Peter J. M. Wayne, Spectator
"A highly engaging search for the meaning of the Empire State Building. . . . In search of this 'invisible' object of his affection, Mark Kingwell makes use of his formidable powers of observation. The building clearly cannot be understood in just one way, and in a series of seven standalone sections . . . he adroitly shifts lenses, drawing freely on popular culture, philosophy, film, politics and ideology, technology, economics, social histories and architectural criticism."—Ken Greenberg, Literary Review of Canada
"[A] thoughtful book...In tracing the Empire State Building's multiple meanings and associations, Kingwell ranges widely..."---Andrew Mead, Architects Journal
"The tone of this scholarly tribute to "the building" is fun-loving cultural studies, with references to Don DeLillo, Barthes, Virilio et al as the author takes a leisurely conceptual stroll around it."---Steve Poole, The Guardian
"Mark Kingwell has written both a history and an appreciation of one of the world's most recognized archtiectural silhouettes . . . The Empire State Building. His fine, detailed examination of the New York landmark and American icon includes the observation that, because it was built during the Great Depression, its construction embodied the American spirit."—Glenn Speer, New Jersey Star Ledger
"The book's value comes from its fresh approach. . . . Kingwell makes the building come alive."—Michael Shapiro, H-Net Reviews
"In a scholarly tribute to the classic skyscraper; Kingwell charts the life of this iconic building from conception to construction and, by placing it deep in the American psyche, offers new ways we can understand its cultural significance."—The Independent
"An affectionate tour of the great building. . . . It's [New York's] icon, and we should thank Kingwell for explaining why we love it."—Julia Vitullo-Martin, New York Post
Chosen as one of the top 100 books of 2006 by the Globe and Mail of Toronto, leading the architecture and design category
ISBN:
9780300126129
Publication Date:
December 4, 2007
256 pages, 5 7/8 x 9