Supermarket USA
WARNING
You are viewing an older version of the Yalebooks website. Please visit out new website with more updated information and a better user experience: https://www.yalebooks.com
Food and Power in the Cold War Farms Race
Shane Hamilton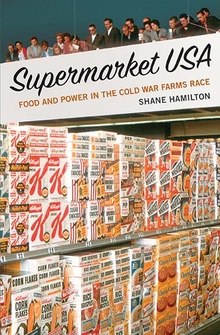 View Inside
Format:

Hardcover


Price:

$38.00
America fought the Cold War in part through supermarkets—and the food economy pioneered then has helped shape the way we eat today

Supermarkets were invented in the United States, and from the 1940s on they made their way around the world, often explicitly to carry American-style economic culture with them. This innovative history tells us how supermarkets were used as anticommunist weapons during the Cold War, and how that has shaped our current food system.
 
The widespread appeal of supermarkets as weapons of free enterprise contributed to a "farms race" between the United States and the Soviet Union, as the superpowers vied to show that their contrasting approaches to food production and distribution were best suited to an abundant future. In the aftermath of the Cold War, U.S. food power was transformed into a global system of market power, laying the groundwork for the emergence of our contemporary world, in which transnational supermarkets operate as powerful institutions in a global food economy.
Shane Hamilton is a senior lecturer in International Business and Strategy at the University of York, and the author of Trucking Country: The Road to America's Wal-Mart Economy
"The Cold War wasn't just fought with military hardware in proxy wars, but with boxes of cereal and cans of tuna in supermarket aisles. Hamilton's is an engaging contribution to Cold War history, showing how the technopolitics of consumption, production, and distribution mattered in the last century, and continue to shape the world long after the fall of the Soviety Union."—Raj Patel, author of Stuffed and Starved: The Hidden Battle for the World Food System
"Written with verve and based on a wide array of archival and fugitive sources, Supermarket USA is an extraordinarily important work that bridges the chasm that has long divided studies of Cold War rivalry from the emerging history of capitalist globalization during that era and after."—Nelson Lichtenstein, author of The Retail Revolution: How Wal-Mart Created a Brave New World of Business
"Who knew that supermarkets, of all things, were key elements of U.S. free enterprise, anti-Soviet, Cold War propaganda? Hamilton fully explains how 'farm wars' led directly to today's international industrial agribusinesses. This superb book is a must-read."—Marion Nestle, author of Unsavory Truth: How Food Companies Skew the Science of What We Eat
"an insightful and wide-ranging examination of the domestic and international implications of American food and retail policy in the mid-late twentieth century. . . . Supermarket USA is a succinct discussion of U.S. food systems that will be a welcome addition to Cold War historiography and the history of international food systems. This is an impressive and valuable text that deserves a broad scholarly readership."—Justin Nordstrom, Agriculture and Human Values
"an insightful book that illuminates a truth that has been intentionally concealed and obfuscated since the early days of the Cold War: the United States' economy was not the free-market capitalist utopia that the propagandists made it out to be. . . . an extremely useful history of capitalism that utilizes supermarkets as a lens into the workings of industrial agriculture. It is particularly helpful for any-one studying or teaching political economy. . . . Hamilton's work is essential."—Courtney I.P. Thomas, Agricultural History
"Like the best transnational studies, Supermarket USA challenges the boundaries and the themes of even the most domestic nation-based history."—Traci Deutsch, Global Food History
"Supermarket USA is an ambitious, successful study of Cold War economic development as well as agricultural and business history. . . . an essential text for all historians interested in the politics of food"—Adam Mack, American Historical Review
ISBN:
9780300232691
Publication Date:
September 18, 2018
288 pages, 5 1/2 x 8 1/4
12 b/w illus.