Republic of Shade
WARNING
You are viewing an older version of the Yalebooks website. Please visit out new website with more updated information and a better user experience: https://www.yalebooks.com
New England and the American Elm
Thomas J. Campanella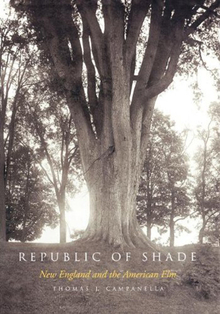 View Inside
Format:

Paper


Price:

$35.00
Also Available in:
Cloth
The American elm, elegant and highly adaptable, was an essential feature of America's cultural landscape for more than a century, forming great verdant parasols above—and giving its name to—streets all across the nation. The elm became a defining element in the spatial design of America's villages, towns, and cities, first in New England, and—with the westward transit of Yankee culture—eventually throughout the United States. This fascinating and generously illustrated book traces the elm's transformation from a fast-growing weed into a regional and national icon, and shows how Elm Street satisfied America's quest for a pastoral urbanism imagined since the time of Jefferson.

Thomas J. Campanella is assistant professor in the Department of City and Regional Planning at the University of North Carolina, Chapel Hill. He is the author of Cities from the Sky: An Aerial Portrait of America.
"Republic of Shade is gracefully written, elegantly designed, and Campanella's annotated text is illustrated with dozens of historic photographs. Above all, Republic of Shade gives form and substance to the elusive concept of cultural landscape history. Campanella illuminates beliefs and yearning that extend to far more than America's love affair with elms, and his fascinating book deserves an audience as broad and enduring."—Jane Roy Brown, Architectural Record

"An engaging . . . chronicle of the elm. . . . Campanella . . . does a wonderful job pinpointing many of the meanings early America found in the elm."—Douglas Jones, Books & Culture


"Told with authority and charm."—Michael Kenney, Boston Sunday Globe



"Campanella, having grown up while the magnificent landscape of elms was dying of Dutch elm disease, seems to always have had a love and fascination with them. . . . The book gives a cultural history of the tree and what it continues to mean to America. The concluding chapter offers an up to date view of efforts to conserve and restore these trees to the landscape."—Central New York Environment

"Republic of Shade is an outstanding book—carefully researched, engagingly written, well illustrated . . . and finely crafted. It should be read by everyone interested in the region or the intersection between nature and the culture of American settlements."—Terence Young, Environmental History

"Republic of Shade is eloquent in its articulation of the central place Ulmus americana has occupied in American culture, writ large. . . . Making superb use of an interdisciplinary array of sources—photographs, diaries and journals, newspaper records, and government documents—[Campanella] recovers the cultural history of the elm."—Char Miller, Journal of Forestry


"A scholarly, evocative, and beautifully written portrayal of the role the elm tree has played in the American psyche. . . . Very nicely illustrated with black-and-white reproductions of archival photographs, paintings, and etchings that enhance a tale well told. . . . I can enthusiastically recommend this work to historians and tree lovers alike."—Glen D. Dreyer, New England Quarterly


"In Thomas J. Campanella's edifying Republic of Shade, the mighty elm--whose dominance as America's favorite tree was toppled by the devastating epidemic of Dutch-elm disease that began in 1931—rises gain, as Campanella explores the history of the plant that launched an entire nation of Elm Streets."—Mark Rozzo, New Yorker

"Books written in praise of trees and forests abound, but few combine rigorous scholarship and historiography with writing as clear and concise as that found in the Republic of Shade. . . . While Thomas Campanella does contribute much well-argued and original thought, the book is a pleasure to read for academic and woodland enthusiasts alike."-—Robert M. Ricard, Northern Woodlands

"There should be a book like this for every great American tree. Campanella is a terrific scholar and a writer of great style. What Mark Kurlansky did for codfish in his bestseller Cod, Campanella does for elms."—Amy Godine, Orion

"Beautifully produced . . . the product of a writer who is in love with his topic, and this infectious quality very quickly swept me away. . . . Engrossing."—John C. Stoller, Plant Talk

"This superb book by a scholarly author . . . leaves no stone unturned in his quest to document one of America's most important trees. . . . This well-researched book deserves to be read and reread. . . . The book offers fascinating, historical and education reading for adults to share with all ages."—Lorraine Lauzon, The Catholic Observer

Winner of the 2005 Spiro Kostof Award given by the Society of Architectural Historians
ISBN:
9780300184471
Publication Date:
November 30, 2011
240 pages, 7 x 10
62 b/w illus.