Five Spice Street
WARNING
You are viewing an older version of the Yalebooks website. Please visit out new website with more updated information and a better user experience: https://www.yalebooks.com
Can Xue, Translated by Karen Gernant and Chen Zeping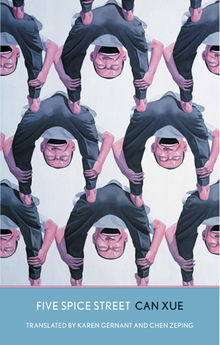 View Inside
Format:

Paper


Price:

$17.00
Also Available in:
Cloth
Featured in Publishers Weekly's 20 Best Books in Translation
The first full-length novel by Chinese author Can Xue to appear in English

Five Spice Street tells the story of a street in an unnamed city whose inhabitants speculate on the life of a mysterious Madam X. The novel interweaves their endless suppositions into a work that is at once political parable and surreal fantasia. Some think X is 50 years old; others that she is 22. Some believe she has occult powers and has thereby enslaved the young men of the street; others think she is a clever trickster playing mind games with the common people. Who is Madam X? How has she brought the good people of Five Spice Street to their knees either in worship or in exasperation? The unknown narrator takes no sides in the endless interplay of visions, arguments, and opinions. The investigation rages, as the street becomes a Walpurgisnacht of speculations, fantasies, and prejudices. Madam X is a vehicle whereby the people bare their souls, through whom they reveal themselves even as they try to penetrate the mystery of her extraordinary powers.
Five Spice Street is one of the most astonishing novels of the past twenty years. Exploring the collective consciousness of this little street of ordinary people, Can Xue penetrates the deepest existential anxieties of the present day—whether in China or in the West—where the inevitable impermanence of identity struggles with the narrative within which identity must compose itself.
Can Xue is the pseudonym of Deng Xiaohua, author of many novels and short works of fiction in Chinese. She lives in Beijing.
When it comes to Madam X's age, here on Five Spice Street opinions differ:  there's no way to decide who's right. There must be at least twenty-eight points of view, because at the oldest, she's about fifty (for now, let's fix it at fifty); at the youngest, she's twenty-two.
It was dusk on a sultry summer day. After dinner, everyone sat out on the street to enjoy the cool breeze when suddenly, two balls of white light like meteors streamed in the air, and Madam X's white silk skirt that shone all through with light flashed before their eyes. The little boy was also dressed in white, but no one could tell what the material was.
"Can Xue's novel approach to writing fiction in Five Spice Street offers the reader a delightful puzzle whose pieces constantly change shape and shatter into ever smaller fragments."—John Madera, Bookslut
"The inhabitants of Five Spice Street gossip, spy and seduce one another in this lovely surrealist romp. . . . The translators do a marvelous job of preserving the prose's lyricism, which enhances the surreal scenes that seem to be the stuff of everyday life on Five Spice Street. Xue's stridently weird and vainglorious characters are quite a bizarre retinue, and the air of paranoia and mystery is perfectly captured."—Publishers Weekly
"There are plenty of pungent goings-on at Five Spice Street, the odd locale ruled by an enigmatic 'Madame X' in Xue's first novel-length work to be published in English. . . . Here she blends surrealism à la Dali with a hefty dose of existential angst. Prickly and provocative, Five Spice Street poses penetrating questions about the search for identity and the definition of self."—Booklist
"[Five Spice Street is] an absolutely hilarious, pseudo-journalistic account of a scandalous affair in a small neighborhood in China." —James Hannaham in a NYTimes.com interview
"There's no other writer in China like Can Xue . . . strange, surreal, and very compelling . . . [and] this novel is probably the best place to start."—Chad Post, Publishers Weekly
Shortlisted for the 2016 Neustadt International Prize for Literature given by World Literature Today
ISBN:
9780300167962
Publication Date:
April 24, 2012
352 pages, 5 x 7 3/4