Beowulf
WARNING
You are viewing an older version of the Yalebooks website. Please visit out new website with more updated information and a better user experience: https://www.yalebooks.com
Translated by Stephen Mitchell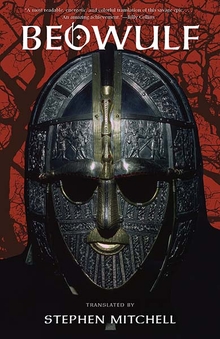 View Inside
Format:

Paper


Price:

$16.00
Also Available in:
Hardcover
A widely celebrated translator's vivid, accessible, and elegantly concise rendering of an ancient English masterpiece

Beowulf tells the story of a Scandinavian hero who defeats three evil creatures—a huge, cannibalistic ogre named Grendel, Grendel's monstrous mother, and a dragon—and then dies, mortally wounded during his last encounter. If the definition of a superhero is "someone who uses his special powers to fight evil," then Beowulf is our first English superhero story, and arguably our best. It is also a deeply pious poem, so bold in its reverence for a virtuous pagan past that it teeters on the edge of heresy. From beginning to end, we feel we are in the hands of a master storyteller.
 
Stephen Mitchell's marvelously clear and vivid rendering re-creates the robust masculine music of the original. It both hews closely to the meaning of the Old English and captures its wild energy and vitality, not just as a deep "work of literature" but also as a rousing entertainment that can still stir our feelings and rivet our attention today, after more than a thousand years. This new translation—spare, sinuous, vigorous in its narration, and translucent in its poetry—makes a masterpiece accessible to everyone.
 
Stephen Mitchell's many books include Tao Te Ching, which has sold over a million copies, The Gospel According to Jesus, Bhagavad Gita, The Book of Job, Gilgamesh, and The Iliad.
"A most readable, energetic, and colorful translation of this savage epic. . . . An amazing achievement."—Billy Collins
"Stephen Mitchell's new translation of Beowulf is elegantly wrought, highly accurate, and fully annotated. It is a compact and remarkably readable version."—Eric Weiskott, Boston College
"Stephen Mitchell comes as close to fulfilling the translator's task as anyone at work today. He admirably balances two imperatives: to maintain fidelity to the text while rendering it available to the English we speak today. Mitchell's reader-friendly version of Beowulf honors the narrative and will extend the readership for this foundational work of English literature."—David Lehman
"Mitchell's version is eloquent and conveys a true sense of the original. In addition, his notes are a great enhancement."—Harold Bloom
"Stephen Mitchell's translation of Beowulf is the best I have read—and I own more than a dozen. . . . If you want to have some idea of the power of Beowulf in its original language without having to learn Old English, Mitchell's translation would be a good place to start."—Stephen Bolhafner, St. Louis Post-Dispatch
"Mitchell aims to find for Beowulf a 'contemporary language that seems natural and alive', and he does this well… His rendering of Beowulf has much to offer —narrative momentum, clarity, a sense of the poem's heroic verve, and a contemporary slant."—Susan Irvine, Times Literary Supplement
ISBN:
9780300236668
Publication Date:
August 21, 2018
264 pages, 5 1/2 x 8 1/4
2 b/w illus.