Love in the New Millennium
WARNING
You are viewing an older version of the Yalebooks website. Please visit out new website with more updated information and a better user experience: https://www.yalebooks.com
Can Xue; Translated from the Chinese by Annelise Finegan Wasmoen; Foreword by Eileen Myles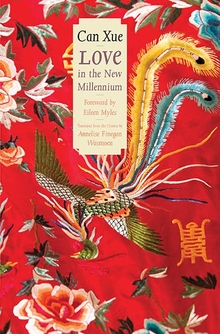 View Inside
Format:

Hardcover


Price:

$25.00
The most ambitious work of fiction by a writer widely considered the most important novelist working in China today

In this darkly comic novel, a group of women inhabits a world of constant surveillance, where informants lurk in the flower beds and false reports fly. Conspiracies abound in a community that normalizes paranoia and suspicion. Some try to flee—whether to a mysterious gambling bordello or to ancestral homes that can be reached only underground through muddy caves, sewers, and tunnels. Others seek out the refuge of Nest County, where traditional Chinese herbal medicines can reshape or psychologically transport the self. Each life is circumscribed by buried secrets and transcendent delusions.
 
Can Xue's masterful love stories for the new millennium trace love's many guises—satirical, tragic, transient, lasting, nebulous, and fulfilling—against a kaleidoscopic backdrop of commerce and industry, fraud and exploitation, and sex and romance drawn from the East and the West.
Can Xue is the pseudonym of the new experimental author Deng Xiaohua, born in 1953. Formerly a tailor, she began writing fiction in 1983. Annelise Finegan Wasmoen is academic director and clinical assistant professor of translation at NYU School of Professional Studies. Eileen Myles is a poet, novelist, and art journalist living in New York City and Marfa, Texas. Afterglow (a dog memoir) was published by Grove in September 2017 and Evolution (poems) is out in fall 2018.
 
"Love in the New Millennium is, as always with Can Xue's work, a marvel.  She is one of the most innovative and important contemporary writers in China and, in my opinion, in world literature."—Bradford Morrow, author of The Prague Sonata
"Ambitious . . . masterful . . . Can Xue's superb experimental novel is sure to keep readers hooked."—Emily Park, Booklist
 "In this dreamlike novel . . . amid increasingly bizarre scenarios, appearances give way to hidden, otherworldly layers."—New Yorker
"Suspended time . . . narratives [that] shift between chapters . . . buoyancy . . . . humor and surprise . . . The millennium reads not necessarily as a change in years, but as an edge or threshold the characters are moving through."—Kelly Krumrie, Full Stop
"Tackling age-old themes of love's many iterations, Can Xue continues to upend comfortable notions of structure, narrative, plot, and character while crafting stories that linger in the mind long after the last page has been turned."—World Literature Today
"A mesmerizing, dreamlike novel . . . kaleidoscopic tales of love, loss, and the impermanence of the human condition."—Ursula Deser Friedman, Reading in Translation
Praise for Can Xue
"There's a new world master among us, and her name is Can Xue."—Robert Coover

"If China has one possibility of a Nobel laureate it is Can Xue."—Susan Sontag
"A solo dance in the dark, a metaphysical picture of secular life that operates on its own elusive emotional logic . . . the book takes place in a dreamscape . . . like looking deeply into a painting—Dali's playful surprises bathed in Munch's crepuscular light."—Kevin Wang, Columbia Journal
"Translator Annelise Finegan Wasmoen conveys a remarkable linguistic simplicity while maintaining the weirdness of Xue's descriptive passages and dialogues, which are rather like non-sequiturs . . . This is a challenging but worthy path into Xue's body of work."—Aaron Robertson, Literary Hub ("The 10 Best Translated Novels of the Decade")
Best Translated Book Award long list finalist in the Fiction category, sponsored by Three Percent
Shortlisted for the Internationaler Literaturpreis 2022, sponsored by Haus der Kulturen der Welt and Foundation Elementarteilchen
ISBN:
9780300224313
Publication Date:
November 20, 2018
288 pages, 6 x 9
1 b/w illus.