Furs and Frontiers in the Far North
WARNING
You are viewing an older version of the Yalebooks website. Please visit out new website with more updated information and a better user experience: https://www.yalebooks.com
The Contest among Native and Foreign Nations for the Bering Strait Fur Trade
John R. Bockstoce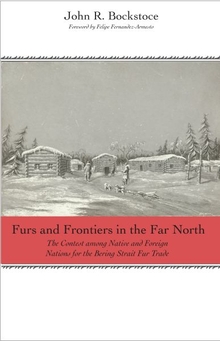 View Inside
Format:

Cloth


Price:

$40.00
Also Available in:
Paper
e-book
Out of Print
With expert scholarship and a keen eye for detail, Bockstoce provides the first analysis of the historic competition among the Russians, British, and Americans for control of Alaska.

This comprehensive history of the native and maritime fur trade in Alaska during the eighteenth and nineteenth centuries is without precedent. The Bering Strait formed the nexus of the circumpolar fur trade in which Russians, British, Americans, and members of fifty native nations competed and cooperated. The desire to dominate the fur trade fed the European expansion into the most remote regions of Asia and America and was an agent of massive change in these regions.
Award-winning author John R. Bockstoce fills a major gap in the historiography of the area in covering the scientific, commercial, and foreign-relations implications of the northern fur trade. In addition, the book provides rare insight into the relationship between the Western powers and the Native Americans who provided them with fur, ivory, and whalebone in exchange for manufactured goods, tobacco, tea, alcohol, and hundreds of other things. But this is also the story of the enterprising individuals who energized the Alaskan fur trade and, in doing so, forever altered the region's history.
Arctic specialist John R. Bockstoce is an independent scholar and the author of many books, monographs, and articles on the history of the Arctic.
"Furs and Frontiers in the Far North is a comprehensive history of the international trade in furs that was centered on the Bering Strait region during the 18th and 19th centuries…In scale, the account moves smoothly up and down from specific interactions between particular individuals at one extreme to the broad sweep of international affairs at the other."—Ernest Burch, Arctic Studies Center, National Museum of Natural History, Smithsonian Institution
"There is no other work that attempts to cover this far- reaching topic, and hence it fills an important gap in the historiography of the area.  What Bockstoce has produced is a worthy companion-volume to his earlier work, Whales, Ice, and Men, which is recognized as being the definitive source on the history of American whaling in the Western Arctic."—William Barr, Arctic Institute of North America, University of Calgary
"This utterly beguiling work reminds us that American history has a north along with its more familiar east, west, and south.  And quite a place it is – a vast region of land, water and ice, nearly beyond all jurisdictions, not easily reached then or now.  But fortunately, we have an incomparable guide in John Bockstoce.  With relentless research, sensitivity, and a palpable love for his subject, he has brought considerable warmth to the study of the far north and the fur trade that drew Europeans and Americans there, from all directions."—Ted Widmer, Director and Librarian, John Carter Brown Library
"Though it may appear at first a narrow specialist study, John Bockstoce's Furs and Frontiers in the Far North is in fact a wide-ranging work of natural science, anthropology, economic history, technology, exploration, and international intrigue—all presented with consummate grace, scholarship, and above all enthusiasm."—David H. Stam, Syracuse University
"A comprehensive history of the Native and maritime fur trade in Alaska during the 18th and 19th centuries."—Gretchen Weiss, Anchorage Daily News
"This book is as near perfect as I think any book about the fur trade can be. . . .[It] is a gold mine of information for historians, geographers, ethnologists, and antiquarians. It shows what can be done by a perceptive scholar who has complete command of the subject and of the English language."
--
The Arctic Book Review
"An important and epoch-making book."--American Historical Review
"Furs and Frontiers is a well-researched, dispassionate study, devoid of biassed judgments that crop up frequently in studies of white-native relations. . . . This is an excellent study which adds greatly to the existing historiography of the maritime fur trade of the North Pacific and Bering Sea." —Cathryn Pearce, International Journal of Maritime History
"It is not easy in a short review to do justice to a book as comprehensive and magisterial as this one...Furs and Frontiers in the Far North is a fascinating, impeccably researched, and engagingly written work of scholarship."--William R. Morrison, Western Historical Quarterly
"Furs and Frontiers in the Far North joins a spate of outstanding recently released books on the fur trade . . . that are adding exponentially to our knowledge of this subject and in ways that heretofore have never been examined in such depth or argued with such nuance and grace. With Furs and Frontiers in the Far North, John Bockstoce has solidified his reputation as one of our foremost historians of the fur trade and its relentless sweep across continents."—Cary C. Collins, Canadian Journal of History
"….. [A] remarkably comprehensive book."—Denis J.B. Shaw, Slavonic & East European Review Vol.89 No.4
Received 2009 William Mills Prize for non-fixtion popular books, given by the Popular Libraries Colloquy
Recipient of the 2010 William Mills Prize for non-fiction books sponsored by Polar Libraries.
Winner of the 2009 John Lyman Book Award in the category of U.S. Maritime History
ISBN:
9780300149210
Publication Date:
September 15, 2009
496 pages, 6 1/8 x 9 1/4
42 b/w illus. + 10 maps