White Fox and Icy Seas in the Western Arctic
WARNING
You are viewing an older version of the Yalebooks website. Please visit out new website with more updated information and a better user experience: https://www.yalebooks.com
The Fur Trade, Transportation, and Change in the Early Twentieth Century
John R. Bockstoce; Foreword by William Barr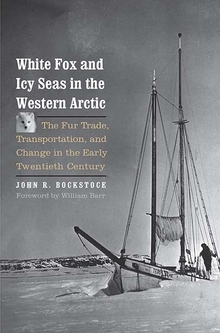 View Inside
Format:

Hardcover


Price:

$40.00
How the fur trade changed the North and created the modern Arctic

In the early twentieth century, northerners lived and trapped in one of the world's harshest environments. At a time when government services and social support were minimal or nonexistent, they thrived on the fox fur trade, relying on their energy, training, discipline, and skills. John R. Bockstoce, a leading scholar of the Arctic fur trade who also served as a member of an Eskimo whaling crew, explores the twentieth-century history of the Western Arctic fur trade to the outbreak of World War II, covering an immense region from Chukotka, Russia, to Arctic Alaska and the Western Canadian Arctic. This period brought profound changes to Native peoples of the North. To show its enormous impact, the author draws on interviews with trappers and traders, oral and written archival accounts, research in newspapers and periodicals, and his own field notes from 1969 to the present.
John R. Bockstoce is an independent scholar and author of award-winning books, monographs, and articles on the Arctic. He has worked at the Smithsonian, the University of Pennsylvania's Museum of Archaeology and Anthropology, and the New Bedford Whaling Museum.
"John Bockstoce's White Fox and Icy Seas in the Western Arctic ranges from the ice floes of the High Arctic to the fashion houses of  Paris, pulling politics, technology, economics, and anthropology into a coherent whole. A tour de force."—Robin McGrath, author of Canadian Inuit Literature: The Development of a Tradition
 
"Informative and scholarly, this detailed account is a must read for those interested in the economic and social history of Chukotka, Northern Alaska, and the Western Canadian Arctic."—Stephen R. Braund, author of The Skin Boats of Saint Lawrence Island, Alaska
"Authoritative and entertaining, White Fox and Icy Seas in the Western Arctic highlights John Bockstoce's unique talent for uncovering obscure but crucial archival sources to produce a lively account that integrates three different historical threads – the Native northeast Asian-Alaskan trade, the Western Arctic Alaskan trade, and the Canadian Hudson Bay trade – and stories of the day-to-day life of the traders and trappers rarely included in historical writings into one grand narrative."—Douglas Anderson, Professor of Anthropology (emeritus), Brown University 
 
"National rivalries, fashion trends, and cross-cultural encounters at sea and on land: this brilliant book has it all, connecting our long fascination with the fur trade and the Arctic to the freshest approaches of recent scholarship."—Jay Gitlin, author of The Bourgeois Frontier
"Based on thorough understanding and use of historical resources, this is a pathbreaking study in northern history."—Choice
"Simply extraordinary"—Ross Coen, Western Historical Quarterly
"A sweeping account . . . a compelling narrative . . . an important contribution . . . John Bockstoce proves once again why he is the definitive source of all things related to Arctic maritime history."—Timothy Lynch, Sea History
"An engaging story that is chock-full of fascinating anecdotes . . . a compelling and unique contribution to our understanding."—Arthur J. Ray, Arctic (Journal of the Arctic Institute of North America)
"Indispensable . . . a prized addition to the Arctic ethnohistory shelf"—Igor Krupnik, Arctic Studies Center Newsletter
"Comprehensive and well-written . . . a mandatory read for any student of Arctic and Indigenous history."—Maura Hanrahan, The Northern Mariner / Le marin du nord
"In telling this difficult story, the author reveals his attachment to the people and the place, and this personal connection enables him to make a compelling and unique contribution to our understanding of the historical, cultural, and economic geography of the Western Arctic Region."—Arthur J. Ray, Arctic
"John Bockstoce's scholarship is impeccable and his writing lucid and captivating."—Kenn Harper, Arctic Book Review 
"Bockstoce is not sentimental about north­ern people or the furbearers they relied on. Rather, he explains straightforwardly the way men and women thought and what they did to sustain themselves, making the book far more useful than a polemic about rights and preser­vation would normally be. As such, he makes yet another signal contribution to our under­standing of Arctic life and history."–Stephen Haycox, Journal of American History
"Informative . . . the history is fascinating . . . Bockstoce has done a great service."—David James, Anchorage Daily News
"White Fox offers something rare and invaluable: it is a thoroughly researched book by a senior scholar with deep expertise on the land and in the archives. This book could not have been written by anyone else, and current and future generations of historians will refer to it."—Karen Routledge, Canadian Journal of History
"The book is a valuable addition to scholarship on this politically and culturally important region and would be useful to anyone seeking to get a clear sense of the significant socioeconomic changes that took place during this period."—Peter Martin, H-Net Reviews
Winner of the Outstanding Academic Title for 2018 award sponsored by Choice
Honorary Mention for the 2020 William Mills Prize for Non-fiction Polar Books, sponsored by Polar Libraries
ISBN:
9780300221794
Publication Date:
March 20, 2018
344 pages, 6 1/8 x 9 1/4
73 b/w illus.