A Living Man from Africa
WARNING
You are viewing an older version of the Yalebooks website. Please visit out new website with more updated information and a better user experience: https://www.yalebooks.com
Jan Tzatzoe, Xhosa Chief and Missionary, and the Making of Nineteenth-Century South Africa
Roger S. Levine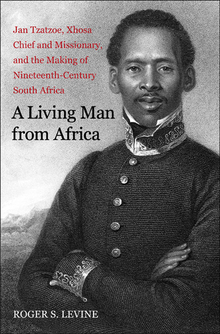 View Inside
Format:

Cloth


Price:

$45.00
Also Available in:
Paper
Out of Print
Born into a Xhosa royal family around 1792 in South Africa, Jan Tzatzoe was destined to live in an era of profound change—one that witnessed the arrival and entrenchment of European colonialism. As a missionary, chief, and cultural intermediary on the eastern Cape frontier and in Cape Town and a traveler in Great Britain, Tzatzoe helped foster the merging of African and European worlds into a new South African reality. Yet, by the 1860s, despite his determined resistance, he was an oppressed subject of harsh British colonial rule. In this innovative, richly researched, and splendidly written biography, Roger S. Levine reclaims Tzatzoe's lost story and analyzes his contributions to, and experiences with, the turbulent colonial world to argue for the crucial role of Africans as agents of cultural and intellectual change.
Roger S. Levine is associate professor of history at Sewanee: The University of the South.
"In this beautifully written story of Jan Tzatzoe, an African chief and British-educated Christian who embodied many of the contradictions of his age, Roger Levine paints a vivid portrait of African-European relations on the South African frontier during its historical transformation in the nineteenth century.  Levine shows that on the South African frontier borders were porous, identities were malleable, and religious beliefs were negotiable.  Africans were neither total resistors nor total collaborators, but instead negotiated tortuous paths through shifting landscapes."—Robert Harms, author of The Diligent: A Voyage through the Worlds of the Slave Trade
"This fascinating and absorbing work demonstrates a great depth of knowledge of colonial and British source materials. Despite the difficulties of disaggregating the sounds of Jan Tzatzoe from those of his colonial translators and mediators, Levine gives us access to the voice of an African who experienced fluctuating fortunes as a cultural intermediary, a man-between, thus making a particularly significant contribution to our understanding of the dialogue between Western and indigenous knowledge systems."—Andrew Bank, University of the Western Cape
"This is a fascinating and frequently moving book, packed with unexpected detail and beautifully crafted. A rich micro history of the life of an African chief, diplomat and Christian evangelist who was ultimately betrayed by the colonial state, A Living Man from Africa also raises penetrating wider questions about the lived experience of colonialism."—Elizabeth Elbourne, McGill University
"This is a book that captivates, that draws you immediately into both its story and its argument and then invites you along for the most delightfully jostling of rides. The urgency of the present tense, the energy of the action, the vividness of the metaphors: this kind of craft brings the pleasure back to reading history, allows us to exercise our imagination. Yet Levine's compelling narrative is blended, throughout, with the kind of deft, nuanced analysis that would never allow Jan Tzatzoe's tale to be merely another anecdote about a cultural intermediary operating within colonialist power structures. A Living Man from Africa thus becomes both a surprising, humane intervention in the historiography and a sustained meditation on the nature of history. It is astonishing to see what Levine has uncovered about the life of a spiritually inclined Xhosa man in the first half of the nineteenth century. It is even more astonishing to realize that Levine has enlisted his readers in an effort to rediscover the humble joy of pursuing mystery and possibility. We are delighted to inaugurate Yale University Press's new series, New Directions in Narrative History, with this exemplary piece of historical scholarship and writing."—John Demos (Yale University) and Aaron Sachs (Cornell University), series editors.
"JAN TZATZOE (c.1792 – 1868) was an African chieftain and a Christian missionary. His remarkable life story forms the subject of Roger S. Levine's engrossing book, which uses an innovative present-tense narrative to bring Tzatzoe, his companions, and the teeming world of colonial South Africa to life…..Skilfully weaving archival sources into a beautifully written text, Levine's book is a prime example of a colonial "micro history": showing the symbiosis between individuals and often brutal historical events."—Dr Andrew Rudd, Church Times
ISBN:
9780300125214
Publication Date:
December 21, 2010
328 pages, 6 1/8 x 9 1/4
22 b/w illus.