Medieval Children
WARNING
You are viewing an older version of the Yalebooks website. Please visit out new website with more updated information and a better user experience: https://www.yalebooks.com
Nicholas Orme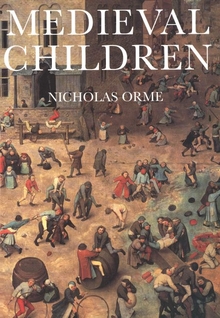 View Inside
Format:

Paper


Price:

$39.00
Also Available in:
Cloth
What was childhood like for medieval boys and girls in England? How were children named and brought up, what hazards faced them, what games did they play, and how were they prepared for adulthood? This richly detailed book provides for the first time a complete history of childhood in England from about the year 1000 to the sixteenth century.

Leading medieval historian Nicholas Orme draws together a vast range of sources and disciplines—history, literature, religion, and art—to create a picture of medieval childhood more comprehensive than ever before. Beginning with pregnancy and childbirth, Orme explores the succeeding stages of a child's growth to adulthood. He discusses baptism, the significance of birthdays and ages, and family life, including upbringing, food, clothes, sleep, and the plight of the poor. He also chronicles the misfortunes of childhood, from disablement, abuse, and accidents to illness and death. In a fascinating review of the special culture of children, the author describes their rhymes, toys, and games; their religion and relationship to the Church; and their learning to read the literature for children. The final chapter of the book explains how adolescents grew up and entered the adult world.

In this vivid recreation of childhood in the middle ages, Orme underscores the importance medieval society attached to childhood. Childhood was clearly regarded as a distinct cultural period in life, and children were considered both special and different from adults.
Nicholas Orme is professor of history at Exeter University. He is coauthor of The English Hospital, 1070-1570, published by Yale University Press.

"[An] exhaustive and fascinating portrait of medieval English childhood. . . . Orme's is one of the most beautifully and intelligently illustrated academic works I've encountered; in this and in his sensitive, reasonable, and lucid weighing of confusing and generally sparse evidence, Medieval Children is a model of accessible scholarly history."—Benjamin Schwarz, Atlantic Monthly

"Orme begins by exploring the definition of childhood and, managing that elegantly, proceeds to a surprisingly moving examination of the daily lives of medieval children from diverse classes and backgrounds. . . . Orme's exciting research gives the book weight, and his affectionate, eloquent prose carries its immediate manner from history to sociology to philosophy and back again. Evocative period illustrations complete this beautiful tour de force of historical scholarship."—Booklist

"[A] wise and learned book. . . . [A] delight to read, and superbly illustrated."—John Wilson, Christianity Today


"The author's intention in writing this work was to 'reveal the richness of the material about medieval English children'. This he has achieved, with a lavishly illustrated and sensitively written evocation of life in later medieval England."—Sally Crawford, Church Times

"Nicholas Orme's book offers a social and cultural history of children in England from Anglo-Saxon times to the sixteenth century that is both sweeping and detailed, carefully documented and yet accessible to the general reader. . . . . Medieval Children is a well-written, mature study that general readers will admire as much as a looking glass into a lost world as a mirror inviting comparison to children and childhood today."—Brad S. Gregory, Commonweal

"Orme's book, amply documented, gracefully and, one must add, sympathetically, written, will become the standard study of medieval English childhood, useful to specialists as well as non-specialists."—R.C. Finucane, English Historical Review

"Nicholas Orme's stimulating piece of historical revisionism. . . . is one of these pleasingly, absorbingly digressive books. . . . A book whose subject is of inexhaustible interest."—Michael Glover, Financial Times (UK)

"A delightfully encyclopedic survey of everything imaginable concerning young people from birth to adolescence during a time span extending from the Anglo-Saxon era until the sixteenth century; toys, games, church-going, family life, education, jobs, even fickle teenage crushes."—First Things

"The historically curious in your life will love [this book], as will anyone interested in medieval art. The rich, touching illustrations are the icing on the historical cake."—Janet Reynolds, Hartford Courant

"This book is an insightful look into the lives of children and a fascinating read."—History Magazine

"Nicholas Orme, author of several books on medieval English education, has produced a thorough and accessible account of the broader topic of childhood. . . . This richly illustrated volume is well suited for student use."—Cullen J. Chandler, History: Reviews of New Books

"Beautiful illustrations, inclusion of rhymes and storytelling, and organization by subject rather than chronologically, will help mature teens understand a period in history in which personal accounts of daily life were few, much less first-person accounts written by 'children'."—Library Journal

"This fascinating read exposes both the profound differences and the startling similarities in the experience of childhood between then and now."—Netsurfer Digest

"[Orme's] Medieval Children is a determinedly empirical book, a meticulously organized, lavishly illustrated, and imaginatively presented cascade of evidence about every aspect of childhood, drawn from an astonishing range of sources from the end of antiquity to the early sixteenth century. . . . The clarity, pace, and economy of his treatment conceal an impressive depth of learning, and many of the individual thematic discussions are in fact ground-breaking forays into territory not adequately explored by anyone else. Orme is a distinguished historian of education, and he makes brilliant use here of medieval and Renaissance schoolbooks and student exercises to illuminate not only the content and character of medieval schooling, but the manner and matter of children's conversation, recreation, and attitudes. . . . Orme's unpretentious book is, quite simply, the most comprehensive, informative, and, by a long way, the most humane and delightful historical treatment of childhood in the English language."—Eamon Duffy, New York Review of Books
"Orme's fascinating study reveals medieval society through a keen look at its youngest inhabitants. Meticulous detail and 125 luscious illustrations, 75 in color, make this an elegant and definitive study."—
Publishers Weekly
"The best book yet in any language on medieval children and childhood. . . . Medieval Children is so profusely illustrated and the illustrations are so well discussed throughout the text that Orme has really created two texts for the price of one. He presents a well-researched and well-written narrative. . . . A very handsome volume indeed. . . . Orme's book provides way more than just a case study or a monographic treatment of the subject. It is authorative. . . . The fruit of a lifetime's experience. . . . I was stunned at the wealth of source materials Orme used and marveled at his command of them."—Louis Haas, Speculum

"What the book identifies again and again in medieval England is an attentiveness to children. . . . Orme is a clear and persuasive guide to the period."—The Guardian (UK)

"Gracefully written and beautifully presented. . . . Medieval Children is likely to serve as a landmark in the literature of children's history. It is scholarly, with a full complement of pertinent notes and an expert index. At the same time, it is so visually appealing and satisfying to hold that beginning students and armchair readers will also find it a compelling read."—Susan Mitchell Sommers, The Historian


"Nicholas Orme knows more about medieval childhood than anyone living, and this substantial, hugely enjoyable book is the capstone on thirty years of scholarship."—The Independent (UK)

"As a survey of the history and as a reassertion of the importance of childhood in the English Middle Ages, this is a timely and important contribution. As a commentary on the ways in which children were brought up, educated, and sent out into the world, and as a guide for the reconstruction of the life and thought of the child, it is not only a valuable collection of references, but also a point of departure for further research on several different topics in an expanding field."—Everett U. Crosby, Virginia Quarterly Review

"This is a wonderful book: it is humane, scholarly, readable, and accessible, an unusual combination. . . . Medieval Children is gracefully written and eminently usable for classroom use and general readership. The next time a non-academic friend or relative asks you to recommend something 'interesting' to read on the Middle Ages, suggest this book."—Shannon McSheffrey, Arthuriana

Named one of the top ten books of 2001 by Christianity Today

ISBN:
9780300097542
Publication Date:
January 11, 2003
400 pages, 6 3/4 x 9 1/2
50 b/w + 75 color illus.