The European Seaborne Empires
WARNING
You are viewing an older version of the Yalebooks website. Please visit out new website with more updated information and a better user experience: https://www.yalebooks.com
From the Thirty Years' War to the Age of Revolutions
Gabriel Paquette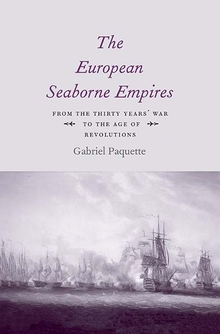 View Inside
Format:

HC - Paper over Board


Price:

$25.00
An accessible survey of the history of European overseas empires in the seventeenth and eighteenth centuries based on new scholarship

In this thematic survey, Gabriel Paquette focuses on the evolution of the Spanish, Portuguese, English, French, and Dutch overseas empires in the seventeenth and eighteenth centuries. He draws on recent advances in the field to examine their development, from efficacious forms of governance to coercive violence. Beginning with a narrative overview of imperial expansion that incorporates recent critiques of older scholarly approaches, Paquette then analyzes the significance of these empires, including their political, economic, and social consequences and legacies. He makes the multifaceted history of Europe's globe-spanning empires in this crucial period accessible to new readers.
Gabriel Paquette is dean of the Robert D. Clark Honors College and professor of history at the University of Oregon. He is author of Imperial Portugal in the Age of Atlantic Revolutions: The Luso-Brazilian World, c. 1770–1850 and Enlightenment, Governance, and Reform in Spain and Its Empire, 1759–1808.
"For anyone keen to learn about the rise and development of Europe's overseas empires, this is the place to begin. Paquette has mastered a vast body of information to produce a splendid survey."—J. H. Elliott, author of Empires of the Atlantic World
"This book builds on an incredible grasp of comparative historiography and brings previously disparate literatures into conversation with one another. It is a sparkling piece of scholarship."—Matthew Brown, University of Bristol
"Paquette masterfully explores the interconnected histories of five European seaborne empires. His book is an in-depth and comprehensive piece of transnational history, and a fundamental contribution to the comparative history of empires."—Pedro Cardim, Universidade Nova de Lisboa
"Beautifully written and thoughtfully argued by a leading historian, this text rethinks the history of the seaborne empires in fruitful and innovative ways. Paquette skillfully brings non-European actors to the fore and demonstrates the limitations of European ambition even as he illuminates its growing power."—Philippa Levine, University of Texas at Austin
"In a blend of lucid narrative and nuanced analysis, Paquette provides a superb synthesis of early modern imperialism. Sweeping across a vast geographical and cultural range, he demonstrates the vital contribution of Europe's seaborne empires to global capitalism, and its consequences for peoples and environments across the world. A brilliant new starting point, highly recommended."—Anthony McFarlane, Emeritus Professor of History, University of Warwick
"Paquette's masterful command of the scholarship provides the basis for a superb synthetic volume that fills a void in the literature. While focusing on bottom-up and trans-imperial forces that shaped empires, the book's fluid narrative gives due attention to multiple actors and centers of power. This is a remarkable accomplishment."—Roquinaldo Ferreira, University of Pennsylvania
"Leading us on an historical expedition that spans four centuries, five 'empires', six critical themes, and, of course, the entire globe, this nuanced and deeply-researched account of early modern European maritime expansion accomplishes a remarkable feat: to immerse its reader in an eminently accessible story of the making of overseas empire all the while revealing its great complexity and disrupting any number of its usual assumptions and expectations—not least of which is just how European, seaborne, or imperial one ought regard The European Seaborne Empires in the first place."—Philip J. Stern, Duke University
"[Paquette] skillfully brings together a very wide and often disparate array of literature, covering the five major empires of the colonial era, and forms an in-depth comparative history of empires….[This] book is elegantly written and well organized. . . . A well-framed, easily read, and fresh introduction to the imperial history of western Europe. For this, Gabriel Paquette deserves a hearty congratulations."—J. Ross Dancy, H-Net
"This book [is] an important addition to the study of maritime commerce and naval power during the age of empire."—Thomas Malcomson, Northern Mariner
"Gabriel Paquette's history of European maritime empires from roughly 1620 to 1820 fills a gap. Designed as an introductory overview for students and scholars new to the subject, his volume is a tour de force and immensely readable. . . . Paquette offers an excellent entry point for understanding maritime empires and their legacy."—Margarette Lincoln, Journal of British Studies
"A tidily argued and well-written synthesis . . . [which] serves as a good reminder of how global empires fit together."—Alan L. Karras, Journal of Interdisciplinary History
"This excellent book effectively combines analysis of traditional matters . . . with the examination of more innovative topics, including the agency of individuals from lower groups, European rule's environmental impact, and the interplay between state and private initiatives."—Pedro Cardim, Hispanic American Historical Review
ISBN:
9780300205152
Publication Date:
May 28, 2019
312 pages, 6 1/8 x 9 1/4
16 b/w illus.