Out of the East
WARNING
You are viewing an older version of the Yalebooks website. Please visit out new website with more updated information and a better user experience: https://www.yalebooks.com
Spices and the Medieval Imagination
Paul Freedman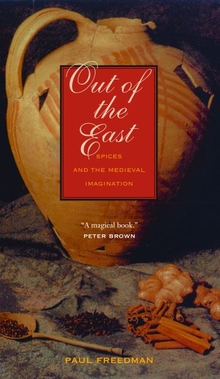 View Inside
Format:

Paper


Price:

$23.00
Also Available in:
Cloth
How medieval Europe's infatuation with expensive, fragrant, and exotic spices led to an era of colonial expansion and the discovery of new worlds

The demand for spices in medieval Europe was extravagant and was reflected in the pursuit of fashion, the formation of taste, and the growth of luxury trade. It inspired geographical and commercial exploration ,as traders pursued such common spices as pepper and cinnamon and rarer aromatic products, including ambergris and musk. Ultimately, the spice quest led to imperial missions that were to change world history.
This engaging book explores the demand for spices: why were they so popular, and why so expensive?  Paul Freedman surveys the history, geography, economics, and culinary tastes of the Middle Ages to uncover the surprisingly varied ways that spices were put to use--in elaborate medieval cuisine, in the treatment of disease, for the promotion of well-being, and to perfume important ceremonies of the Church. Spices became symbols of beauty, affluence, taste, and grace, Freedman shows, and their expense and fragrance drove the engines of commerce and conquest at the dawn of the modern era.
Paul Freedman is Chester D. Tripp Professor of History, Yale University. His previous books include Images of the Medieval Peasant, The Origins of Peasant Servitude in Medieval Catalonia, and Food: The History of Taste.
"Freedman shows that spices are central to understanding the Middle Ages—they motivated the whole trading system of the Mediterranean world."—Christopher Dyer,
University of Leicester
"This is a magical book. With scintillating learning and imagination, Paul Freedman has conjured up a medieval
Europe shot through with the magic of strong tastes and smells. He has uncovered a craving—a craving for spices which would eventually drive Europeans to the edges of the world in their pursuit. Freedman has done more than uncover the taste buds of a forgotten Europe. He has rewritten a fateful chapter in the history of the world."—Peter Brown, Princeton University
"Like the spices—flavors, perfumes, and medicinals—so urgently sought by medieval populations, Out of the East is a consummate delight. I loved Freedman's droll account of the debate over the precise geographical location of paradise (off the
Atlantic? Northeast of India?), and of the tireless travelers who helped bring the spices of the East to European tables. At last, the voyages of Columbus make perfect sense. Spices!"—Marion Nestle, New York University
"Paul Freedman combines his formidable scholarship with story-telling skills to offer a unique history of spice. He has taken our ancient fascination with spice as offering the taste of paradise, and as an elixir of life to paint a rich canvas of life in medieval
Europe, dispelling in the process many commonly held myths. Out of the East is a riveting story of many adventures launched in the quest of spice and how it shaped Europeansocial life. Freedman serveshistory as a delectable banquet."—Nayan Chanda, author of Bound Together: How Traders, Preachers, Adventurers, and Warriors Shaped Globalization
"[An] absorbing new history, in which [Freedman] uses food to get and keep our attention."—Corby Kummer, Yale Alumni Magazine
"Written in an approachable style with intriguing images and inset quotes from primary sources, this scholarly work will also appeal to general readers. . . . Recommended."—Choice
"This is a magnificent, very well written, and often entertaining book that is also a major contribution to European economic and social history, and indeed one with a truly global perspective."—John H. Munro, American Historical Review
"Meticulously researched but wearing its erudition lightly."—Sharon Kinoshita, Speculum: A Journal of Medieval Studies
ISBN:
9780300151350
Publication Date:
March 3, 2009
288 pages, 5 5/8 x 9 1/4
21 b/w illus.

---
Sales Restrictions: Not for sale in India, Pakistan, Bhutan, Nepal, Sri Lanka and the Maldives