A Revolution in Commerce
WARNING
You are viewing an older version of the Yalebooks website. Please visit out new website with more updated information and a better user experience: https://www.yalebooks.com
The Parisian Merchant Court and the Rise of Commercial Society in Eighteenth-Century France
Amalia D. Kessler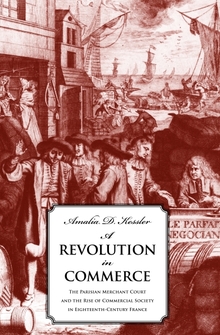 View Inside
Format:

Cloth


Price:

$55.00
This groundbreaking book provides the first comprehensive account of the juridiction consulaire, or Merchant Court, of eighteenth-century Paris. Drawing on extensive archival research, Amalia D. Kessler reconstructs the workings of the court and the commercial law that it applied and uses these to shed new light on questions about the relationship between commerce and modernity that are of deep and abiding interest to lawyers, historians, and social scientists alike.
Kessler shows how the merchants who were associated with the court—and not just elite thinkers and royal reformers—played a key role in reconceptualizing commerce as the credit-fueled private exchange necessary to sustain the social order. Deploying this modern conception of commerce in a variety of contexts, ranging from litigation over negotiable instruments to corporatist battles for status and jurisdiction, these merchants contributed (largely inadvertently and to their ultimate regret) to the demise of corporatism as both conceptual framework and institutional practice. In so doing, they helped bring about the social and political revolution of 1789.
Highly readable and engaging, A Revolution in Commerce provides important new insights into the rise of commercial modernity by demonstrating the remarkable role played by the law in ideological and institutional transformation.
Amalia D. Kessler is associate professor of law and (by courtesy) history, Stanford University. She lives in Los Altos, CA.
"A really good historian as well as a really good lawyer, Kessler offers an accomplished and imaginative interpretation of the origins of liberal legal-economic market culture in eighteenth-century Paris."—Robert W. Gordon, Yale University
"A Revolution in Commerce is an erudite, original, and compelling treatment of one of the great problems of modern historiography: the relationship between capitalism and merchant practices, on the one hand, and late eighteenth-century political revolution, on the other."—John Fabian Witt, Columbia University
"Kessler has written the first book-length study of the Juridiction Consulaire de Paris in nearly a century, and by far the best. . . . This is a splendid book, both for the quality and extent of Kessler's original archival research and for the depth and significance of the concepts that she explores. It will appeal to cultural, legal, and business historians alike, as well as to anyone who hopes to understand the commercial bourgeoisie of old regime France."—Thomas M. Luckett, Project Muse
"Clear and persuasive. [Kessler's] work offers access to the way merchants, and the communities in which they were embedded, rethought the moral dimension of their own social practice. In so doing, she makes a significant contribution to scholarship on the cultural mediations of commercial society."—John Shovlin, Law and History Review
"Kessler brings a fresh and generally careful perspective to the very diverse range of issues on which she touches. And, in showing how culture and economics interacted so relentlessly in everyday business litigation, she points the way for today's historians, still obsessed by discourse, to begin to take seriously again the economic factors on which they turned their backs more than a generation ago." —William Doyle, English Historical Review
"The scale and scope of the transformations produced by the French Revolution have long been a subject of debate. Amalia D. Kessler's book presents a new and fascinating approach to the subject by means of a history of the Parisian merchant court . . ."—Michael Sonenscher, American Historical Review
"In providing the first comprehensive account of this one comparatively little-known court, Amalia Kessler has written a most useful book. . . . Kessler provides an explanation of Old Regime merchant law and business practice that should be helpful to social, political, and cultural historians alike.  Based on extensive research and careful reading of recondite sources, Kessler succeeds in bringing a crucial institution to life.  Through her lucid exposition of the actual functioning of the law in the eighteenth-century Paris Merchant Court, Kessler has done much to make even the most arcane technicalities intelligible to the nonspecialist. . . . In offering a clear and comprehensive account . . . Amalia Kessler has made a considerable contribution to our understanding of society, law, and economy in this era." —Rebecca L. Spang, Journal of Modern History
"A series of impressive and very well constructed arguments enable the author to find all the components of modern thought within an Old Regime institution."—Mathieu Marraud, European History Quarterly
Winner of the 2008 J. Russell Major Book Prize, given by the American Historical Association.
ISBN:
9780300113976
Publication Date:
November 28, 2007
408 pages, 6 1/8 x 9 1/4
5 b/w illus.