Invisible Ink
WARNING
You are viewing an older version of the Yalebooks website. Please visit out new website with more updated information and a better user experience: https://www.yalebooks.com
Patrick Modiano; Translated from the French by Mark Polizzotti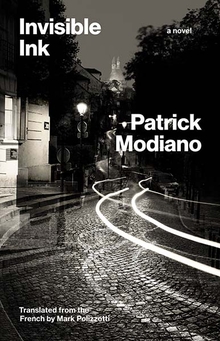 View Inside
Format:

Hardcover


Price:

$24.00
Also Available in:
Paper
Out of Print
Patrick Modiano explores the boundaries of recollection in a "mesmerizing, enigmatic novel" (Publishers Weekly)
 
"A mesmerizing, enigmatic novel. . . . A story about growing old and the gaps and omissions that make up a life. . . . Its dreamlike prose and a beguiling structural twist make it a worthy and satisfying addition to [Modiano's] accomplished oeuvre."—Publishers Weekly
 
"Nobel Prize winner Modiano's title smartly ties together the theme, plot, and ambience of his latest book . . . The past overlaps and memories half-emerge in classic Modiano fashion, just as a message in invisible ink tentatively reveals itself in the right light."—Library Journal
 
The latest work from Nobel laureate Patrick Modiano, Invisible Ink is a spellbinding tale of memory and its illusions. Private detective Jean Eyben receives an assignment to locate a missing woman, the mysterious Noëlle Lefebvre. While the case proves fruitless, the clues Jean discovers along the way continue to haunt him. Three decades later, he resumes the investigation for himself, revisiting old sites and tracking down witnesses, compelled by reasons he can't explain to follow the cold trail and discover the shocking truth once and for all.
 
A number one best seller in France, hailed by critics as "breathtakingly beautiful" (Les Inrockuptibles) and "refined and dazzling" (Le Journal du Dimanche), Invisible Ink is Modiano's most thrilling and revelatory work to date.
Patrick Modiano, one of France's most acclaimed contemporary novelists, was awarded the 2014 Nobel Prize in Literature. Mark Polizzotti has translated more than fifty books from the French, including nine others by Modiano.
Praise for Patrick Modiano
"Modiano combines a detective's curiosity with an elegist's melancholy."—Adam Kirsch, New Republic
"[Modiano] is a writer unlike any other and a worthy recipient of the Nobel."—James Campbell, Wall Street Journal
"A body of work as deft and beautiful as any in postwar European literature . . . [Modiano] is an excavator of memory."—David L. Ulin, Los Angeles Times
"Modiano is a pure original. He has transformed the novel into a laboratory for producing atmospheres, not situations—where everything must be inferred and nothing can be proved." —Adam Thirlwell, Guardian
"There are few modern writers as pleasurable or interesting to read. Modiano is one of the great writers of our time." —David Herman, Jewish Chronicle
"In Invisible Ink, Patrick Modiano speaks magnificently about the relationship between writing and forgetting, the strata of memory that constitute a being."—Raphaëlle Leyris, Le Monde des Livres
"Hauntingly memorable and evocative."—Edward Ousselin, World Literature Today
"Breathtakingly beautiful"—Nelly Kaprièlian, Les Inrockuptibles
"A refined and dazzling style . . . The end is emotionally gripping"—Marie-Laure Delorme, Le Journal du Dimanche
"A foggy and magnetic novel"—Jérôme Garcin, L'Obs
"A mesmerizing, enigmatic novel . . . a story about growing old and the gaps and omissions that make up a life . . . Its dreamlike prose and a beguiling structural twist make it a worthy and satisfying addition to [Modiano's] accomplished oeuvre."—Publishers Weekly
"Modiano is a master of suggestion and indirection, yet there is nothing muddy, murky, or imprecise in his fiction, sentence by sentence. . . . Even though I've read all of his novels translated into English, I still don't entirely understand how he does it. There's none of the machinery of the 'fantastic' in his fiction, but there is always a sense of the uncanny."—John Wilson, First Things
"Nobel Prize winner Modiano's title smartly ties together the theme, plot, and ambience of his latest book . . . The past overlaps and memories half-emerge in classic Modiano fashion, just as a message in invisible ink tentatively reveals itself in the right light."—Library Journal
"What makes Invisible Ink such an enchanting read is its insistence on the importance of 'those spaces where memory blurs into forgetting,' and its glyptic insights into the mechanisms by which forgetting offers up alternative chronologies, which in turn allow the past to be reconfigured."—Bailey Trela, Ploughshares
"Like Proust before him, Modiano is an orphaned stalker of memory, and his oeuvre, taken as a whole, could be regarded as a continuous novel, a noir-inflected search for lost time. . . . Reading Invisible Ink is like entering a room that is connected to a large and mysterious house built inside a labyrinth, or traversing a half-lit boulevard that speaks to an entire neighborhood."—John Biscello, Riot Material
"It is as a delineator of the labyrinths of human consciousness that Modiano excels. You feel the desperation with which the characters tug at the locked doors of their memories, and find yourself becoming more conscious of, and disturbed by, your own memory's lacunae."—Jake Kerridge, The Daily Telegraph
"There is no one more masterful at evoking vintage Paris . . . [Modiano's] writing conveys a tremendous depth, and mystery. It demonstrates an obsession with the past, without eulogizing it—it conveys only the constant surprise of it slipping through our fingers . . . Invisible Ink leaves its indelible mark."—Michael Quinn, Red Hook Star-Revue
"Weird and well-structured. Like Bolaño, Modiano explores the terrain of approximations, a place where the facts don't always add up. For Modiano, that place is often our memory—with gaps, guesswork, and evasions. . . .  Modiano's work here is great, as is Mark Polizzotti's translation, which engages in some very nice rhetorical sleights of hand that I assume make for some hallmarks of Modiano's prose."—Tom Bowden, Book Beat (blog)
Finalist for the Translation Prize, fiction category, sponsored by the French American Foundation
 
 
ISBN:
9780300252583
Publication Date:
October 27, 2020
176 pages, 5 x 7 3/4