Iran
WARNING
You are viewing an older version of the Yalebooks website. Please visit out new website with more updated information and a better user experience: https://www.yalebooks.com
Abbas Amanat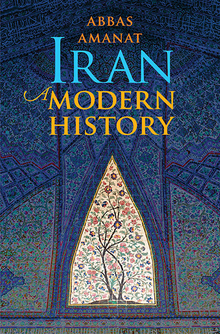 View Inside
Format:

Paper


Price:

$25.00
Also Available in:
Hardcover
A masterfully researched history of Iran from 1501 to 2009

"The defiant spirit of [Iran] is brought to life in this monumental history of the past 500 years."—Richard Spencer, The Times (London)

"A majestic work that goes a long way in unraveling . . . the country's enigmas and apparent contradictions."—Ervand Abrahamian, New York Review of Books

This history of modern Iran is not a survey in the conventional sense but an ambitious exploration of the story of a nation. It offers a revealing look at how events, people, and institutions are shaped by currents that sometimes reach back hundreds of years. The book covers the complex history of the diverse societies and economies of Iran against the background of dynastic changes, revolutions, civil wars, foreign occupation, and the rise of the Islamic Republic.
 
Abbas Amanat combines chronological and thematic approaches, exploring events with lasting implications for modern Iran and the world. Drawing on diverse historical scholarship and emphasizing the twentieth century, he addresses debates about Iran's culture and politics. Political history is the driving narrative force, given impetus by Amanat's decades of research and study. He layers the book with discussions of literature, music, and the arts; ideology and religion; economy and society; and cultural identity and heritage.
Abbas Amanat is William Graham Sumner Professor of History at Yale University and director of the Yale Program in Iranian Studies at the MacMillan Center for International and Area Studies. He lives in North Haven, CT.
"The defiant spirit of the country is brought to life in this monumental history of the past 500 years."—Richard Spencer, The Times (London)
"This sweeping but richly detailed text is an impressive treatment of the longue durée of Iranian history since 1501. Amanat interweaves narrative with stimulating analysis and commentary on culture, society, and politics in Iran with a skill based on deep scholarship and understanding. It is rare to find a book that will be important for both those new to Iranian studies and those already in the field: the former will find the book an invaluable starting point, and the latter will gain much from engaging with Amanat's creative and challenging insights and arguments."—Joanna de Groot, University of York                                                                  
"The appearance of this comprehensive and flowing narrative history of early modern and modern Iran could not be more timely, given the deep-seated misunderstandings and prejudices that persist regarding that country. Few scholars could be as well placed to write it as Abbas Amanat, who has devoted many decades to studying Iran's history and culture. This is likely to remain a work of reference that can be appreciated by students as well as interested general readers. An impressive achievement!"—Sanjay Subrahmanyam, Distinguished Professor of History, UCLA
"Lucid, readable, and erudite, Abbas Amanat's flowing narrative uses comparisons and connections with the surrounding world to reveal the dialogical and often defensive character of Iran's routes to modernity. Amanat highlights the heterogeneous groups and contending interests that shaped what he calls a 'Persianized version of modernity.' Balancing analysis of changes in political economy with the roles of public religion and the persistence of cultural traditions, this is a compelling and comprehensive conspectus of Iranian history with a magisterial command of detail."—Nile Green, University of California, Los Angeles
 
"A stately, scholarly study."—Kirkus Reviews
"Yale historian Amanat's absorbing history takes readers  from the battle?elds of Anatolia, where the Safavid dynasty rose through many vicissitudes, through to trysts with democratic experiments to the 1979 theocratic revolution ushered in by Ayatollah Khomeini."—Nayan Chanda, Global Asia Book Reviews
"Amanat is a skillful narrator whose use of sources and anecdotes is illuminating. His book should be read by anyone who is curious about the history of political philosophy and ideas."—The Economist
"Navigating a history as rich and diverse—not to mention as violent and desperate—as that of Iran is no easy feat but Amanat succeeds in his task with aplomb. His route down this turbulent course is as thoroughly researched and painstakingly structured as it is fascinating."—John Burns, PopMatters.com
"No book could be more pertinent for American readers . . . Mr. Amanat searches for patterns to make [Iran's] tumultuous history lucid to nonspecialist readers. . . His account, in all its melancholy splendor, comes to embody what the 20th-century Iranian poet Forough Farrokhzad called 'a sorrowful stroll in the garden of memories.'"—Eric Ormsby, The Wall Street Journal
"Iran is perhaps the most important poorly understood country in the world--too big and wealthy to ignore, too complex and dynamic to stereotype. Among this generation of historians of Iran, Abbas Amanat stands as a giant. He conveys his enormous learning in eloquent prose, retailing the country's dramatic struggles and displaying gems of its intricate and profound culture with a contagious excitement. Those who wish to understand how an early modern Silk Road monarchy transformed into a contemporary petroleum-fueled theocracy will find no more informed or captivating guide."—Juan Cole, Richard P. Mitchell Professor of History and Director, Center for Middle Eastern and North African Studies, University of Michigan
"For those with an interest in this pivotal and mercurial country, Abbas Amanat's magisterial study is too important to ignore."—Justin Marozzi, Sunday Times (London)
"A majestic work that goes a long way in unraveling for an American audience the country's enigmas and apparent contradictions."—Ervand Abrahamian, The New York Review of Books
"Amanat's style of writing and his erudition in various aspects of Iranian history turns the book into a smooth, well-crafted, and informative read."—Majid Motazer Mahdi, Reading Religion
Winner of the Outstanding Academic Title for 2018 Award, sponsored by Choice
ISBN:
9780300248937
Publication Date:
September 17, 2019
1008 pages, 6 1/8 x 9 1/4
56 color + 163 b/w illus.