The Justice of Contradictions
WARNING
You are viewing an older version of the Yalebooks website. Please visit out new website with more updated information and a better user experience: https://www.yalebooks.com
Antonin Scalia and the Politics of Disruption
Richard L. Hasen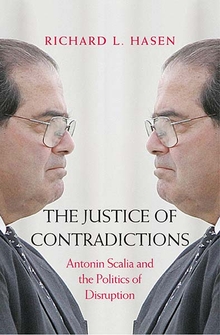 View Inside
Format:

Hardcover


Price:

$30.00
Engaging but caustic and openly ideological, Antonin Scalia was among the most influential justices ever to serve on the United States Supreme Court. In this fascinating new book, legal scholar Richard L. Hasen assesses Scalia's complex legacy as a conservative legal thinker and disruptive public intellectual.

The left saw Scalia as an unscrupulous foe who amplified his judicial role with scathing dissents and outrageous public comments. The right viewed him as a rare principled justice committed to neutral tools of constitutional and statutory interpretation. Hasen provides a more nuanced perspective, demonstrating how Scalia was crucial to reshaping jurisprudence on issues from abortion to gun rights to separation of powers. A jumble of contradictions, Scalia promised neutral tools to legitimize the Supreme Court, but his jurisprudence and confrontational style moved the Court to the right, alienated potential allies, and helped to delegitimize the institution he was trying to save.
Richard L. Hasen is Chancellor's Professor of Law and Political Science at the University of California, Irvine. He was named one of the 100 most influential lawyers in America by The National Law Journal.
"Very good, clear, and delightfully written. Important for anyone who cares about what the Supreme Court has done—and will do." — E.J. Dionne, Co-Author, One Nation After Trump
"Like a Scalia opinion, The Justice of Contradictions is superbly written, filled with brilliant insights and unsparing in its analysis. Both liberals and conservatives will see Scalia and his legacy in a new and more illuminating light."—Adam Winkler, author of Gunfight: The Battle Over the Right to Bear Arms in America
"Rick Hasen uses his powerful analytic ability to point out the numerous contradictions and inconsistencies in Scalia's jurisprudence. Any serious student of the Supreme Court will find much to admire, and something to disagree with, in this important book."—Burt Neuborne, author of Madison's Music: On Reading the First Amendment
 
"A brilliant analysis of Justice Antonin Scalia's work.   This clearly written and accessible book will be an essential resource for all thinking about Scalia's place in history and the last three decades of American law."—Erwin Chemerinsky, Dean and Jesse H. Choper Distinguished Professor of Law, University of California, Berkeley, School of Law
"An accessible and insightful account of Antonin Scalia, one of the Supreme Court's most colorful, controversial, and iconoclastic justices.  Hasen delivers a nuanced appreciation of a brilliant man whose many internal contradictions undermined his own potential for influence on the Court—even as he profoundly shaped the way we think and argue about constitutional law today."—David Cole, National Legal Director, ACLU, and author of Engines of Liberty: How Citizen Movements Succeed
"Antonin Scalia was one of the most consequential and controversial justices in the history of the Supreme Court. Rick Hasen has given us a masterpiece on his jurisprudence and his personality—sophisticated but accessible, insightful and penetrating. A must-read for anyone interested in the Court and its impact on society."—Norman Ornstein, resident scholar, American Enterprise Institute
 
"Fascinating . . . Hasen convincingly argues [that Scalia], disrupted the court in the same way Donald Trump is disrupting the presidency, and he reshaped the judiciary with straight-talking, anti-elitist populism that is not intellectually consistent but rather a reflection of his own ideological preferences."—The National Book Review
"A compact and accessible but wide-ranging volume [that] . . . tees up the issue of the extent to which the jurisprudential ideologies the late justice spent his lifetime touting . . . were and are serious and meritorious efforts at jurisprudence, or . . . mere slogans to gussy up a political agenda."—Simon Lazarus, American Prospect
"This well-written work of scholarship is readable at all levels."—J. J. Fox Jr., Choice
"[An] excellent book. . . . Hasen shows why Scalia may be remembered as a disrupter who employed a misleading and inconsistent approach to judicial decision making. . . . [A] nuanced and complex textual portrait."—Christopher N. Krewson, Law and Politics Book Review
"In The Justice of Contradictions, Richard Hasen has written an engaging (early) assessment of the legacy of Antonin Scalia."—Jack E. Call, Criminal Law and Criminal Justice Books
ISBN:
9780300228649
Publication Date:
March 20, 2018
248 pages, 6 1/8 x 9 1/4
3 b/w illus.