Originalism, Federalism, and the American Constitutional Enterprise
WARNING
You are viewing an older version of the Yalebooks website. Please visit out new website with more updated information and a better user experience: https://www.yalebooks.com
Edward A. Purcell, Jr.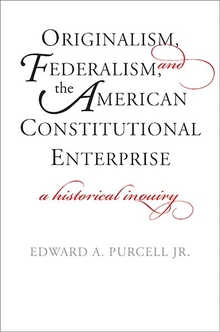 View Inside
Format:

Paper


Price:

$32.00
Also Available in:
Cloth
In this lively historical examination of American federalism, a leading scholar in the field refutes the widely accepted notion that the founding fathers carefully crafted a constitutional balance of power between the states and the federal government. Edward A. Purcell Jr. bases his argument on close analysis of the Constitution's original structure and the ways that structure both induced and accommodated changes over the centuries.
There was no clear agreement among the founding fathers regarding the "true" nature of American federalism, Purcell contends, nor was there a consensus on "correct" lines dividing state and national authority. Furthermore, even had there been some true "original" understanding, the elastic and dynamic nature of the constitutional structure would have made it impossible for subsequent generations to maintain any "original" or permanent balance. The author traces the evolution of federalism through the centuries, focusing particularly on shifting interpretations founded on political interests. He concludes with insights into current issues of federal power and a discussion of the grounds on which legitimate decisions about federal and state power should rest.
Edward A. Purcell, Jr., is Joseph Solomon Distinguished Professor, New York Law School. He is author of many books and scholarly articles, including Brandeis and the Progressive Constitution: Erie, the Judicial Power, and the Politics of Federal Courts in Twentieth-Century America (2000), published by Yale University Press, for which he received the Coif Triennial Book Award and the Triennial Griswold Prize. He lives in New York City.
"Edward A. Purcell, Jr. has written a vigorous critique, grounded in the Age of Madison, of the Rehnquist Court's revival of constitutional federalism. It's a learned, thoughtful book that's great fun to read."—Charles W. McCurdy, University of Virginia
"Purcell's book is an extraordinarily learned historical performance, bringing together an enormous array of secondary literature in a new way to address very topical questions concerning 'originalism' and the vagaries of American federalism."—Clyde S. Spillenger, Professor of Law, UCLA School of Law
"Edward Purcell illuminates some of the underlying dynamics of federalism jurisprudence. . . . Purcell has rendered an important service in his critique of the idea of a stable 'original' ideal of federalism. More generally, Purcell's book also draws attention to an often-overlooked confusion in our thinking about 'constitutionalism. . . . [It] should clarify and guide debates about federalism for many years to come."—Aziz Huq, New York Law Journal
"In this vigorously argued and heavily documented work, Purcell challenges the endeavor of the US Supreme Court under Chief Justice Rehnquist to restore the 'original' balance between federal and state authority supposedly intended by the constitution's authors. . . . An important book. Essential."—Choice
"Purcell has done a fine job of pointing out the dilemmas that American constitutionalism encounters when confronting federalism in all its complexity."—Johnathan O'Neill, Political Science Quarterly
"This is a brilliant and novel constitutional commentary. . . . This is intellectual history at its best, demanding that we read carefully and think critically."—Peter Charles Hoffer, American Historical Review
"A unique and stimulating book. . . . A provocative and erudite analysis of the historical roots and development trajectory of American federalism. . . . It could fit seamlessly in graduate courses—whether in hsitory, law, or political science—on structures of power or legal and constitutional thought and development."—Justin Crowe, Law & Politics Book Review
Selected by Choice magazine as an Outstanding Academic Title from 2008.
ISBN:
9780300212013
Publication Date:
July 15, 2014
320 pages, 6 1/8 x 9 1/4