The Art of Self-Improvement
WARNING
You are viewing an older version of the Yalebooks website. Please visit out new website with more updated information and a better user experience: https://www.yalebooks.com
Anna Katharina Schaffner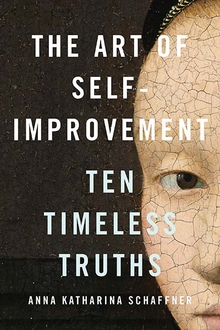 View Inside
Format:

Hardcover


Price:

$26.00
A brilliant distillation of the key ideas behind successful self-improvement practices throughout history, showing us how they remain relevant today
 
"Schaffner finds more in contemporary self-improvement literature to admire than criticize. . . . [A] revelatory book."—Kathryn Hughes, Times Literary Supplement
 
Self-help today is a multi-billion-dollar global industry, one often seen as a by-product of neoliberalism and capitalism. Far from being a recent phenomenon, however, the practice of self-improvement has a long and rich history, extending all the way back to ancient China. For millennia, philosophers, sages, and theologians have reflected on the good life and devised strategies on how to achieve it.  
 
Focusing on ten core ideas of self-improvement that run through the world's advice literature, Anna Katharina Schaffner reveals the ways they have evolved across cultures and historical eras, and why they continue to resonate with us today. Reminding us that there is much to learn from looking at time-honed models, Schaffner also examines the ways that self-improvement practices provide powerful barometers of the values, anxieties, and aspirations that preoccupy us at particular moments in time and expose basic assumptions about our purpose and nature.
Anna Katharina Schaffner is professor of cultural history at the University of Kent. She is the author of Exhaustion: A History and the novel The Truth about Julia.
"In a world where cynicism is too easy and 'self-help' can be pejorative, this erudite historical analysis is truly precious, affirming the intellectual dignity of the human desire to become better versions of ourselves."—Jonathan Rowson, author of The Moves That Matter: A Chess Grandmaster on the Game of Life
 
"Through her keen and sensitive reading of everything from Lao Tzu to Frozen, Schaffner demonstrates that the heart of human wisdom is the faith that we can improve. This book is erudite, engaging, and elegant—a wonderful read."—Jonathan Malesic, author of The End of Burnout
"With astonishing and entertaining excerpts from the literatures of self-improvement and virtue from Western and Eastern systems of philosophy, and with fine pacing throughout, this book is a formidable contribution to the literature on self-improvement practices. The breadth and depth of the research is staggering."—Micki McGee, Fordham University
"This book is informative, comprehensive, and entertaining; while including history and research, Schaffner adds terrific interpretations of Disney and Nietzsche! It's a necessary book for our Zeitgeist, adding 'why' and 'how' to Rilke's poetic line: 'You must change your life.'"—Scott Haas, author of Why Be Happy?: The Japanese Way of Acceptance
 
"With remarkable range, this fascinating book brings alive new worlds of self-relations. It is inspiring both academically and personally."—Greta Wagner, Technical University of Darmstadt
 
ISBN:
9780300247718
Publication Date:
September 14, 2021
280 pages, 6 1/8 x 9 1/4