This Earthly Frame
WARNING
You are viewing an older version of the Yalebooks website. Please visit out new website with more updated information and a better user experience: https://www.yalebooks.com
The Making of American Secularism
David Sehat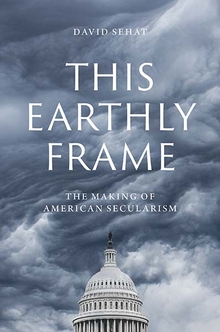 View Inside
Format:

Hardcover


Price:

$30.00
An award-winning scholar's sweeping history of American secularism, from Jefferson to Trump
 
"An essential book for understanding today's culture wars. Sehat's clear-eyed and elegant narrative will change how you think about our supposedly secular age."—Molly Worthen, University of North Carolina at Chapel Hill
 
In This Earthly Frame, David Sehat narrates the making of American secularism through its most prominent proponents and most significant detractors. He shows how its foundations were laid in the U.S. Constitution and how it fully emerged only in the twentieth century. Religious and nonreligious Jews, liberal Protestants, apocalyptic sects like the Jehovah's Witnesses, and antireligious activists all used the courts and the constitutional language of the First Amendment to create the secular order. Then, over the past fifty years, many religious conservatives turned against that order, emphasizing their religious freedom.
 
Avoiding both polemic and lament, Sehat offers a powerful reinterpretation of American secularism and a clear framework for understanding the religiously infused conflict of the present.
David Sehat is a professor of history at Georgia State University. He is the author of The Jefferson Rule and The Myth of American Religious Freedom, which was awarded the 2012 Frederick Jackson Turner Award. He lives in Atlanta, GA.
"[An] extremely useful volume . . . Fascinating . . . An important contribution."—John R. Vile, Free Speech Center
"An essential book for understanding today's culture wars. Sehat's clear-eyed and elegant narrative will change how you think about our supposedly secular age."—Molly Worthen, University of North Carolina at Chapel Hill
"In This Earthly Frame David Sehat provides a history—at once sweeping and subtle—of political secularism as a deeply disputed inheritance in American public life. With crystal-clear prose he brightly illuminates the constitutional stakes involved in the elaboration of secularist ideals."—Leigh Eric Schmidt, Washington University in St. Louis
"Neither born secular nor congenitally religious, the United States has been marked by an ongoing struggle over whether it rests on divine truths. In his splendid new book, David Sehat tracks the secularist idea across our history, culminating in our controversies around the importance and meaning of religious freedom. It is an invaluable guide for citizens and scholars alike."—Samuel Moyn, Yale University
"How was a secular America built? By congregations as well as courts, and through religious collaboration as well as conflict. In Sehat's invigorating history, we see modern secularism anew: as a fragile, shifting truce between personal beliefs and a pluralistic political order."—Sarah E. Igo, Vanderbilt University
"Sehat sweeps across the American experience, pulling a complicated and multifaceted story into a coherent whole. He deftly weaves together elements of cultural, intellectual, and institutional history into significant statements about the formative significance of ideas. This book is a joy to read."—Stephen Skowronek, Yale University
ISBN:
9780300244212
Publication Date:
March 8, 2022
344 pages, 6 1/8 x 9 1/4