The Voices of Morebath
WARNING
You are viewing an older version of the Yalebooks website. Please visit out new website with more updated information and a better user experience: https://www.yalebooks.com
Reformation and Rebellion in an English Village
Eamon Duffy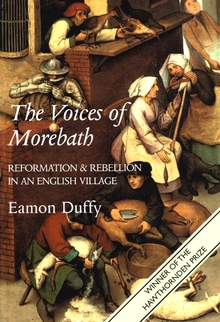 View Inside
Format:

Paper


Price:

$20.00
Also Available in:
Cloth
In the fifty years between 1530 and 1580, England moved from being one of the most lavishly Catholic countries in Europe to being a Protestant nation, a land of whitewashed churches and antipapal preaching. What was the impact of this religious change in the countryside? And how did country people feel about the revolutionary upheavals that transformed their mental and material worlds under Henry VIII and his three children?

In this book a reformation historian takes us inside the mind and heart of Morebath, a remote and tiny sheep farming village on the southern edge of Exmoor. The bulk of Morebath's conventional archives have long since vanished. But from 1520 to 1574, through nearly all the drama of the English Reformation, Morebath's only priest, Sir Christopher Trychay, kept the parish accounts on behalf of the churchwardens. Opinionated, eccentric, and talkative, Sir Christopher filled these vivid scripts for parish meetings with the names and doings of his parishioners. Through his eyes we catch a rare glimpse of the life and pre-Reformation piety of a sixteenth-century English village.

The book also offers a unique window into a rural world in crisis as the Reformation progressed. Sir Christopher Trychay's accounts provide direct evidence of the motives which drove the hitherto law-abiding West-Country communities to participate in the doomed Prayer-Book Rebellion of 1549 culminating in the siege of Exeter that ended in bloody defeat and a wave of executions. Its church bells confiscated and silenced, Morebath shared in the punishment imposed on all the towns and villages of Devon and Cornwall. Sir Christopher documents the changes in the community, reluctantly Protestant and increasingly preoccupied with the secular demands of the Elizabethan state, the equipping of armies, and the payment of taxes. Morebath's priest, garrulous to the end of his days, describes a rural world irrevocably altered and enables us to hear the voices of his villagers after four hundred years of silence.
Eamon Duffy is reader in Church History in the University of Cambridge and president elect of Magdalene College. His previous books include The Stripping of the Altars: Traditional Religion in England 1400–1580, and Saints and Sinners: A History of the Popes, both published by Yale University Press.

"[R]ichly detailed."—America
"A unique and valuable record. . . . Eamon Duffy has written a classic account of how one small parish adapted to the bewildering changes of the Reformation."—Roger B. Manning, American Historical Review

"This is an immensely appealing book, both for its physical appearance and its contents. . . . [Duffy] offers a plausible reading, that makes good use of these wonderful records."—Catholic Historical Review

"Well-written, provocative, and insightful . . . social history at its best. Recommended for upper-division undergraduates . . . general readers and professionals/practitioners."—Choice
"A rich and detailed story of how the Reformation was understood and received during the mid-16th century. . . . Well-written, provocative, and insightful, this is social history at its best. Recommended for upper-division undergraduates through faculty and researchers; general readers and professionals/practitioners."—Choice
"Duffy's book provides a poignant account of a priest and his parish struggling to adapt to a world that is changing too quickly. . . . The Voices of Morebath should appeal to specialists and non-specialists alike. It is an absorbing story, told largely through the words of the 'most vivid country clergyman of the English sixteenth century,' as well as an accomplished piece of regional Reformation history."—Holly Crawford Pickett, Comitatus: A Journal of Medieval & Renaissance Studies
"Admirers of Duffy's justly acclaimed The Stripping of the Altars willwelcome this extended footnote to his argument that the Protestant Reformation was, for the most part, an elitist and violent imposition upon a solidly Catholic England. . . . It is a poignant story of people trying to hold on to their faith and community, but finally coming to terms with changes to which royal power gave the appearance of inevitability."—First Things
"The Voices of Morebath is a triumph of historical writing, microhistory on the highway and not the byways of the discipline, and when future generations of students are directed to the best examples of historical scholarship from this generation the tiny isolated parish of Morebath will figure largely on the signposts."—W.J. Sheils, Journal of American Studies
"Dr. Duffy's presentation of the journals is quite brilliant. . . . The book is never dull: on the contrary, it reads like a very good novel. . . . This book should be assured of a place in the library of every Catholic school, primary as well as secondary. . . . Not to have read it will reduce one's claim to be a well-informed English Catholic."—Mentor Magazine
"Buy this book, read it, and allow yourself to become acquainted with a small corner of the vanished world of Catholic England."—William J. Tighe, New Oxford Review
"Stories like the one Duffy skillfully tells here, for historian and general reader alike . . . bear remembering."—Paul Lewis, New York Times Book Review
"Stories like the one Duffy skillfully tells here, for historian and general reader alike . . . bear remembering. And it is a story that can still be seen. . . . Duffy's map of the parish in Tudor times remains accurate today."—Paul Lewis, New York Times Book Review
"A masterful social and religious history."—Sarah Covington, Renaissance Quarterly
"The Voices of Morebath is microhistory, absorbing, zesty, and readable for the general reader as well as the historian, a rare view into a time long gone—a real gem."—SirReadaLot.org
"[Duffy] possesses that blend of scholarship and felicitous narrative style which is free of pedantry, carrying his work forward with an informed energy so often absent from academic texts."—Society of King Charles the Martyr
"By his meticulous deciphering of the parish accounts written by their vicar during a period stretching over fifty years, Eamon Duffy's The Voices of Morebath affordus a fascinating glimpse into the lives of the inhabitants of a Tudor village. . . . Beautifully produced. . . . It is a voice that vividly returns the Tudor village of Morebath back to the historical stage."—Wendy Dunn, Suite 101.com
"Social history at its most compelling."—Sunday Telegraph
"This is an absorbing portrait of one small Devon village in the sixteenth century as it faced up to daily life and the upheavals of the English Reformation. . . . A series of vivid snapshots of ordinary life during a time of extraordinary change."—The Sunday Times (London)
"Duffy's scholarship is meticulous and exact. . . . This is a book to be read by enthusiasts and general readers alike. . . . It is vital to understand, for example, that the piety of the people clustered around the saints of the region as if they were an emanation of the soil itself. As more historians begin to discover this territorial imperative, then new forms of history will be written. The Voices of Morebath is a significant and striking example."—Peter Ackroyd, The Times (London)
"The Voices of Morebath will fascinate historians who already find the period exciting. Those who have considered themselves immune to the charms of Clio may be in for a pleasant surprise. This book deserves a wide readership."—Virginia Quarterly Review
"Morebath successfully puts life and color into the turmoil of this century. It does come to seem that we are listening to a 'chorus of forgotten but fascinating voices' (p. xv), mediated through Duffy's graceful prose. I bid that graduate students, even advanced undergraduates, finish Morebath with an eagerness which nothing else on my reading list evokes. Yet it will be most useful to established historians. . . . A very pleasing, high-quality paperback. There are three good, clear maps, helpful color plates, and many illustrations from sixteenth-century works. . . . I encourage both medievalists and modernists to add this to their shelves, the shelves of their libraries, and their course reading lists."—Phyllis E. Pobst, Medieval Prosopography
"Few other books accomplish such a vivid reconstruction of the past, and Duffy manages tit using the most prosaic documents."—Carlos Eire, Commonweal
Short-listed for the Samuel Johnson Prize
Long-listed for the British Academy Book award

Winner of the Hawthornden Prize for Literature for the best work of imaginative literature
ISBN:
9780300098259
Publication Date:
August 11, 2003
248 pages, 6.125 x 9.25
26 b/w + 16 color illus.