A Blueprint for War
WARNING
You are viewing an older version of the Yalebooks website. Please visit out new website with more updated information and a better user experience: https://www.yalebooks.com
FDR and the Hundred Days That Mobilized America
Susan Dunn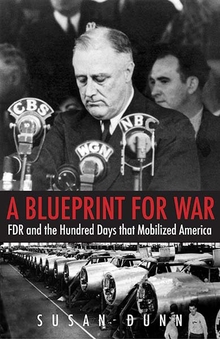 View Inside
Format:

Paper


Price:

$18.00
Also Available in:
Hardcover
In the cold winter months that followed Franklin Roosevelt's election in November 1940 to an unprecedented third term in the White House, he confronted a worldwide military and moral catastrophe. Almost all the European democracies had fallen under the ruthless onslaught of the Nazi army and air force. Great Britain stood alone, a fragile bastion between Germany and American immersion in war. In the Pacific world, Japan had extended its tentacles deeper into China. Susan Dunn dramatically brings to life the most vital and transformational period of Roosevelt's presidency: the hundred days between December 1940 and March 1941, when he mobilized American industry, mustered the American people, initiated the crucial programs and approved the strategic plans for America's leadership in World War II. As the nation began its transition into the preeminent military, industrial, and moral power on the planet, FDR laid out the stunning blueprint not only for war but for the American Century.
Susan Dunn, the Massachusetts Professor of Humanities at Williams College, is the author of a dozen books, including 1940: FDR, Willkie, Lindbergh, Hitler—the Election Amid the Storm.
"Susan Dunn is one of the great Roosevelt historians of our time, and with this fresh and fascinating book, she has proven it once again."—Michael Beschloss, author of Presidents of War
"A superbly researched and written history of how FDR and his top aides moved decisively after the 1940 election to provide massive American aid to Great Britain to support its lonely fight against Hitler, and how FDR set forth an enlightened and lasting vision of America's international responsibilities in the future."—James T. Patterson, Bancroft Prize-winning author of Grand Expectations
"A Blueprint for War should become the definitive telling of a pivotal episode in American history."—Edward J. Larson, Pulitzer Prize-winning author of The Return of George Washington
"Susan Dunn has written a wonderful book about an important and, until now, under-examined chapter of Franklin Delano Roosevelt's presidency. In A Blueprint for War, we see Roosevelt at his best—the skilled navigator of domestic politics and the visionary shepherd of U.S. foreign policy. Dunn shows how FDR's Third Hundred Days were critical to overcoming isolationism and rebuilding American leadership in age of global turmoil."—E.J. Dionne Jr., co-author of One Nation After Trump
 
"Dunn rightly calls this [sense of purpose] 'a decisive, irreversible shift in national consciousness,' transforming America from isolationist into internationalist. . . . Much of this had only been half explained, and Dunn's achievement is to make the view of FDR's accomplishment clear."—David M. Shribman, Boston Globe
"A concise and engaging retelling of the prelude to US involvement in WW II."—A.J. Falk, Choice
"A taut, lean narrative account of [a] critical turning point in US history. . . . Gripping. . . . [Dunn's] fresh, and lasting, contribution to historiography is to identify a brief time period during which Roosevelt turned America decisively towards the war. . . . Roosevelt emerges from Dunn's electrifying account as a supremely confident commander-in-chief—in turn inspired, strategic, cunning even, ingenious, gregarious, and most of all tenacious."—Theo Zenou, The Journal of History
ISBN:
9780300244342
Publication Date:
April 23, 2019
264 pages, 5 3/4 x 9
16 b/w illus.