Financial Crises in Emerging Markets
WARNING
You are viewing an older version of the Yalebooks website. Please visit out new website with more updated information and a better user experience: https://www.yalebooks.com
An Essay on Financial Globalisation and Fragility
Alexandre Lamfalussy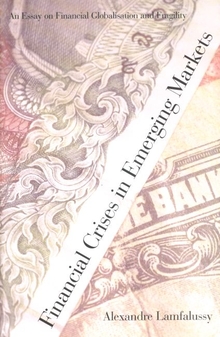 View Inside
Format:

Cloth


Price:

$56.00
In this book an eminent international banking expert grapples with issues that surround the trend toward financial globalization and its potential impact on financial fragility. Does globalization entail the risk of greater financial market instability—perhaps even genuine systemic fragility—or will it lead to a smoother working of markets? How should governments, central banks, and international institutions respond to manifestations of financial fragility?

Alexandre Lamfalussy analyzes four major crisis experiences in emerging markets: Latin America in 1982–83, Mexico in 1994–95, East Asia in 1997–98, and Russia since 1998. The author finds that the build-up of short-term indebtedness and asset price bubbles were at the heart of the four crises. And in each case the exuberant behavior of lenders and investors from the developed world played a major role, while financial globalization was an aggravating factor. Lamfalussy offers a series of carefully considered policy recommendations for the future that are both pragmatic and wise.

Alexandre Lamfalussy is a professor in the Institute of European Studies at the Catholic University of Louvain, Belgium. He has served as general manager of the Bank for International Settlements and was president of the European Monetary Institute from 1993 to 1997.

"Lamfalussy writes from a unique lifetime career of high responsibility in international finance; he knows what he is talking about, and his arguments are subtle and sophisticated and balanced."—James Tobin










"Drawing on intimate personal experience and a deep well of common sense, Lamfalussy provides a compact but thorough account of debt and currency crises in the 1980s and 1990s. His proposals for crisis prevention and management are bold without being unrealistic. This is required reading for everyone wanting to understand the past and plan for a safer future—including the author's erstwhile colleagues in the official community."—Peter Kenen, Walker Professor of Economic and International Finance, Princeton University 

"Much has already been said and written about financial crises in emerging markets. Special about this essay is that Alexandre Lamfalussy combines his long-time experience at the BIS and his great analytical skills to present a thought provoking discussion of this issue. Warmly recommended!"—W.F. Duisenberg, President of the European Central Bank

"Occasionally someone writes a classic—a piece that is constantly referred to as the source—and Lamfalussy has done just that. . . . In this slim, elegant, clearly written, and closely reasoned work of the four major financial crises that have struck the developing world since the early 1980s. . . . An essential addition to any collection on international finance."—Choice
"[A] useful and penetrating analysis of four major international financial crises--Latin American in 1982-83, Mexico in 1994-95, Asia in 1997, and Russia in 1998. [The author] also includes lessons on preventing future crises and combating them when they occur, as they inevitably do."—Richard N. Cooper, Foreign Affairs

"Few people have left a bigger mark on the preparation for European economic and monetary union than Mr. Alexandre Lamfalussy. . . . [He] has driven the project ahead against the odds and has managed to build up trust among central bankers and governments alike."—The Financial Times

"A fascinating and informative read for anyone interested in global financial activities."—Venture

Chosen as an Outstanding Title for 2000 by Choice Magazine
ISBN:
9780300082302
Publication Date:
August 11, 2000
224 pages, 5 1/2 x 8 1/4
illus.