Why We Believe
WARNING
You are viewing an older version of the Yalebooks website. Please visit out new website with more updated information and a better user experience: https://www.yalebooks.com
Evolution and the Human Way of Being
Agustín Fuentes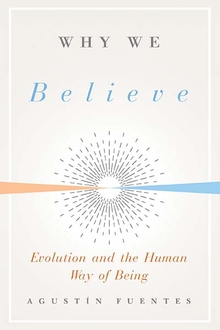 View Inside
Format:

Hardcover


Price:

$28.00
A wide-ranging argument by a renowned anthropologist that the capacity to believe is what makes us human
 
Why are so many humans religious? Why do we daydream, imagine, and hope? Philosophers, theologians, social scientists, and historians have offered explanations for centuries, but their accounts often ignore or even avoid human evolution. Evolutionary scientists answer with proposals for why ritual, religion, and faith make sense as adaptations to past challenges or as by-products of our hyper-complex cognitive capacities.
 
But what if the focus on religion is too narrow? Renowned anthropologist Agustín Fuentes argues that the capacity to be religious is actually a small part of a larger and deeper human capacity to believe. Why believe in religion, economies, love? A fascinating intervention into some of the most common misconceptions about human nature, this book employs evolutionary, neurobiological, and anthropological evidence to argue that belief—the ability to commit passionately and wholeheartedly to an idea—is central to the human way of being in the world.
Agustín Fuentes is a Professor of Anthropology at Princeton University. He is an active public scientist, a well-known blogger, lecturer, tweeter, and an explorer for National Geographic. Fuentes received the Inaugural Communication & Outreach Award from the American Association of Physical Anthropologists, the President's Award from the American Anthropological Association, and is a member of the American Academy of Arts and Sciences.
 
"A wholly impressive look at how our capacity for belief evolved, with fresh insights, especially about early Homo sapiens. I found Fuentes' case studies on religion, economics, and love fascinating."—Barbara J. King, author of Evolving God
"We are the believing species. Much of what we are and what we do is driven by belief of one kind or another. Agustin Fuentes, a gifted writer and teacher, helps us understand both the power and role of belief in this brilliant book. Why We Believe is an exciting intellectual tour through culture, neurobiology, prehistory, religion, economies, love, war, and more. Read it to better know yourself and your species."—Guy P. Harrison, author of At Least Know This: Essential Science to Enhance Your Life, Think: Why You Should Question Everything
 
"A wide-ranging discussion of the distinctive features of human belief. Readers with an interest in the origins of human cognition will find it a stimulating book."—Jonathan Birch, Current Biology
"A compelling, evolutionary narrative. . . .of what [Fuentes] calls 'our distinctive capacity for belief.'"—Steve Nolan, Reviews in Religion & Theology
"Impressive for [its] scholarly breadth and . . . tough-minded but respectful in addressing the convictions that most of humanity hold dear."—Justin Barret, American Scientist
Awarded the Popular Book Award sponsored by the International Society for Science and Religion
ISBN:
9780300243994
Publication Date:
September 24, 2019
280 pages, 5 1/2 x 8 1/4
8 b/w illus.