Does Altruism Exist?
WARNING
You are viewing an older version of the Yalebooks website. Please visit out new website with more updated information and a better user experience: https://www.yalebooks.com
Culture, Genes, and the Welfare of Others
David Sloan Wilson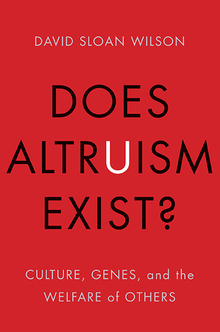 View Inside
Format:

Paper


Price:

$18.00
Also Available in:
Cloth
A powerful treatise that demonstrates the existence of altruism in nature, with surprising implications for human society

Does altruism exist? Or is human nature entirely selfish? In this eloquent and accessible book, famed biologist David Sloan Wilson provides new answers to this age-old question based on the latest developments in evolutionary science.
 
From an evolutionary viewpoint, Wilson argues, altruism is inextricably linked to the functional organization of groups. "Groups that work" undeniably exist in nature and human society, although special conditions are required for their evolution. Humans are one of the most groupish species on earth, in some ways comparable to social insect colonies and multi-cellular organisms. The case that altruism evolves in all social species is surprisingly simple to make.
 
Yet the implications for human society are far from obvious. Some of the most venerable criteria for defining altruism aren't worth caring much about, any more than we care much whether we are paid by cash or check. Altruism defined in terms of thoughts and feelings is notably absent from religion, even though altruism defined in terms of action is notably present. The economic case for selfishness can be decisively rejected. The quality of everyday life depends critically on people who overtly care about the welfare of others. Yet, like any other adaptation, altruism can have pathological manifestations. Wilson concludes by showing how a social theory that goes beyond altruism by focusing on group function can help to improve the human condition.


Co-published with Templeton Press
David Sloan Wilson is president of the Evolution Institute and SUNY Distinguished Professor of Biology and Anthropology at the University of Binghamton.
"[A] brilliant contribution to this branch of socio-political discourse."—Herbert Gintis, Nature
"Wilson argues his corner masterfully, providing a pithy riposte to the belief that natural selection occurs only at the level of the selfish gene. . . . Wilson's fascinating gallop through religion, economics, politics and everyday life reveals many ways to activate altruism."—Kate Douglas, New Scientist
"David Sloan Wilson has a nose for important problems and his writing is always interesting and provocative. This work on altruism—which extends across a range of problems including religion—will enhance his deservedly high reputation. If you read only one book on the topic, make it this one."—Michael Ruse, Director of the Program in History and Philosophy of Science, Florida State University
"David Sloan Wilson's special take on the evolution of altruism, and how in our species it is fortified by religion and morality, has inspired fierce debate. It is explained here in a most lively and readable manner."—Frans de Waal, author of The Bonobo and the Atheist
"In this highly readable book a remarkable philosophical mind is at work, inspired by applying evolutionary theory to real life as we know it. The message is that altruism is alive and well, and it can actually be taken into account as we plan a better modern life—as long as we focus on the right kinds of altruism."—Chris Boehm, University of South California
"In this short and punchy book, [David Sloan Wilson] does an excellent job of explaining the relationship between the different theories and the now substantial evidence that we have indeed evolved to do each other good turns."—Financial Times
"The encouraging message is that we do have the resources to be better. . . . This requires foremost that we believe in the goodness of others. So reading these powerful new books on the existence of altruism could be the first step to making the world a nicer place."—Stephen Cave, Financial Times.
"[Does Altruism Exist?] explores the question of whether altruism exists or if humans are entirely selfish, citing the evolutionary evidence of the functional organization of groups. [It] discusses groups that work; how altruism evolves; equivalence; considering whether altruism exists by examining humans and their distinctive properties in addition to other species."—Journal of Economic Literature
"This book is an important discourse on not only defining altruism but, more importantly, how it can be used to make a society more sustainable. It is appropriate for undergraduate and graduate students in psychology, political science, and behavioral economics."—Robert D. Mather, PsycCRITIQUES
"Well written and easy to read. . . . Something to think about."—Jay R. Feierman, ESSSAT News & Reviews
"[David Sloan Wilson] has altered the course of evolutionary theory. . . . [T]here is no one better to write an accessible treatment of these ideas and their impact on evolutionary biology and on our understanding of human beings."—Jason Zinser, Quarterly Review of Biology

ISBN:
9780300219883
Publication Date:
February 23, 2016
Publishing Partner:
Co-published with Templeton Press
192 pages, 5 1/2 x 8 1/2