Revelation and Authority
WARNING
You are viewing an older version of the Yalebooks website. Please visit out new website with more updated information and a better user experience: https://www.yalebooks.com
Sinai in Jewish Scripture and Tradition
Benjamin D. Sommer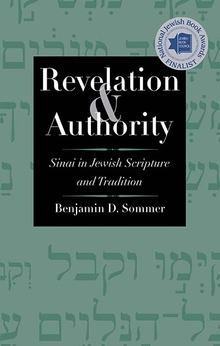 View Inside
Format:

Paper


Price:

$30.00
Also Available in:
Cloth
Winner of the 2016 Goldstein-Goren Award for the best book in Jewish Thought

At once a study of biblical theology and modern Jewish thought, this volume describes a "participatory theory of revelation" as it addresses the ways biblical authors and contemporary theologians alike understand the process of revelation and hence the authority of the law. Benjamin Sommer maintains that the Pentateuch's authors intend not only to convey God's will but to express Israel's interpretation of and response to that divine will. Thus Sommer's close readings of biblical texts bolster liberal theologies of modern Judaism, especially those of Abraham Joshua Heschel and Franz Rosenzweig. This bold view of revelation puts a premium on human agency and attests to the grandeur of a God who accomplishes a providential task through the free will of the human subjects under divine authority. Yet, even though the Pentateuch's authors hold diverse views of revelation, all of them regard the binding authority of the law as sacrosanct. Sommer's book demonstrates why a law-observant religious Jew can be open to discoveries about the Bible that seem nontraditional or even antireligious.
Benjamin D. Sommer is professor of Bible at the Jewish Theological Seminary. He lives in Teaneck, NJ.
"In uncovering the multilayered concepts of revelation in the biblical traditions Benjamin Sommer provides us the biblical roots of modern Jewish thought on revelation and its relation to authority and tradition. This is an extraordinary book in biblical criticism and in Jewish thought and above all one of its most illuminating contributions is how these two fields of inquiry enrich one another."—Moshe Halbertal, Professor of Jewish Thought and Philosophy, Hebrew University and Gruss Professor of Law, New York University School of Law
"This is a groundbreaking book . . . one of the most original works in Jewish theology that I have read in years."—Gary A. Anderson, Hesburgh Professor of Catholic Theology, University of Notre Dame
"Benjamin Sommer's extraordinary mix of scholarly rigor, historical imagination, lucid writing and honest theological concern brilliantly illuminate every subject he touches, and this most central of subjects, revelation and authority, is no exception. With this volume he offers scholarly and general readers alike refreshingly new ways of looking at some of the oldest and yet most pressing questions, with acuity and grace."—Yehudah Mirsky, author of Rav Kook: Mystic in a Time of Revolution
"[A] groundbreaking work . . . Clearly written and broad in application . . . an important read for Jewish laypeople, clergy, and scholars . . . [and] also likely to appeal to non-Jews who want to make modern biblical scholarship relevant for believers."—Publishers Weekly (starred review)
"Sommer's book is thought-provoking. . . . [T]his book deserves to be taken seriously."—Paul Sanders, Review of Biblical Literature

"Sommer lays out his argument in six well-informed and cogent chapters."—Marvin A. Sweeney, AJS Review

"An essential volume for all those engaged in the study of the Hebrew Bible, biblical interpretation, Jewish thought, and biblical theology . . . courageous, honest, and dynamic."—Hindy Najman, Marginalia Review of Books
"Clear, bold, and innovative."—Jeffrey Stackert, Biblical Interpretation
"Jews and non-Jews who read [Revelation and Authority] will discover a wealth of information and an intriguing discussion of the place of the Bible within the corpus of Jewish literature."—Gary G. Porton, Review of Rabbinic Judaism
"The Book is not only a learned study: it is also a rarity in the Jewish world—a theologically serious book written by a Jew who is not only a scholar but also a serious practitioner of Judaism."—Jon D. Levenson, Marginalia
"In his thoughtful, creative, and learned book, Revelation and Authority, Benjamin Sommers reflects on Catholic ideas of the relationship between scripture and tradition."—John C. Cavadini, Marginalia
"As Sommer so masterfully explicates, Talmud Torah creates a sacred space, a dialogical topos in which devout Jews study, debate, and question the biblical record of the Israelites' encounter with God."—Paul Mendes-Flor, Marginalia
"This is a masterful work, integrating strands and patterns in biblical, rabbinic, medieval, and modern Jewish thought into a constructive scholarly project."—Yudit Kornberg Greenberg, Reading Religion
"A refreshing, intellectually, and morally honest approach towards the role the Hebrew Bible might play for a religious Jew, or indeed for any religious person who grapples with how to treat the Bible both as scripture and as flawed."—Sarah Wolf, Journal of Law and Religion
Finalist for the 2015 National Jewish Book Awards in the category of Scholarship
Winner of the 2016 Goldstein-Goren Award for the best book in Jewish Thought
Finalist in the philosophy and Jewish thought categories for the 2015 Jordan Schnitzer Book Award given by the Association for Jewish Studies
"The breadth, creativity, and boldness of Sommer's book along with the clarity of his writing impressed the judges."—Prize Committee, 2015 Jordan Schnitzer Book Award

ISBN:
9780300234688
Publication Date:
February 6, 2018
440 pages, 6 1/8 x 9 1/4