The Birth of Christian History
WARNING
You are viewing an older version of the Yalebooks website. Please visit out new website with more updated information and a better user experience: https://www.yalebooks.com
Memory and Time from Mark to Luke-Acts
Eve-Marie Becker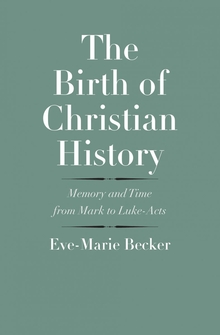 View Inside
Format:

Hardcover


Price:

$65.00
The first comprehensive account to explore the beginnings of early Christian history writing, tracing its origin to the Gospel of Mark and Luke-Acts

When the Gospel writings were first produced, Christian thinking was already cognizant of its relationship to ancient memorial cultures and history-writing traditions. Yet, little has been written about exactly what shaped the development of early Christian literary memory. In this eye-opening new study, Eve-Marie Becker explores the diverse ways in which history was written according to the Hellenistic literary tradition, focusing specifically on the time during which the New Testament writings came into being: from the mid-first century until the early second century CE.
 
While acknowledging cases of historical awareness in other New Testament writings, Becker traces the origins of this historiographical approach to the Gospel of Mark and Luke-Acts. Offering a bold new framework, Becker shows how the earliest Christian writings shaped "Christian" thinking and writing about history.
Eve-Marie Becker is chair of New Testament studies at the University of Muenster in Germany. From 2006-18 she was professor of New Testament exegesis at Aarhus University in Denmark. From 2016-17 she was Distinguished Visiting Professor of New Testament at the Candler School of Theology, Emory University, and from 2017-18 Research Fellow at the Israel Institute for Advanced Studies in Jerusalem.
 
"Early Christian accounts of the life and teachings of Jesus,however else they may be labeled, are narratives of a remembered past told to shape a community's future, historiography broadly construed. Eve Marie Becker poses large questions about that literature, such as how memory works and what purposes it serves, how history relates to mythology, how time is construed and manipulated in narrating the past. This book will no doubt stimulate debate and renewed reflection on how early Christian texts relate to their literary context."—Harold Attridge, Yale University
 
"This is the first book in which the birth of Christian history is elucidated by comparing the narratives of the Gospels and Luke Acts with the cutting edge insights of modern Anglo-Saxon and German historiography. Eve-Marie Becker's book will be indispensable for all students of emerging Christianity."—Jan N. Bremmer, University of Groningen
 
"A fine-grained treatment combining masterly, insightful exposition of a breathtaking range of ancient sources with fresh, provocative arguments engaging major voices in the field. This book will surely advance the debate and should be referential for a long time."—Carl R. Holladay, Emory University
 
"In her excellent book, Eve-Marie Becker combines contemporary research on historiography, memory, rituals and visualization with ancient Biblical, Jewish, Christian and Pagan Texts. Becker illuminates the earliest history of Christian historiography in a fresh and enlightening way."—Christoph Markschies, Humboldt-University Berlin
 
"This fascinating study provides an innovative overview of the origins of Christian thinking and writing about history. Eve-Marie Becker insightfully manages to unfold the processess that brought about the transformation of memories into the narratives of Mark to Luke-Acts."—Doron Mendels, author of Memory in Jewish, Pagan and Christian Societies of the Graeco-Roman World
 
"This is a fascinating and erudite study about the nature and function of gospels."—Donald Senior, Bible Today
"Representing the fruits of nearly fifteen years of research on ancient historiography, this book adds another significant contribution by Becker to the study of the Gospels and Christian Origins. On display at every turn of the page is her mastery of the literary culture of Greco-Roman antiquity and of modern interdisciplinary discourses on memory, history, and time."— Nathan L. Shedd, Religious Studies Review
ISBN:
9780300165098
Publication Date:
September 26, 2017
280 pages, 6 1/8 x 9 1/4