Yitzhak Rabin
WARNING
You are viewing an older version of the Yalebooks website. Please visit out new website with more updated information and a better user experience: https://www.yalebooks.com
Soldier, Leader, Statesman
Itamar Rabinovich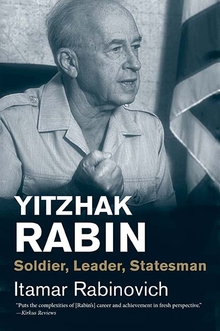 View Inside
Format:

Paper


Price:

$15.00
Also Available in:
Hardcover
An insider's perspective on the life and influence of Israel's first native-born prime minister, his bold peace initiatives, and his tragic assassination

More than two decades have passed since prime minister Yitzhak Rabin's assassination in 1995, yet he remains an unusually intriguing and admired modern leader. A native-born Israeli, Rabin became an inextricable part of his nation's pre-state history and subsequent evolution. This revealing account of his life, character, and contributions draws not only on original research but also on the author's recollections as one of Rabin's closest aides.
 
An awkward politician who became a statesman, a soldier who became a peacemaker, Rabin is best remembered for his valiant efforts to resolve the Israeli-Palestinian conflict and for the Oslo Accords. Itamar Rabinovich provides extraordinary new insights into Rabin's relationships with powerful leaders including Bill Clinton, Jordan's King Hussein, and Henry Kissinger, his desire for an Israeli-Syrian peace plan, and the political developments that shaped his tenure. The author also assesses the repercussions of Rabin's murder: Netanyahu's ensuing election and the rise of Israel's radical right wing.
Itamar Rabinovich is president of The Israel Institute (Washington, DC, and Tel Aviv); Global Distinguished Professor, New York University; and Non-Resident Distinguished Fellow, Brookings Institution. He is a former president of Tel Aviv University and was Rabin's ambassador in Washington and chief negotiator with Syria.
"Yitzhak Rabin was a soldier and a statesman who fought for the security of Israel and for a concept of peace for all nations. Itamar Rabinovich has written a thoughtful and extraordinarily comprehensive account of a significant leader."—Henry A. Kissinger
"Itamar Rabinovich has written an insightful book on Yitzhak Rabin, Israel's charismatic warrior-statesman who valiantly dedicated himself to the cause of peace in the Middle East. As the head of Rabin's team during Syrian-Israeli peace negotiations and as Israel's ambassador in Washington, Rabinovich was at Rabin's side during key moments in his country's history.  I recommend his book to all those interested in peace between Arabs and Israelis."—James A. Baker, III
"This highly informative and tightly-packed biography is undergirded by a deep personal knowledge of Rabin's strengths and flaws as a leader and a sure command of Israel's military and diplomatic history."—Derek Penslar, Harvard University and the University of Toronto
"Puts the complexities of [Rabin's] career and achievement in fresh perspective."—Kirkus Reviews
"This well-written, easily digestible biography also provides useful insights into the inner workings of Israeli politics."—Booklist
"Mr. Rabinovich, the distinguished Israeli scholar and diplomat . . . easily establishes that the prime minister was a man of great complexity. . . . Even the warm esteem in which he holds Rabin does not prevent Mr. Rabinovich—a scholar with an abiding commitment to historical accuracy—from presenting a portrait of his friend in full."—Elliott Abrams, Wall Street Journal
"Rabinovich's biography of Rabin is clear and objective. It is the work of a man who has substantial scholarly credentials—he currently heads the Israel Institute think tank—and who worked with Rabin in his efforts to make peace with Syria. The author describes Rabin's meticulous attention to detail and his insistence on careful planning, which were both the late prime minister's greatest assets and greatest faults. In the end, as this book makes clear, Rabin was not a dreamer but a realist, not a bold thinker but a careful planner, not a charismatic leader but an often intemperate and undiplomatic head of state."—Rabbi Jack Reimer, Jewish News Service
"Rabinovich is a distinguished historian of the Middle East. . . . His book tells a very revealing story that ties the arc of Rabin's life to the course of Israel's history from the pre-State period to the 1990s."—Dennis Ross, Jewish Review of Books
"Rabinovich's book transports readers back to a time when a much different Middle East seemed possible, an all-too-brief window when regional tranquility wasn't a far-off notion or a dark punchline. But Rabinovich's book also makes the important case that nothing was ever as simple or straightforward as it now may seem to have been—starting with Rabin himself."—Armin Rosen, Tablet
"Rabinovich's language—lean, precise, devoid of embellishment—reminds me of the way Rabin himself used to talk: dugri, as we say in Hebrew, straightforward, to the point. . . . In an era when language is being abused for political purposes and agendas, Rabinovich's book is a breath of fresh air."—Uri Dromi, Times Literary Supplement
"[This] compelling tome adds new layers to the story of one of Israel's most well-known and admired leaders, thanks to original research and unique personal recollections. . . . The author offers new insights into Rabin's relationships with leaders such as Bill Clinton, Henry Kissinger and King Hussein of Jordan, as well as a sophisticated analysis on the repercussions of his murder that echo to this day."—St. Louis Jewish Light
"[Yitzhak Rabin] is an excellent starting point for studying Rabin, particularly for readers who are unfamiliar with him or with Israeli political history."—Ziv Rubinovitz, Middle East Journal
"A very readable rendering of Rabin's life."—Efraim Inbar, Middle East Quarterly
"Rabinovich's creditable and workmanlike narrative moves efficiently and often concisely. The context he offers is especially illuminating on the run-up to the 1967 war . . . ; the intricacies of Israeli politics . . . ; and Rabin's hopeful, tragic final years and months."—David K. Shipler, Moment
"One of Israel's finest senior Middle East historians has written this excellent biography."—Ken Stein, Israel Studies Review
"One of Israel's finest senior Middle East historians has written this excellent biography. . . . We are treated to key moments in Israel's past when Rabin's decisions left their mark, entwined with Zionism's national evolution during his half-century of public service."—Ken Stein, Israel Studies Review
Winner of the Washington Institute Book Prize Gold Medal for 2017
ISBN:
9780300234633
Publication Date:
March 6, 2018
304 pages, 5 1/2 x 8 1/4