Frederick Barbarossa
WARNING
You are viewing an older version of the Yalebooks website. Please visit out new website with more updated information and a better user experience: https://www.yalebooks.com
John Freed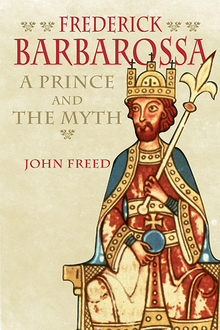 View Inside
Format:

Cloth


Price:

$45.00
A rich portrait of Frederick Barbarossa, the medieval monarch who ruled Germany in cooperation with the princes and whose legend inspired Hitler to label his invasion of the Soviet Union "Operation Barbarossa"

"Freed has done so much to illuminate the ins and out of German politics in the late tweflth century, ensuring that his book will be a constant point of reference for scholars."—David Abulafia, History Today

Frederick Barbarossa, born of two of Germany's most powerful families, swept to the imperial throne in a coup d'état in 1152. A leading monarch of the Middle Ages, he legalized the dualism between the crown and the princes that endured until the end of the Holy Roman Empire.
 
This new biography, the first in English in four decades, paints a rich picture of a consummate diplomat and effective warrior. John Freed mines Barbarossa's recently published charters and other sources to illuminate the monarch's remarkable ability to rule an empire that stretched from the Baltic to Rome, and from France to Poland. Offering a fresh assessment of the role of Barbarossa's extensive familial network in his success, the author also considers the impact of Frederick's death in the Third Crusade as the key to his lasting heroic reputation. In an intriguing epilogue, Freed explains how Hitler's audacious attack on the Soviet Union in 1941 came to be called "Operation Barbarossa."
John Freed is distinguished professor of history emeritus, Illinois State University, and the author of four previous books. He lives in Bloomington, IL.
'John Freed's Frederick Barbarossa is a monumental achievement. Not only is it the first serious biography in English of one of the most fascinating and important individuals of the European Middle Ages. It also offers a thoughtful, lucid and immensely readable way into the environment and society from which Barbarossa emerged, and of the challenges and opportunities to be faced in writing about the wonderful world of the first Staufen emperor. We owe John Freed a collective debt of gratitude not only for having braced and mastered these challenges so magisterially, but also for the enjoyment and instruction that his book brings. It will teach experts much they did not know or had not thought about, but it will equally appeal to anyone interested in one of the most transformative periods in the history of medieval Europe.' – Björn Weiler, author of Kingship, Rebellion and Political Culture: England and Germany, c.1215–c.1250

'John Freed has written a truly monumental biography, which will remain unchallenged as the authoritative account of Barbarossa for a long time to come. Rooted in a comprehensive command of the medieval sources and enriched by Freed's profound understanding of twelfth-century aristocratic politics and society, this book reveals a Barbarossa stripped at last of many centuries of accumulated myth: as prince, dynast and warlord. Students of medieval history have waited a long time for a fully satisfactory treatment of one of the twelfth century's most dazzling and complex personalities. With this brilliant and deeply learned book, their wait is over.' - Len Scales, author of The Shaping of German Identity: Authority and Crisis, 1245–1414 
"John Freed's biography is the first in English for half a century. A 700-page doorstopper, this impressive, learned book certainly makes amends for this previously serious oversight… Thanks to Freed's scholarly but highly readable biography, this pragmatic Teutonic Arthur might finally gain greater renown beyond Germany."—Sean McGlynn, Spectator
"Freed's book is certainly a cause for celebration and will be a lasting resource… gives us a compelling, readable and very well-informed narrative of Frederick's thirty-eight reign, that made him —with Henry II of England, Louis VII of France and Manuel I of Byzantium — one of the leading political personalities of Europe."—Mark Whittow, TLS
"Freed has written an erudite and immensely readable biography of Frederick that is very rich in historical detail… It will remain for generations to come, and rightfully so, the standard work in English on Frederick Barbarossa and Germany in the 12th century."—Dr. Thomas Foerster, Reviews in History
"Freed has done so much to illuminate the ins and out of German politics in the late 12th century, ensuring that his book will be a constant point of reference for scholars."—David Abulafia, History Today
"Freed's Frederick Barbarossa will inevitably be the standard English-language scholarly biography of the monarch for many decades to come, and justifiably so."—Emily Joan Ward, Speculum
ISBN:
9780300122763
Publication Date:
July 26, 2016
712 pages, 6 1/8 x 9 1/4
20 b/w illus.