Regulating Sex in the Roman Empire
WARNING
You are viewing an older version of the Yalebooks website. Please visit out new website with more updated information and a better user experience: https://www.yalebooks.com
Ideology, the Bible, and the Early Christians
David Wheeler-Reed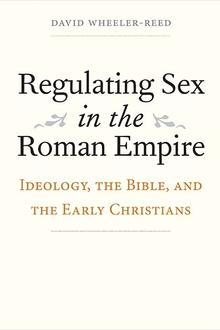 View Inside
Format:

Hardcover


Price:

$45.00
A New Testament scholar challenges the belief that American family values are based on "Judeo-Christian" norms by drawing unexpected comparisons between ancient Christian theories and modern discourses

Challenging the long-held assumption that American values—be they Christian or secular—are based on "Judeo-Christian" norms, this provocative study compares ancient Christian discourses on marriage and sexuality with contemporary ones, maintaining that modern family values owe more to Roman Imperial beliefs than to the bible.
 
Engaging with Foucault's ideas, Wheeler-Reed examines how conservative organizations and the Supreme Court have misunderstood Christian beliefs on marriage and the family. Taking on modern cultural debates on marriage and sexuality, with implications for historians, political thinkers, and jurists, this book undermines the conservative ideology of the family, starting from the position that early Christianity, in its emphasis on celibacy and denunciation of marriage, was in opposition to procreation, the ideological norm in the Greco-Roman world.
David Wheeler-Reed is a postdoctoral visiting research fellow at Yale Divinity School and an instructor in religious studies at Albertus Magnus College. His work focuses on the New Testament, the ancient family, and gender and sexuality in antiquity.
"If I had it in my power, I would make Wheeler-Reed's groundbreaking book required reading for every member of the Supreme Court."—John T. Fitzgerald, University of Notre Dame
"David Wheeler-Reed offers a refreshing reassessment of the ancient "marriage wars," demonstrating that contemporary claims about the procreative and hetero-normative nature of "Judeo-Christian" values are in fact an ideological ploy: modern marriage norms, he argues, have more in common with first-century Roman imperial legislation than with the practices endorsed either by Jesus or the earliest Christians. Theoretically sophisticated, meticulously researched, and forcefully argued, Regulating Sex acknowledges the stakes of the histories we write and demands an honest accounting of the evidence at hand. Highly recommended."—Jennifer Knust, Boston University
"This hard-hitting account of ancient (and modern) ideologies of the family charts the genealogy of 'anti-familial' and 'pro-familial' discourses from Augustus through the early Christian period, demonstrating their relevance to contemporary discussion of 'family values.'"—David G. Hunter, University of Kentucky
"A bold and ambitious study, Regulating Sex in the Roman Empire compellingly maps how early Christians generated sexual ideologies within a cultural field dominated by the Roman state—in ways neither absolutely unique nor radically discontinuous, but nonetheless new."—Benjamin H. Dunning, Fordham University
"This book admirably accomplishes one of the prime tasks of scholarship: to analyze data in a new frame, thereby clarifying and complexifying current challenges.  Wheeler-Reed offers such essential scholarship to contemporary American discussions on the meaning of marriage. This is an important book."—L. Ann Jervis, Wycliffe College, University of Toronto
"Wheeler-Reed convincingly demonstrates that ancient Romans and Jews strongly valued family life, whereas early Christian authors promoted celibacy. The delightfully controversial consequence is that the modern Christian focus on family is more 'Judeo-Roman' than 'Judeo-Christian.'"—Sarah Rollens, Rhodes College
"Ambitious . . . [Wheeler-Reed] writes in an easy, readable, perhaps even conversational style unusual for monographs so heavily steeped in critical theory. Most impressive, however, is [his] command of an immense amount of ancient material spanning from Achilles Tatius to the Dead Sea Scrolls, Paul to John Cassian, and Philo to Jovinian."—M Adryael Tong, Reading Religion
"A timely book, which seeks to bring history to bear on urgent contemporary questions."—Caroline Musgrove, Bryn Mawr Classical Review
"Wheeler-Reed provides a compelling historical argument, and one that fully persuades me."—Carly Daniel-Hughes, Journal of the American Academy of Religion
"This study is highly recommended for anyone who seeks to understand discourses of sexuality in the ancient or modern world."—Eric Stewart, Biblical Theology Bulletin
"This work, written in elegant prose, brings an important contribution and corrective to current understandings."—William Loader, Catholic Bible Quarterly
"Compact, clearly written . . . a compelling, politically important, and stunningly approachable discussion of the way that traditional family values are constructed in the present and the past."—Candida Moss, Expository Times
ISBN:
9780300227727
Publication Date:
November 28, 2017
200 pages, 6 1/8 x 9 1/4