The New Model Army
WARNING
You are viewing an older version of the Yalebooks website. Please visit out new website with more updated information and a better user experience: https://www.yalebooks.com
Ian Gentles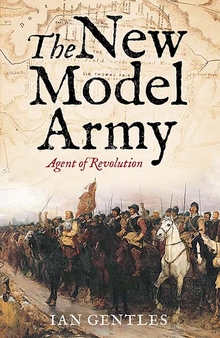 View Inside
Format:

Hardcover


Price:

$38.00
The definitive account of the superior fighting force that powered the English Revolution

The New Model Army was one of the most formidable fighting forces ever assembled. Formed in 1645, it was crucial in overthrowing the monarchy and propelling one of its most brilliant generals, Oliver Cromwell, to power during the English Revolution. Paradoxically, it was also instrumental in restoring the king in 1660. But the true nature of this army has long been debated.
 
In this authoritative history, Ian Gentles examines the full scope of the New Model Army. As a fighting force it engineered regicide, pioneered innovative military tactics, and helped to keep Cromwell in power as Lord Protector until his death. All the while, those within its ranks promoted radical political ideas inspired by the Levellers and held dissenting religious beliefs. Gentles explores how brilliant battlefield maneuvering and logistical prowess contributed to its victories—and demonstrates the vital role religion played in building morale and military effectiveness.
Formerly of York University, Ian Gentles is Distinguished Professor in History at Tyndale University, Toronto. An expert on the English Revolution, he is the author of The English Revolution and the Wars in the Three Kingdoms and Oliver Cromwell, among numerous other books and articles.
"Authoritative and incisive. . . . This is far from just a military history. Gentles, formerly of York University, deals briskly with the key battles and sieges that made, for better or worse, the New Model's reputation—Naseby, Dunbar, Colchester, Drogheda. . . . Gentles is fascinating too when writing about procurement."—Paul Lay, The Times
"Oliver Cromwell's New Model Army won the decisive battles of the English civil war, overthrew the monarchy in 1649 and sustained the republic until its collapse in 1660. In this expanded version of a study published in 1992, Gentles shows why he is considered the leading authority on the army."—Tony Barber, Financial Times, "Best Summer Books of 2022: History"
"Ian Gentles has long been the leading authority on the most important and influential army in English history: and this latest book proves that he still is!"—Ronald Hutton, author of The Making of Oliver Cromwell
"Gentles recovers the heart of revolutionary England in this indispensable and definitive landmark book. He masterfully charts the astonishing rise and successes of the New Model Army. Now, in this updated and fresh edition, he provides a view from the inside into the fears, failures, and wider aspirations of the army during its final and most elusive years."—Polly Ha, associate professor of the history of Christianity, Duke University
"Students of the English Revolution, for whom the first edition of The New Model Army has long been required reading, will be thrilled. . . . A tour de force which presents the New Model as a political phenomenon as well as a highly effective military force."—David Appleby, author of Black Bartholomew's Day
"This is an important and timely reworking of a classic study of the military wrecking ball of the English Revolution. Authoritative yet accessible, the lively narrative guides the reader through a complex and transformative period in the histories of England, Ireland, and Scotland. Henceforth, Gentles' account will be essential reading for those interested in the Wars of the Three Kingdoms."—Micheál Ó Siochrú, Trinity College Dublin, author of God's Executioner: Oliver Cromwell and the Conquest of Ireland
ISBN:
9780300226836
Publication Date:
April 19, 2022
400 pages, 6 1/8 x 9 1/4
16 b/w illus. + 9 maps