The Kremlin Letters
WARNING
You are viewing an older version of the Yalebooks website. Please visit out new website with more updated information and a better user experience: https://www.yalebooks.com
Stalin's Wartime Correspondence with Churchill and Roosevelt
Edited by David Reynolds and Vladimir Pechatnov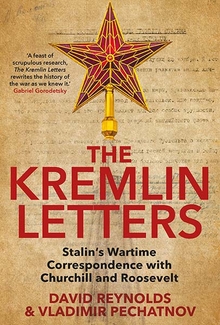 View Inside
Format:

Hardcover


Price:

$35.00
Also Available in:
Paper
A penetrating account of the dynamics of World War II's Grand Alliance through the messages exchanged by the "Big Three"

Stalin exchanged more than six hundred messages with Allied leaders Churchill and Roosevelt during the Second World War. In this riveting volume—the fruit of a unique British-Russian scholarly collaboration—the messages are published and also analyzed within their historical context. Ranging from intimate personal greetings to weighty salvos about diplomacy and strategy, this book offers fascinating new revelations of the political machinations and human stories behind the Allied triumvirate.
 
Edited and narrated by two of the world's leading scholars on World War II diplomacy and based on a decade of research in British, American, and newly available Russian archives, this crucial addition to wartime scholarship illuminates an alliance that really worked while exposing its fractious limits and the issues and egos that set the stage for the Cold War that followed.
David Reynolds is professor of international history at Cambridge University and the author of eleven books. Vladimir Pechatnov, a prolific scholar of the Cold War, is chair of European and American studies, Moscow State Institute of International Relations.
"Illuminating and insightful. . . . An indispensable resource." —Jonathan W. Jordan, Wall Street Journal
"A must-have volume for anyone seeking to elucidate the interplay between Stalin, Churchill and Roosevelt between 1941 and 1945. The meticulous research of Professor David Reynolds and Professor Vladimir Pechatnov is a unique Anglo-Russian collaboration based on archival material in Russia, the UK and the USA. But this book offers not just the raw material of the key missives between the three leaders. It also provides a detailed commentary explaining the often constrained language of diplomacy and sets it within the context of what was happening at the time. It presents an Anglophone audience with a compelling and comprehensive account of the triangular network of exchanges at the top level which helped shape this vital period of the Second World War."—Bridget Kendall
"The fascinating wartime correspondence between Stalin, Churchill and Roosevelt is set in historical context by its meticulous editors in an admirably succinct and perceptive narrative: a model of Anglo-Russian scholarly cooperation."—Sir Rodric Braithwaite
"This book will be of great value for historians as an excellent archival reconstruction of an important historical source. In addition to its thorough research, broader audiences it will find it an exciting read. The story of these three world leaders unveils the secrets of politics in the most terrible of wars."—Oleg Khlevniuk
"Is there anything more to learn from the World War II correspondence of Stalin, Churchill, and Roosevelt? I'd have wondered before reading this volume, but Vladimir Pechatnov, David Reynolds, and their international research team have changed my mind. For not only is The Kremlin Letters filled with new information: it's also a pioneering effort to embed documents within a single sustained narrative, all the more compelling for the collaborations that produced it. Which simultaneously give it precision, great sweep, and best of all freshness—a magnificent accomplishment!"—John Lewis Gaddis, Yale University
"This is a masterful work of history. It should be read by anyone who wants to understand how the world we live in was shaped not only by the whole sequence of events of 1941-45, but also by the thoughts and feelings of just three extraordinary individuals." —Noel Malcolm, Sunday Telegraph
"Fresh and valuable insights into the way Stalin drafted and edited his messages." — Tony Barber, Financial Times (Books of the Year 2018)
"David Reynolds and Vladimir Pechatnov have done a superbly scholarly job in documenting the relationships Stalin had with Churchill and with Franklin Roosevelt through their epistolary contact." — Simon Heffer, The Daily Telegraph
"Here the leading British and Russian historians of the Grand Alliance present a gripping and all-encompassing documentary history of Stalin's relations with Churchill and Roosevelt during the Second World War. A feast of scrupulous research, The Kremlin Letters rewrites the history of the War as we knew it."—Gabriel Gorodetsky, Quondam Fellow, All Souls College, Oxford and editor of The Maisky Diaries
"A product of great scholarly labors by David Reynolds and Vladimir Pechatnov, it sheds invaluable light upon the delicate negotiations between the wartime triumvirate of Stalin, Roosevelt and Churchill."—Jacob Heilbrunn, Spectator USA
"This is the most ambitious and important book from Yale University Press' invaluable series of documentary histories drawn from the Soviet archives. Winston Churchill, Franklin Roosevelt, and Joseph Stalin exchanged 682 messages between Nazi Germany's attack on the Soviet Union, in June 1941, and Roosevelt's death, in April 1945. Beyond the messages themselves, what makes this volume so valuable are the editors' brisk and penetrating historical introductions and the context they provide for each message."—Robert Legvold, Foreign Affairs
"Two eminent scholars have produced a fascinating and detailed narrative of the war's decision-making that embeds the leaders' correspondence and memoirs into other archival material." —Jonathan Steele, The Guardian
Winner of the 2020 Link-Kuehl Prize, sponsored by the Society for Historians of American Foreign Relations
ISBN:
9780300226829
Publication Date:
November 27, 2018
680 pages, 6 1/8 x 9 1/4
24 b/w illus. + 3 maps