Sincerity after Communism
Ellen Rutten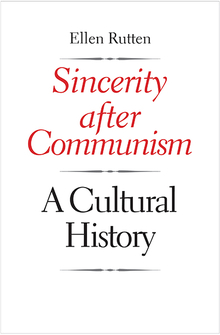 View Inside
Format:

Hardcover


Price:

$64.00
A compelling study of "new sincerity" as a powerful cultural practice, born in perestroika-era Russia, and how it interconnects with global social and media flows

The global cultural practice of a "new sincerity" in literature, media, art, design, fashion, film, and architecture grew steadily in the wake of the Soviet collapse. Cultural historian Ellen Rutten traces the rise and proliferation of a new rhetoric of sincere social expression characterized by complex blends of unabashed honesty, playfulness, and irony. Insightful and thought provoking, Rutten's masterful study of a sweeping cultural trend with roots in late Soviet Russia addresses postsocialist, postmodern, and postdigital questions of selfhood. The author explores how and why a uniquely Russian artistic and social philosophy was shaped by "cultural memory, commodification, and mediatization," and how, under Putin, "new sincerity" talk merges with transnational pleas to "revive sincerity." This essential study stands squarely at the intersection of the history of emotions, media studies, and post-Soviet studies to shed light on a new cultural reality—one that is profoundly affecting creative thought, artistic expression, and lifestyle virtually everywhere.
Ellen Rutten is a professor of literature and chair of the Slavonic Department at the University of Amsterdam, where she researches post-Soviet and global contemporary culture, literature and art, design, social media, and memory.
"In her intellectually captivating and at times provocative book, Ellen Rutten analyzes a discourse on sincerity as a self-sufficient narrative, with its inner logic, recognizable signifiers, rhetorics -- in short, poetics. The fact that this daring exploration of the poetics of discourse focuses on contemporary Russian culture, placed into the context of the global debate about sincerity, makes this work especially valuable. The discourse on sincerity emerges as a counter-agent of postmodernism, yet as the reader realizes proves to be inseparable of postmodernism and develops not only in a parallel course with it but also within it. Sincerity after Communism contributes to the conceptualization of Russian and global postmodernism by presenting the discourse on sincerity as the indispensable form of postmodernism's self-critique, as its ferment of growth and the trigger for further renovations."—Mark Lipovetsky, Professor of Russian Studies, University of Colorado-Boulder
"In post-Communist Russia the requirement of the "new sincerity" promised the liberation of art and literature from the ideological censorship but at the same time announced a new era of cultural marketing and rising importance of the blogosphere. In her groundbreaking book Rutten analyses this ambiguous role of "new sincerity" using the recent examples from Russian literature and comparing them with analogous cultural phenomena in English and American literature and theoretical writing."—Boris Groys, Global Distinguished Professor of Russian and Slavic Studies, New York University
"An enormous amount of thought, hard work, and research went into the tracking of the phenomenon of new sincerity. The topic is an extraordinarily complex one, the work is original and brave, and the scholarship is both sound and meticulous." --Nancy Condee, Director, Global Studies Center, University of Pittsburgh
"Sincerity After Communism is a major contribution to Russian studies, as well as to cultural studies more broadly."--Eliot Borenstein, New York University
"Sincerity after Communism is especially impressive for its transnational perspective and examination of globalized circuits of cultural interaction. . . . In this age of postmodern politics, pervasive commercialization, progressive digitization of everything, and ever-increasing anxiety over a lack of sincerity, this book is a necessary reference for any consideration of contemporary Russian and global cultural life."—Kevin M. F. Platt, Russian Review
ISBN:
9780300213980
Publication Date:
January 10, 2017
304 pages, 6-1/8 x 9-1/4
13 b/w illus.