Big and Small
A Cultural History of Extraordinary Bodies
Lynne Vallone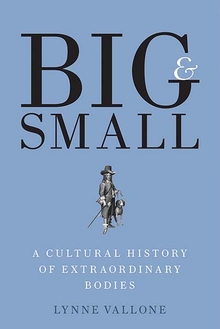 View Inside
Format:

Hardcover


Price:

$27.50
A groundbreaking work that explores human size as a distinctive cultural marker in Western thought

Author, scholar, and editor Lynne Vallone has an international reputation in the field of child studies. In this analytical tour-de-force, she explores bodily size difference—particularly unusual bodies, big and small—as an overlooked yet crucial marker that informs human identity and culture.
 
Exploring miniaturism, giganticism, obesity, and the lived experiences of actual big and small people, Vallone boldly addresses the uncomfortable implications of using physical measures to judge normalcy, goodness, gender identity, and beauty. This wide-ranging work surveys the lives and contexts of both real and imagined persons with extraordinary bodies from the seventeenth century to the present day through close examinations of art, literature, folklore, and cultural practices, as well as scientific and pseudo-scientific discourses. Generously illustrated and written in a lively and accessible style, Vallone's provocative study encourages readers to look with care at extraordinary bodies and the cultures that created, depicted, loved, and dominated them.
Lynne Vallone is professor of English and childhood studies at Rutgers University. She has written and co-edited several books, including Becoming Victoria and The Norton Anthology of Children's Literature. She lives in Riverton, NJ.
"A pleasure to read. Vallone constantly pushes her inquiries beyond period- or genre-boundaries to ask broad questions that concern us all, as human beings as well as professional specialists. Big & Small should rank alongside the best, most far-reaching studies of childhood and human culture available today."—Professor Rachel Falconer, University of Lausanne
"Size matters. Whether our bodies are classed as "ordinary" or "extraordinary", such evaluations have a major impact on how we move through the world. Lynne Vallone's mediations on bodily size are both delightful and insightful. She has a formidable grasp of literary, scientific, and historical approaches to bodies, which she tackles with political as well as personal engagement. I loved reading this book."—Professor Joanna Bourke, Birkbeck, University of London.?
"Big and Small is a fascinating and innovative work which deals with a topic we tend to overlook – size and human measure. Through a careful and thorough analysis of literature, art, and science from the eighteenth century to the present Vallone demonstrates that size matters in all aspects of our lives. Convincing and highly significant, her book will change our views of how we determine all aspects and values of bodies."—Jack Zipes, University of Minnesota
"Vallone's skill in moving between divergent bodies of material with such assured interdisciplinary gusto means that this is something of a magnum opus: the type of major scholarly achievement that only the best kind of critical mind is capable of producing after years of searching inquiry into a very broad range of sources drawn from literature, art history, sociology, and gender studies. An outstanding and resourceful work."—Prof. Joseph Bristow, Distinguished Professor of English, University of California, Los Angeles
ISBN:
9780300228861
Publication Date:
January 9, 2018
360 pages, 5 1/2 x 8 1/4
17 col. + 15 b/w illus.