Swann's Way
WARNING
You are viewing an older version of the Yalebooks website. Please visit out new website with more updated information and a better user experience: https://www.yalebooks.com
In Search of Lost Time, Volume 1
Marcel Proust; Edited and Annotated by William C. Carter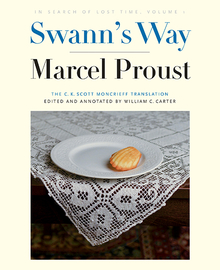 View Inside
Format:

PB-with Flaps


Price:

$26.00
The foremost Proust scholar of our time offers a brilliantly revised and annotated edition of the first volume of the twentieth century's most acclaimed novel

"Carter's revised edition . . . renews one's appreciation of Proust. . . . [His] slight but decisive emendations bring the reader closer than ever to the tenor of Proust's style and diction. . . . A magnificent and enduring achievement."—Choice

One hundred years have passed since Marcel Proust published the first volume of what was to become a seven-volume masterpiece, In Search of Lost Time. In the intervening century his famously compelling novel has never been out of print and has been translated into dozens of languages. English-language readers were fortunate to have an early and extraordinarily fine translation of the novel from Charles Kenneth Scott Moncrieff. With the passage of time, however, the need for corrections, revisions, and annotations to the Scott Montcrieff translation has become apparent.
Esteemed Proust scholar William C. Carter celebrates the publication centennial of Swann's Way with a new, more accurate and illuminating edition of the first volume of In Search of Lost Time. Carter corrects previous translating missteps to bring readers closer to Proust's intentions while also providing enlightening notes to clarify biographical, historical, and social contexts. Presented in a reader-friendly format alongside the text, these annotations will enrich and deepen the experience of Proust's novel, immersing readers in the world of an unsurpassed literary genius.
William C. Carter is University Distinguished Professor Emeritus, University of Alabama at Birmingham. Referred to as "Proust's definitive biographer" by Harold Bloom, Carter is the author of landmark biographical works on Proust. He is currently at work on subsequent volumes of the Yale annotated edition of In Seach of Lost Time, to be published annually in coming years. He lives in Birmingham, AL.
AND READ THE NEW EDITION OF THE DEFINITIVE BIOGRAPHY...

---
"For William C. Carter, the dean of American Proust studies, to agree to do a new edition of the Scott Moncrieff translation of Swann's Way is a coup for readers. The new version corrects numerous thematic and lexical errors, and preserves much of Scott Moncrieff's celebrated style. Carter's very readable revision is wisely and discreetly annotated, and it offers as accurate a translation as possible. It is also an unmitigated delight to read."—Allan H. Pasco, Hall Distinguished Professor, University of Kansas
"No one has grasped the interplay of Proust's life and work better than William Carter. He has now  applied that knowledge to the iconic but flawed translation of In Search of Lost Time by Charles Kenneth Scott Moncrieff, correcting Scott Moncrieff's faults-- his outright errors and his idiosyncratic Victorianisms--and providing essential notes to Proust's many cultural references. The result is a volume of enormous use to both first-time readers and those who are returning to Proust for further understanding and pleasure."—Harold Augenbraum, Editor, Collected Poems of Marcel Proust
"In this thoroughly revised, updated and annotated version of Swann's Way, William C. Carter, the prominent expert of Marcel Proust's life and work, offers American readers the most accurate and valuable rendition of Scott Moncrieff's translation to date. When appropriate and without altering the beauty of Moncrieff's version, Carter has modernized it, made it compatible with U.S. spelling, and perceptively restored the French original's simplicity as well as its intended meaning. Unobtrusive and yet detailed notes in this first volume of Proust's monumental novel will guide general readers, students, and scholars alike in appreciating a text that has captivated millions of readers worldwide for the past hundred years."—Catherine Perry, University of Notre Dame
"A perfect entry point to begin the journey of a lifetime . . . a more engaging version."—Mayank Austen Soofi, Live Mint
"A gem, polished for a new century."—John Winters, Patriot-Ledger
"Carter's revised edition . . . renews one's appreciation of Proust. . . . [Carter's] slight but decisive emendations bring the reader closer than ever to the tenor of Proust's style and diction. Carter explains his rationale in a jeweled preface. . . . A magnificent and enduring achievement."—T. C. Conley, Choice
"My favorite translation of Proust is Proust's first English translator, Scott Moncrieff, but updated and corrected and annotated by one of the greatest Proustians alive today, William C. Carter . . . of whom I'm an enormous fan. . . . Beautifully annotated . . .  An invaluable resource."—Caroline Weber, author of Proust's Duchess: How Three Celebrated Women Captured the Imagination of Fin-de-Siecle Paris
 
ISBN:
9780300185430
Publication Date:
November 14, 2013
512 pages, 7-1/2 x 9-1/4