Proust in Love
WARNING
You are viewing an older version of the Yalebooks website. Please visit out new website with more updated information and a better user experience: https://www.yalebooks.com
William C. Carter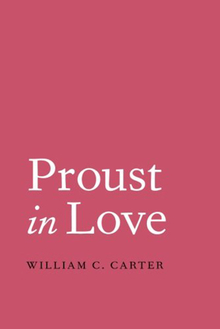 View Inside
Format:

Paper


Price:

$29.00
Also Available in:
Cloth
e-book
The acclaimed Proust biographer William C. Carter portrays Proust's amorous adventures and misadventures from adolescence through his adult years, supplying where appropriate Proust's own sensitive, intelligent, and often disillusioned observations about love and sexuality. Proust is revealed as a man agonizingly caught between the constant fear of public exposure as a homosexual and the need to find and express love. In telling the story of Proust in love, Carter also shows how the author's experiences became major themes in his novel In Search of Lost Time.
Carter discusses Proust's adolescent sexual experiences, his disastrous brothel visit to cure homosexual inclinations, and his first great loves. He also addresses the duel Proust fought after the journalist Jean Lorrain alluded to his homosexuality in print, his flirtations with respectable women and high-class prostitutes, and his affairs with young men of the servant class. With new revelations about Proust's love life and a gallery of photographs, the book provides an unprecedented glimpse of Proust's gay Paris.


William C. Carter is Distinguished Professor of French at the University of Alabama at Birmingham.


A selection of Readers' Subscription. 
"Carter's page-turning bio reveals a deliciously carnal side to the notoriously oblique French author, complete with excerpts from shockingly explicit letters."—Out Magazine
"William C. Carter is Proust's definitive biographer. His Proust in Love is a marvelous study of the comic splendor of the great novelist's vision of human eros and its discontents."—Harold Bloom   

"The most complete picture, to date, of Proust and his lovers."—Katherine Kolb, Southeastern Louisiana University


"Given Carter's extensive knowledge of his subject, it's no surprise that his new book on Proust is at once so detailed and fascinating."—Mary Ann Caws, author of Marcel Proust (Overlook Illustrated Lives) and Distinguished Professor of English, French, and Comparative Literature, Graduate Center, CUNY   


"Acclaimed Proust biographer Carter skillfully paints a picture of Proust's romantic history from his adolescence to his final years, discussing his relationships and the struggles he endured to hide his homosexuality. An appealing collection of photos complements the book."—Library Journal
 


"Carter offers a warmly sympathetic portrait that skillfully links a study of Proust's philosophy of love to his own unhappy experiences of it—experiences that inspired him creatively; he saw love, in Carter's words, as a 'superb folly,' the wellspring of art."—Publishers Weekly


"Proust in Love traces the cookie dipper's oeuvre as an exorcism of his erotic illusions."—BookForum
"A crisp and highly readable account of the men Proust loved, and how they became characters in his epic. . . . Carter is an erudite and lively writer. . . . Proust in Love deserves a wide audience and should encourage readers to tackle In Search of Lost Time."—Tavo Amador, Bay Area Reporter
"A magnificently unpretentious look at an author who can be divinely long-winded. . . . Intelligently organized into chronological chapters, following Proust from childhood to his premature death. Evoking Proust's measured pace of writing, Carter remains down-to-earth and admirably concise. . . . Readers . . . should be grateful to Carter for his diligence in making the infinitely fascinating and accomplished Marcel Proust more approachable and accessible."—Benjamin Ivry, Atlanta Journal Constitution
"…well-written, and sometimes amusing…" - Patrick O'Connor, Literary Review
"Carter has combed every volume of Proust's correspondence…[and] has produced a short study, crammed with higher-risk speculation…" - Richard Davenport-Hines, The Sunday Telegraph
Love is one of the principal subjects of A La Recherche du temps perdu, and William Carter's excellent study of Proust's amorous adventures frequently uses the work as a lens to examine the life." - London Review of Books
"Proust in Love will be an invaluable guide, a useful map to Proust's inner world, to readers on intimate terms with In Search of Lost Time."—Kathi Wolfe, Express Gay News
"William C. Carter locates Proust's genius and inspiration about 18 inches below the chest, and most firmly in body rather than soul. … Carter carefully catalogues and describes Proust's relationships…[which] makes more much more intriguing and uncomfortable reading. … As Carter's books clearly testify, only in his work was Proust a nonpareil." - Ian Sansom, The Guardian
"Carter moves easily between biographical details and scenes from Proust's novel; connections linking biography and fiction are delicate and never heavy-handed. . . . Recommended."—Choice
"Engrossing."—Andrew Holleran, The Gay and Lesbian Review
"For a candid look at Marcel Proust, I recommend William C. Carter's Proust in Love. As the humorously retouched cover photo implies, this is not ponderous reading, but it is a fascinating and detailed account of Proust and his obsessions, foibles, loves and lovers."—www.echomag.com
"Proust in Love thoroughly explores the writer's complicated, humorous and sometimes wise attitudes about love and sexual identity. Carter . . . utilizes Proust's masterpiece as well as correspondence and the testimony of contemporaries to paint a highly sympathetic and subtle portrait."—John Sledge, Alabama Press-Register
"In facing 'transpositions' of Proust's life onto his fiction, Carter ventures into an area of influence study that could, in a scholar less skilled, become formulaic and intellectually barren. . . . Fortunately, Carter's study surpasses formula. His extensive reading of Proust and comprehensive knowledge of his life and culture (he published in 2000 what Harold Bloom calls the definitive biography of Proust), along with finely equilibrated insights into human nature and art, create, instead of a this-to-that zigzag, something more like the spinning motion of a wheel."—Lynn Hoggard, Southern Humanities Review
"Entertainingly written, expertly researched, and well focused on a topic of universal interest (love and sex). . . . A complex and fascinating portrait of Proust's emotional and sexual life."—Patrick M. Bray, H-France Reviews
"Carter's approach is rigorous, and despite the nature of the subject matter he never gives in to the sensational. . . . An elegantly written and well-documented book that will be of interest both to biography lovers and Proust scholars."—Catherine Marachi, Rocky Mountain Review
Selected as a 2007 AAUP University Press Book for Public and Secondary School Libraries.
ISBN:
9780300211078
Publication Date:
April 28, 2014
280 pages, 5 1/2 x 8 1/4
15 b/w illus. in 8 page gallery insert