Savages and Scoundrels
WARNING
You are viewing an older version of the Yalebooks website. Please visit out new website with more updated information and a better user experience: https://www.yalebooks.com
The Untold Story of America's Road to Empire through Indian Territory
Paul VanDevelder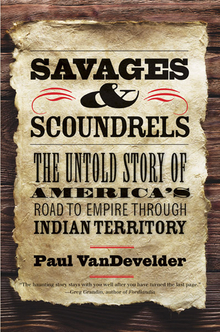 View Inside
Format:

Paper


Price:

$18.00
Also Available in:
Cloth
e-book
VanDevelder demolishes long-held myths about America's westward expansion and uncovers the unacknowledged federal Indian policy that shaped the republic

What really happened in the early days of our nation? How was it possible for white settlers to march across the entire continent, inexorably claiming Native American lands for themselves? Who made it happen, and why? This gripping book tells America's story from a new perspective, chronicling the adventures of our forefathers and showing how a legacy of repeated betrayals became the bedrock on which the republic was built.
Paul VanDevelder takes as his focal point the epic federal treaty ratified in 1851 at Horse Creek, formally recognizing perpetual ownership by a dozen Native American tribes of 1.1 million square miles of the American West. The astonishing and shameful story of this broken treaty—one of 371 Indian treaties signed during the eighteenth and nineteenth centuries—reveals a pattern of fraudulent government behavior that again and again displaced Native Americans from their lands. VanDevelder describes the path that led to the genocide of the American Indian; those who participated in it, from cowboys and common folk to aristocrats and presidents; and how the history of the immoral treatment of Indians through the twentieth century has profound social, economic, and political implications for America even today.
Paul VanDevelder is a journalist and author. His book Coyote Warrior: One Man, Three Tribes, and the Trial That Forged a Nation was nominated for the Pulitzer Prize, the National Book Award, and the American Bar Association's Silver Gavel Award. He lives in the Pacific Northwest.

For more information about the author and his book, visit the author's web site  
"In this extremely well-written history, Paul VanDevelder . . . weaves events big and small into a tapestry of dispossession. The haunting story stays with you well after you have turned the last page."—Greg Grandin, author of Fordlandia: The Rise and Fall of Henry Ford's Forgotten Jungle City
"Savages and Scoundrels, an important book by journalist Paul VanDevelder, is a taut, elegantly written book. . . . VanDevelder's work should be required reading or anyone with the power - large or small scale - to dispel  these myths: from Dan Snyder, current owner of the Washington Redskins, to every US history teacher and Hollywood director who is in the position to perpetuate the idea behind 'Manifest Destiny.'" —Wesley Hogan, History News Network
"[A] refreshingly new intellectual and legalistic approach to the complex relations between European Americans and Native Americans. . . . This superlative work deserves close attention . . . . Highly recommended."—M. L. Tate, Choice
"Paul VanDevelder has written a lively and fast-paced account of some of the major examples of the United States' acquisition of American Indian lands and assets."--Robert J. Miller, Great Plains Quarterly
"This is a powerful story composed of careful scholarship, great adventure, and compassion. It is written like the wind, a macroscopic overview of manifest destiny with a vibrant cast of thousands. It is one of the best books I have ever read about our national tragedy."—John Nichols, author of The Milagro Beanfield War
Praise for Paul VanDevelder's Coyote Warrior:
"Intense, heroic, patriotic, heartbreaking, uplifting, wise, and instructive, Coyote Warrior is a major work of history….It is our country's story, and it is our responsibility to know it. I'm grateful to Paul VanDevelder for telling it."—Rick Bass, author of Winter
"VanDevelder's research on this relatively unknown story of federal-Indian relations is impeccable and infused with a humanizing of what has elsewhere been treated as merely a footnote in history."—Kurt Peters, Oregon State University
"A fast moving drama about the rapacious development of American treaty policy toward the indigenous Indian tribes…compelling and highly relevant."—Greg Munro, University of Montana School of Law
"VanDevelder promises to "recontextualize and realign some of the major themes in America's story that have been mythologized and embroidered in many of our familiar, widely read and widely taught histories." It's a promise he keeps. Savages and Scoundrels is a riveting, often chilling account of how a young, land-hungry nation went about inventing the laws and policies that enabled it to push aside a people who, by its own admission and landmark court decisions, held legal ownership of millions of square miles of ancestral land."—Marc Covert, The Oregonian
Recommended by The Albuquerque Journal in its Holiday Gift Book Roundup
Winner of the 2011 Frances Fuller Victor Award for General Nonfiction, sponsored by the Oregon Book Awards
ISBN:
9780300181852
Publication Date:
February 28, 2012
352 pages, 6 1/8 x 9 1/4
14 b/w illus.